By Thomas J. Ryan
Crocs, clearly benefiting from an acceleration in casualization trends in the work-from-home (WFH) economy, reported third-quarter sales jumped 15.7 percent to record levels and projected fourth-quarter revenues will expand between 20 and 30 percent.
The earnings gain of 73.5 percent were further helped by higher gross margins and expense leverage.
On a conference call with analysts, Andrew Rees, CEO, said growth was led by the Americas and EMEA regions and benefited from marketing campaigns and a number of collaborations, including those with Justin Bieber, Luke Combs and The Grateful Dead. The performance was achieved despite inventory constraints entering the quarter.
"Our channel inventory has been lean until this point so there's certainly some restocking going on with our wholesale partners," said Rees. "But as we restock those wholesale partners, we also see accelerating sell-through. So we think it's definitely a sustainable and encouraging sign."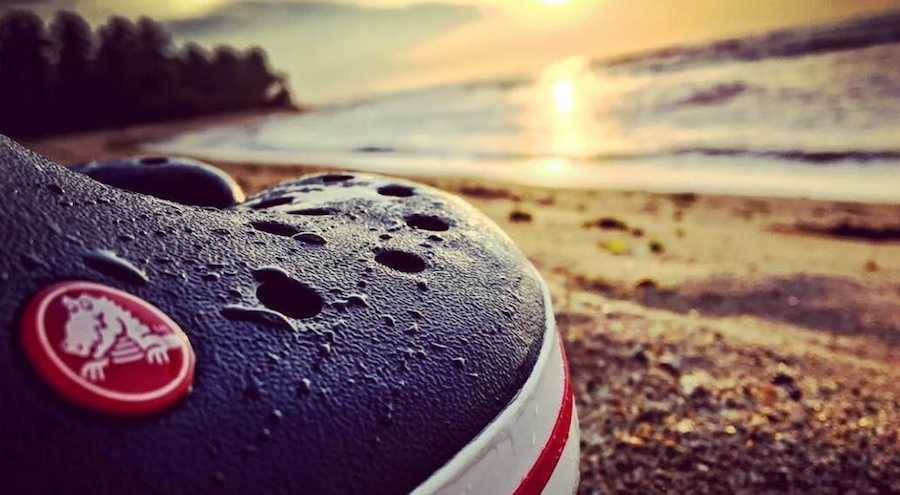 Digital Sales Vault 36 Percent
In the quarter, revenues were $361.7 million, an increase of 15.7 percent on a reported basis and 15.9 percent on a constant-currency basis. Wall Street's consensus target had been $344.0 million.
By channel, e-commerce revenues grew 36.3 percent to $80.0 million, representing Crocs' 14th consecutive quarter of double-digit e-commerce growth. Digital sales, which includes sales through its company-owned websites, third-party marketplaces, and e-tailers, grew 35.5 percent to 37.7 percent of total revenues from 32.2 percent for the same period last year.
Digital growth rates tempered slightly versus the second quarter when much of brick & mortar was closed for an extended period.
"Our digital penetration remains high and this remains a top priority," said Rees. "In the long-term, we believe digital presence on both our sites, and those of our partners will allow us to serve our consumers in their preferred channel, and will continue to be a competitive advantage relative to other footwear brands."
Wholesale channel revenues grew 12.4 percent to $164.5 million, driven by strong sell-through online at its wholesale partners and at its 20 key global brick & mortar accounts. Rees noted that over the past 18 months, Crocs has been increasingly focused on 20 leadership brick and mortar accounts, which are made up of sporting goods, family footwear and specialty footwear retailers, including 10 in the U.S. Crocs recently added distribution to Foot Locker and Finish Line to expand its presence in specialty athletic.
Company-owned retail revenues increased 8.9 percent in the quarter to $117.2 million. Comps increased 16 percent over a 30 percent gain last year, driven this year by the Americas and South Korea, which together account for approximately two-thirds of Crocs' store base. During the quarter, most of Crocs' store were open but operating at reduced hours, Both Crocs' owned retail and brick & mortar partner stores returned to growth in the third quarter with the recovery "much faster than we expected."
Sales In Americas Region Climb 27 Percent
By region, revenues in the Americas of $234.0 million increased 27.3 percent on a constant currency basis. Retail comps jumped 22.3 percent.
"Growth was phenomenal in e-commerce and stronger than anticipated in wholesale led by e-tail in our key brick and mortar partners," said Anne Mehlman, EVP and CFO. "Our performance in the U.S. is the direct result of our commitment to driving relevance with the consumer through great products and innovative marketing."
In the Asia Pacific region, revenues of $67.7 million decreased 9.0 percent on a constant-currency basis. E-commerce growth of 10 percent and retail comp gains of 2.8 percent were offset by declines in its distributor wholesale revenue and retail closures related to further right-sizing of its store fleet. Both South Korea and China performed well; however, distributors in Southeast Asia continue to be significantly impacted by the lack of tourism.
EMEA revenues of $60.0 million increased 10.7 percent on a constant currency basis. Mehlman said, "In spite of inventory constraints that impacted performance early in the quarter, strong revenue in wholesale and e-commerce was partially offset by declines in retail. Our EMEA business is benefiting from growing brand heat, and our continued focus on digital commerce, which represented almost 60 percent of EMEA revenues in the quarter."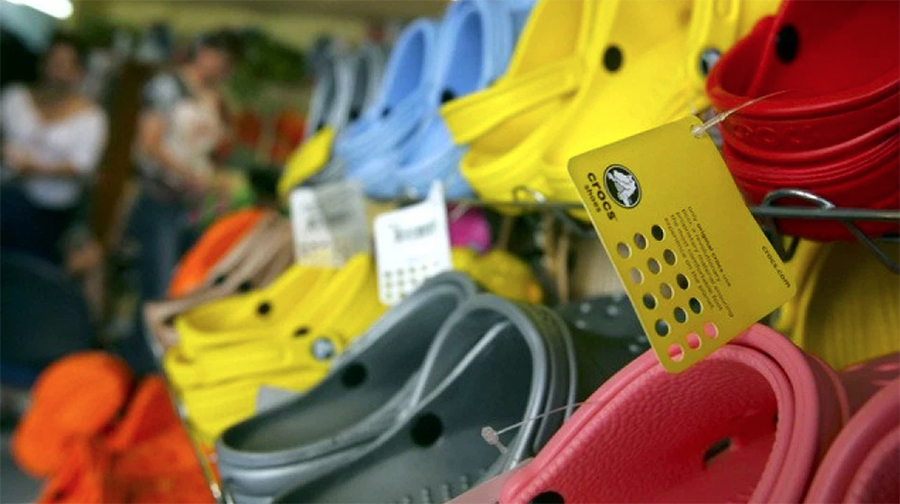 Clogs Revenues Jump 31 Percent
From a product perspective, Rees said results continue to be driven by its four key product pillars: clogs, sandals, Jibbitz and visible comfort technology.
Clogs were particularly strong in the quarter, increasing 31 percent year over year to represent 72 percent of total footwear revenues versus 62 percent last year. Sandal sales were down 4 percent as sandal receipts were canceled early in the pandemic and the category represented 19 percent of sales, down from 22 percent last year. Jibbitz, its attachable charms business, continued strong, doubling for the quarter versus last year.
"Looking for next year's product pipeline, we're very confident in our lineup," added Rees. "2021 sell-in has been strong on a global basis. We're excited about our innovation and Clogs and our ability to deliver a full season of sandals with Classic Slide, Brooklyn and Tulum. We also expect to capture strong interest in our Crocs At Work line based on our Free Pair For Healthcare program. We are poised to continue significant growth in personalization with Jibbitz charms."
Net earnings climbed 73.5 percent to $61.9 million, or 91 cents a share. On an adjusted basis, EPS rose 64.9 percent to 94 cents, easily exceeding Wall Street's consensus estimate of 70 cents.
"Our brand strength and lean inventory led to fewer promotions, which coupled with price increases, and product mix boosted our gross margins," said Rees. "We significantly leveraged SG&A to deliver best-in-class operating margins."
Crocs sold 16.9 million pairs of shoes, an increase of 6.2 percent over last year's third quarter. Average selling price during the quarter increased 8.8 percent to $21.36 with the increase attributable to fewer promotions and discounts, higher pricing on certain products and increased sales of Jibbitz charms per shoe.
Gross Margins Expand 480 Basis Points
Gross margins improved 480 basis points to 57.2 percent. Adjusted gross margin of 57.4 percent rose 380 basis points from the same period last year. The gains were driven by changes in product mix, fewer promotions and discounts, and price increases.
SG&A expenses increased 8.79 percent to $134.7 million due to marketing increased to support growth but were reduced as a percent of sales by 240 basis points to 37.2 percent due to sales leverage. Adjusted SG&A was reduced to 36.6 percent of revenues from 39.4 percent for the same period last year.
Income from operations increased 80.7 percent to $72.1 million while adjusted income from operations rose 69.7 percent to $75.4 million. Adjusted operating margin was 20.8 percent compared to 14.2 percent for the same period last year.
Inventories increased to $174.1 million as of September 30, compared to $172.0 million at the start of the year and $139.8 million at the same time last year as in-transit inventories were up approximately $20 million from the same period last year. Said Mehlman, "We anticipate a strong fourth quarter and do not expect the same degree of inventory constraints that we saw this past quarter."
Crocs delivered record third-quarter free cash flow and its liquidity position remains strong with $123.6 million of cash and cash equivalents as well as $364.4 million of borrowing capacity available on its revolver.
Looking ahead, the fourth-quarter revenue projection for growth between 20 percent and 30 percent translates into full-year 2020 revenue growth of approximately 5 percent to 7 percent.
"We're even more confident now than a year ago about Crocs brand strength and our long term growth potential," said Rees. "We're incredibly optimistic about 2021 and our growth trajectory. Our key product pillars and our powerful social and digital marketing are clearly creating exceptional consumer engagement. From a channel and region perspective, our digital-first strategy and a long-term focus on Asia will deliver on growth for years to come."
Photo courtesy Crocs, Getty