Canadian Tire Corp said fourth-quarter sales grew double-digits at Helly Hansen and were down slightly at the SportChek segment due to COVID-19 restrictions. The company also announced plans to close all 18 National Sports stores across southern Ontario.
The closure of National Sports resulted in a Canadian $27 billion write-down.
Gregory Craig, Canadian Tire CFO, told investors Thursday morning that the company believes it will reduce overlap in its sporting goods assortment and gain efficiencies in the way it goes to market by limiting distribution to fewer banners.
"This has been a difficult decision, particularly due to its impact on people," Craig said during the conference call. "We're making every effort to place affected employees within our family of companies."
The SportChek segment had 397 stores at the close of the year against 402 a year ago. Banners include SportChek, Sports Experts, Atmosphere, National Sports, Sports Rousseau, and Hockey Experts.
Closing National Sports is part of the company's strategy to increase operational efficiencies and focus on core assets, added Greg Hicks, president and CEO of Canadian Tire Corp.
"It's a smaller banner for us, for sure, but the decision to close the business is a matter of focus," he told investors. "There's always been a fair amount of overlap with this banner and both SportChek and (Canadian Tire)."
In addition to a density of physical stores, an overlap between e-commerce capabilities exists as well.
An evaluation of the company's portfolio as part of its operational efficiency program with an "investor mindset" led to closing the stores, Hicks said.
"This was a business that was receiving just enough capital for maintenance needs over the years and just wasn't a core asset for us," he said, adding: "We just couldn't find a continued purpose." 
SportChek's Q4 Comps Decline 3 Percent
Same-store sales at the SportChek segment were down 3 percent in the fourth quarter as the banner was most impacted among Canadian Tire's banners by COVID-19 restrictions and closures in the quarter. From an assortment perspective, categories related to outdoor activities such as hiking, biking, skiing, winter wear, and accessories had the strongest performance for SportChek, experiencing double-digit growth.
Hicks said SportChek shifted its promotional calendar to an earlier start for the fourth-quarter selling season, and it paid off as a "good portion" of holiday sales arrived early in the quarter before the store restrictions arrived in mid-November. Through the end of November, same-store sales at SportChek were ahead 5.7 percent.
"This trend reversed course in December when our stores started to face increasingly stricter retail measures," said Hicks.
One highlight for SportChek was e-commerce, which increased sales by 90 percent in the quarter. Said Hicks, "The team implemented operational improvements to better the customer's in-store pickup experienced by reducing order fulfillment time, including a commitment for curbside order availability in one hour or less."
Gross margins at SportChek improved in the quarter due to a profitable product mix and lowered promotional activity.
"Stephen Brinkley and team continued to prioritize the profitability of the SportChek banner and were selective about the sales that they pursued," said Hicks. "Additionally, SportChek closed the year with a healthy ending inventory position, setting the business up for increased productivity and turns improvement in 2021."
The reduced inventories at year-end were due in part to reduced purchases in cornerstone categories such as hockey, licensed apparel and team sports in light of softer demand during the pandemic.
Overall, SportChek retail sales, including sales from corporate and franchise stores, were relatively flat in the quarter, up by 0.5 percent. Total sales were C$604.8 against C$619.4 million, down 2.3 percent.
For the full year, SportChek's retail sales decreased 8.5 percent and total sales were off 10.9 percent to C$1.81 billion from C$2.04 billion a year ago.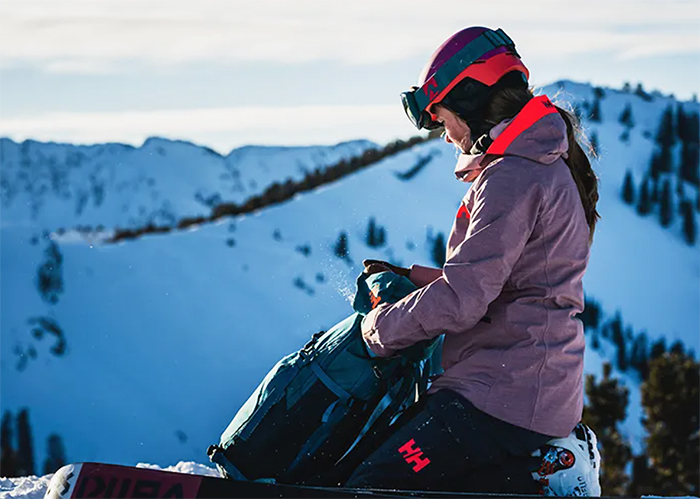 Helly Hansen's Q4 Global Sales Increase 12 Percent
Sales at Helly Hansen, acquired in 2018, increased 12.1 percent in the quarter on a constant-currency basis despite global restrictions and store closures. Hicks stated, "We were very pleased with Helly Hansen's performance in the quarter."
Helly Hansen's direct-to-consumer (DTC) business was "exceptionally strong," representing 40 percent of the brand's business in the quarter. E-commerce was the key driver of the DTC performance, up 120 percent versus the prior year, "serving is a clear indication of the Helly Hansen brand appeal worldwide," Hicks said.
Helly Hansen's reported revenue for the quarter was C$196.1 million, up 11.4 percent. For the year, Helly Hansen's revenue was C$541.9 million, down 2.2 percent from 2019. On a constant-currency basis, Helly Hansen's revenue grew 2.0 percent in 2020.
Photos courtesy Canadian Tire, Helly Hansen