On its first-quarter conference call, Canada Goose officials discussed the company's strong digital momentum, the benefits Canadian manufacturing is providing amid the ongoing supply chain disruption and its confidence in the move to end the use of fur.
In late June, Canada Goose announced that it would go completely fur-free in its products by the end of 2022.
On its quarterly analyst call, Dani Reiss, president and CEO, noted that in late April the company laid out its Sustainable Impact Strategy that was outlined in its first Sustainability Report. The Sustainable Impact Strategy included commitments around carbon neutrality, reclaimed fur, responsible down standard (RDS) certification, bluesign approval rates, and plastic-free.
Said Reiss, "We are transforming the way we do business to ensure that we're doing everything we can to create the future that we want to see in the world."
By late June, Canada Goose had extended those commitments by announcing it would go completely fur-free in its products by the end of 2022. Reiss said the end of the use of fur would be done through a phased approach. The plan calls to end the purchase of fur by December 2021 and end its use in manufacturing no later than the end of 2022.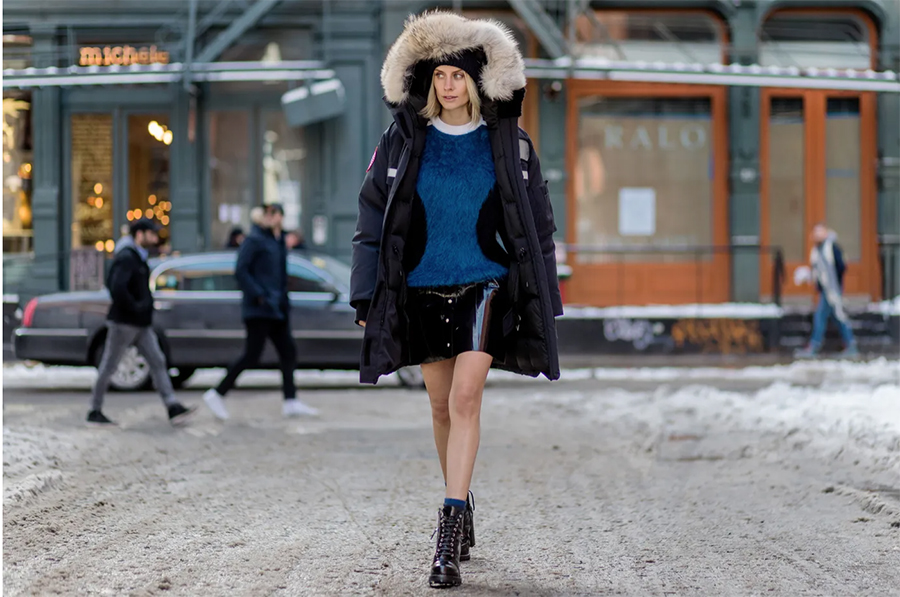 "This decision was driven by our commitment to sustainability and our purpose-based platform, 'Human nature,'" said Reiss. "Our mission has always been to make products that deliver exceptional quality, protection from the elements and perform the way our consumers need them to. And this transforms how we will continue to do just that."
He further said the move to eliminate fur represented a culmination of long-term strategic planning and the significant growth seen from its non-fur business. Currently, Canada Goose's non-fur business accounts for roughly half of its revenue. He said, "This has shifted significantly over the past few years," said Reiss. "This has been intentional."
He cited outsized growth in recent years of its non-fur parka offerings, lightweight down and spring categories and apparel.
Among newer growth platforms, knitwear was launched in 2018, and the overall apparel category is expected to exceed $45 million in this fiscal year. Said Reis, "In only four years, we have successfully developed the fast-growing category into a meaningful business. We expect that trajectory to continue."
Reis also expressed confidence in Canada Goose's plan to enter footwear this fall. He said, "Just like we have with each of our previous category expansions, including lightweight down and apparel, we have a proven track record of successfully building new categories into meaningful businesses for our brand."
Canada Goose also reached a milestone in the first quarter with its non-parka categories accounting for roughly half of the company's DTC revenue for the first time.
Reiss said of the moves to diversify away from fur-based products, "This is a transformational change that has energized our business. I am excited, and I'm confident in this new direction and its ability to further accelerate our growth."
Reiss also said Canada Goose had no plans to use faux fur due to environmental reasons.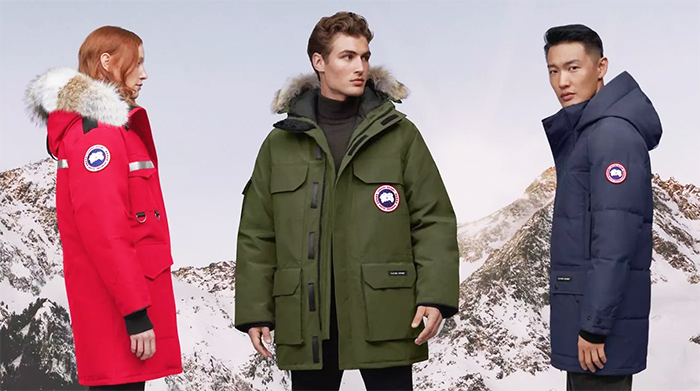 Q1 Revenues More Than Double
In the quarter ended June 27, sales rose 115.7 percent to $56.3 million exceeding Wall Street's consensus target of $51.3 million. The quarter is typically its lowest-volume period.
"Heading into this quarter, we were well-positioned after finishing fiscal 2021," said Reiss. "With record revenue in our third and fourth quarters, our business has shifted from recovery to growth, and that has continued into this quarter."
The star for Canada Goose was DTC, where revenue grew 182.7 percent to $29.4 million from $10.4 million. The increase was driven by a lower level of COVID-19 disruptions, e-commerce growth and new retail expansion, despite continued store traffic headwinds. Across its global store network, approximately 20 percent of total trading days were lost to temporary closures versus 60 percent in the year-ago quarter.
Global e-commerce revenue increased by 80.8 percent to mark the continuation of the broad-based growth seen in the fourth quarter. The online gains were led by low triple-digit growth in both the APAC and EMEA regions. The UK was a significant contributor to its EMEA growth.
In North America, Canada led the way with a growth rate in the high 70s. The gains came despite the Canada region losing 40 percent of the trading days of its nine Canadian stores. In the U.S., where the majority of Canada Goose's stores were open for the quarter, e-commerce grew in the high 40s. Reiss said, "This highlights not only our successful investments in our digital business but also the strength of our global demand."
Wholesale revenue catapulted 196.6 percent to $25.8 million from $8.7 million a year ago. The increase was a result of the higher volume of shipments to wholesale and international distributor partners driven by a lower level of COVID-19 disruptions.
Other revenue, which includes sales to company employees and PPE products, reached $1.1 million, down from $7.0 million a year ago. The decline reflects the temporary production of PPE products in the year-ago quarter.
Canada And China Pace Revenue Gains
Revenue increased significantly in all geographic regions. Highlights were Canada, which grew 126.1 percent, excluding $7.0 million of temporary PPE sales in the comparative quarter.
Another standout was Mainland China, where DTC revenue surged 188.7 percent in the quarter. Canada Goose opened three stores in China during the quarter with three more to open in the region this fall.
The net loss in the quarter came to $56.7 million, or 51 cents per share, compared to $50.1 million, or 46 cents, a year ago. On an adjusted basis, the loss was $50.0 million, or 45 cents, compared to a loss of $38.4 million, or 35 cents, and ahead of Wall Street's consensus estimate calling for a loss of 55 cents.
Operating loss was $60.7 million compared to a loss of $59.3 million  Gross margins improved to 54.5 percent from 18.4 percent a year ago. However, operating expenses grew to 47.3 percent year-over-year to $71.6 million reflecting more normalized operations alongside growth investments. The costs include $3.6 million in incremental investments in marketing and strategic initiatives, $3.1 million of higher performance-based compensation, and $3.7 million of unfavorable foreign exchange fluctuations.
Inventory was $404.5 million at quarter-end, compared to $428.6 million. The decrease was attributable to a reduction in finished goods of $22.4 million, supported by sales growth and reduced production in fiscal 2021.
Jonathan Sinclair, EVP and CFO, said all of Canada Goose's stores are now open as well as its eight manufacturing facilities in Canada.
"Our factories are running efficiently and at a much more normalized level of production relative to last year. While distancing regulations remain, we are utilizing extra shifts to lessen the impact. Due to our unique model, we don't have significant exposure to the production shutdowns and shipping delays the sector is currently facing. The vast majority of our revenue base is made in Canada."
He also said Canada Goose's shipping routes are different than competitors to help the company avoid much of the port congestion in the marketplace. He said, "I'm highly confident in our ability to get products into the marketplace while maintaining in-season flexibility. Our gross margin tailwinds also make this type of environment much more manageable from a profitability perspective."
Canada Goose reiterated its fiscal 2022 outlook that calls for revenues to exceed $1 billion, up from $903.7 million in fiscal 2021. Annual DTC revenue is expected to expand to approach 70 percent of total revenue, with continued distribution expansion in line with historical levels. Annual wholesale revenue is expected to be in line with fiscal 2021.
For the second quarter of fiscal 2022, the outlook assumes low double-digit wholesale revenue growth and DTC revenue at roughly one and a half times last year's level.
Photos courtesy Canada Goose/Getty