In July, the International Olympic Committee (IOC) unanimously approved adding Ski Mountaineering (Skimo) to the Milano Cortina 2026 Winter Olympics. With the acceptance, alongside other recently added outdoor sports as skateboarding, climbing and surfing.
SGB Executive touched base with a few industry players in the category to see what it might spell for the burgeoning backcountry market, a sector already growing before the COVID-19 pandemic which has been flourishing even stronger ever since.
The addition will include multiple race formats of individual, vertical, teams, sprint, and relay races. The 2026 Olympic program will consist of five new medal events—two men's events (sprint/individual), two women's events (sprint/individual) and one mixed-gender relay event—with an athlete quota of 48 (24 men/24 women). Each event will be timed, with skiers racing both up and back down challenging mountain terrain using lightweight ski touring equipment and techniques.
It's the exposure the sport, its athletes and their equipment receive that is expected to further bolster the backcountry segment.
"We were psyched to hear about it," said Drew Saunders, country manager, Oberalp Group, whose brands include backcountry gear maker Dynafit. "There's been progress in that direction for a while, including a Skimo youth division that debuted in 2020, but this is the real deal that should help the sport continue to grow and become more mainstream. We've been seeing participation trends grow already, but this should help even more."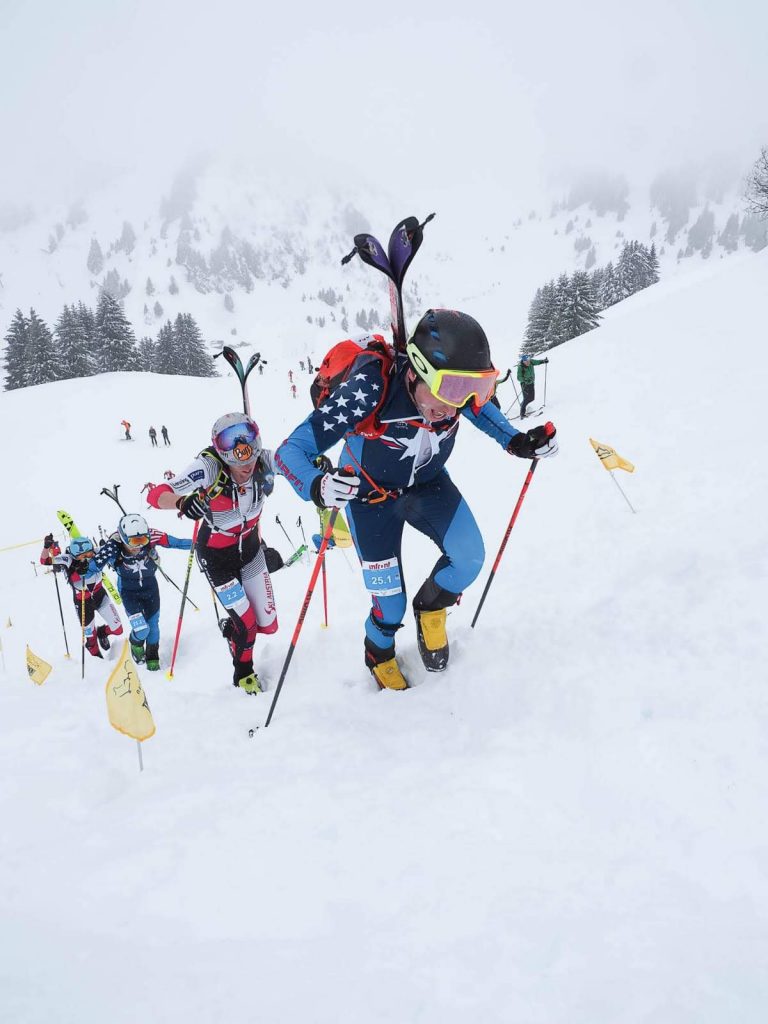 As a case study, Saunders pointed to mountain biking's Olympic inclusion in 1996 and what it's done for that sport. He expects similar growth to come to the climbing and surfing categories after their debut at this year's Tokyo Games. "Mountain biking was relatively small in the '80s and '90s, and now it's booming. Everyone has one or two in their garage," he said. "The Olympics helped that. We'll likely see the same thing happen in rock climbing and surfing, and it will probably boost the backcountry category the same way. It's a mainstreaming of the sport that gets it in front of a broader pool of users."
For Dynafit, that's good news. The Skimo, or race, sector has long been a part of its DNA, said Saunders, and the company is, and will continue to be, committed to it. Its SKU line-up reflects this. For boots, it already has a high-end line for competitive athletes in its $2,700 all-carbon DNA Pintech boots, a lower-level race Skimo boot called the DNA that retails for $1,000 and a recreational Skimo boot in its Mezzalama series priced at $800. With the same line-up in skis, it's likely to increase its offerings in the racing category with the sport's Olympic inclusion, Saunders said.
"As well as exposing the sport to more people and growing the recreational side, we anticipate the racing part of the market will continue to grow as well," he said, adding the huge growth in youth Skimo races domestically will likely grow the category. He pointed to Dynafit-sponsored athlete Grace Staberg from Colorado's Summit County who competed in last year's Youth Olympics, who could well make the 2026 U.S. team to compete in Cortina. "It's helping foster the next generation, which is what you need to grow any sport."
Skin companies are excited about the Olympic news, too, and also about the category's growing youth participation.
"The Olympics will shine a huge light on the sport and attract more young people into it," said Arthur Guinand, marketing director at Pomoca, a climbing skin company. "And we have until 2026 to make sure that the structure and messaging is well built behind its debut to orient people in the right direction and make the sport more accessible. It will also push competition within brands to have the first Olympics gold medal in the category."
Another brand poised to capitalize on this increased exposure is Blizzard/Tecnica. "The backcountry touring market is firing on all cylinders. It's partially related to COVID, but it's been rapidly growing for several years," said Jed Duke, director of product marketing. "Touring has moved out of the niche market and into the more mainstream winter outdoor business, and the inclusion of Skimo in the 2026 Olympics is further evidence of this. The Olympic exposure should make touring even more mainstream in the winter outdoor market."
He added that this also creates added responsibility. "With it will come a need to educate audiences on the subcategories that exist under the general backcountry market. It will be an opportunity for brands, retailers and media to share their expertise to help more consumers discover the practice that best fits their ability and lifestyle, not to mention continuing to educate on safety and the risks involved."
With the Olympics yet another catalyst for the category, the industry gets to hang on for the ride.
"We believe this is positive news to help grow the sport in the U.S. and provide Olympic dreams for our athletes," said Ram Mikulas, president, The U.S. Ski Mountaineering Association. "The Youth Olympic Games was the coming out of Skimo to the world, and the sport's worldwide growth was a key component in its approval to be added to the Olympics. While the uphill and backcountry ski market in the U.S. has been growing quickly, the additional exposure of Skimo Olympic status should amplify that growth."
Photos courtesy Dynafit