Boot Barn's momentum continued in the second quarter ended September 28 with sales ahead running up 69.5 percent against the year-ago period and 67.1 percent against the 2019 quarter. Jim Conroy, president and CEO, attributed much of the gains to new customer acquisitions that benefited from a combination of operational strategies, marketing, aggressive inventory procurement, and fashion trends.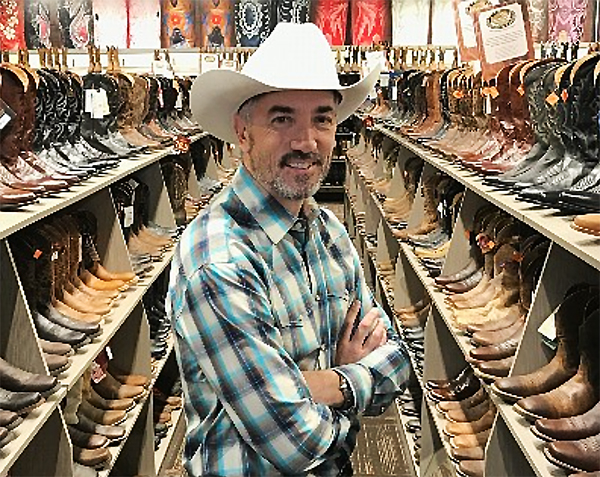 Operationally, Conroy said Boot Barn continues to benefit from management's decision in April 2020 as the pandemic emerged to remain open. The retailer carries work boots and flame-resistant work apparel for the oil industry that allowed it to stay open as an essential retailer. Said Conroy, shown right, "That decision enabled us to not only take care of our current customers, keep the stores' teams in place, the store managers, etc., but candidly, most of our competition is mom-and-pop Western-only retailers. So those guys, for the most part, closed down during the beginning of the pandemic. and we were able to take care of not only our customers but certainly picked up share from those players, those competitors."
Secondly, he credited Boot Barn's marketing team that has "successfully elevated the aesthetic of Boot Barn" over the last three to four years to expand the retailer's reach significantly.
"Five years ago, we were squarely focused on a rancher, Western customer, and each successive year we've expanded the aperture to be more inclusive," said Conroy. "The Just Country initiative was part of that. And that came at a perfect time when customers from all sorts of retail channels, and some mainstream retailers, were looking to dress more casually, and we had what we would call casual Western product, but it hit a pretty broad swath of the U.S. population."
Third, Boot Barn "really aggressively secured product" with moves to attain exclusives and long-term purchase orders early to take advantage of the elevated demand and to overcome supply chain constraints. Conroy said, "We went from playing defense to playing offense almost overnight in August of 2020…And that just enabled us to take care of any customer that walked through the store."
Finally, Conroy said that while Boot Barn's mix is predominately non-fashion, ladies' Western boots and apparel are trending. Conroy said, "We called that out a couple of quarters ago as a whisper, and now it's turning into more of a roar."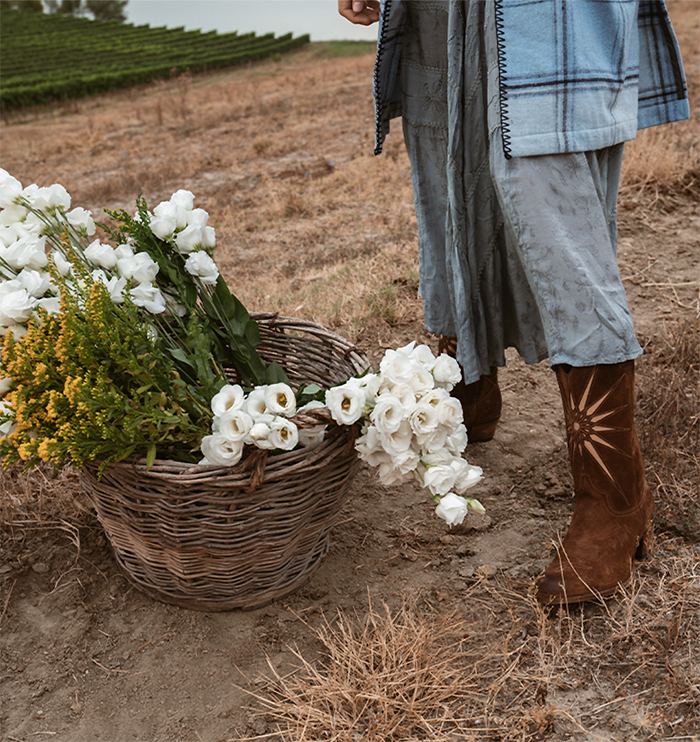 In the quarter, sales on a two-year basis jumped 67.1 percent to $312.7 million, topping Wall Street's consensus estimate of $291 million. Boot Barn continued to emphasize comparisons to the same period two years ago because it provided a better view into performance versus the pandemic-impacted year-ago period. Sales at retail stores were up 69 percent.
Compared to the quarter ended September 28, 2019, same-store sales increased 53.6 percent, comprised of an increase in retail same-store sales of 53.0 percent and an increase in e-commerce same-store sales of 57.1 percent;
On a two-year basis, broad-based double-digit growth occurred across almost all major merchandise categories, particularly in ladies' western boots and apparel. Excluding the ladies' Western business, sales continued to grow approximately 60 percent.
The men's Western business was also "very strong" with outsized growth in boots, apparel and hats. Work boots and non-flame resistant work apparel grew strong double-digits, albeit less than the chain average, reflecting oil markets continuing not having returned to work levels from the previous two years.
Merchandise margins during the quarter were "very healthy," increasing 320 basis points over the same period two years ago, driven primarily by better full-price selling and growth in exclusive brand penetration.
Exclusive brands' penetration grew 750 basis points compared to the same period two years ago, amounting to 28.8 percent of net sales in the second quarter. Said Conroy, "We have seen significant growth in every one of our major exclusive brands, with three of them included in our top five brands."
The margin improvement came despite modest margin deterioration from freight expenses.
Net income was $37.9 million, or $1.25 per share, compared to $7.7 million, or 26 cents, in the previous two-year period. Excluding a tax benefit in both periods, EPS was $1.22, compared to 24 cents during the last two-year period and ahead of Wall Street's consensus estimate of 94 cents.
The earnings improvement also benefited from improved online profitability by becoming less promotional, particularly at its Sheplers banner, and an increase in the penetration of exclusive brands sold online. Conroy also said Boot Barn managed to limit outbound freight expenses in the challenging shipping environment by leveraging its store network across the country. Fulfilling online orders from store inventory drove faster and less-expensive order fulfillment, increasing sales of exclusive brands online and improving returns on clearance sales.
More efficient marketing and pay-per-click spending also improved online profitability. Said Conroy, "The combination of these changes has improved the profit contribution of this channel meaningfully over the last few years."
For the current period, sales remain strong with consolidated sales growth on a two-year basis through the first four weeks of the third quarter, increasing 67 percent with continued strong expansion in merchandise margin. Said Conroy, "Once again, the sales growth has been extremely consistent and broad-based across both merchandise categories and geographies."
Conroy said Boot Barn is confident it will be able to secure enough inventory to support holiday needs. At the close of the quarter, inventories were up 34 percent. The increase was driven primarily by inventory held at its Fontana and Wichita distribution centers, a 9 percent increase in same-store inventory and inventory for new stores added in the past 12 months.
Boot Barn indicated it has little exposure to Vietnam, where pandemic-related factory shutdowns have significantly impacted the footwear space. Approximately half of its mix is manufactured in China, 25 percent in Mexico, 10 percent in the U.S., and 5 percent in Vietnam.
Conroy said, "While we are facing a multitude of challenges, I feel that the company is well-positioned for the upcoming seasonal build in sales."
Photos courtesy Boot Barn