Athleta sales growth accelerated in the first quarter to benefit from a 113 percent hike in online sales and strong full-price selling.
Overall, net sales for the Gap Inc.-owned women's athletic chain jumped 56 percent in the first quarter ended May 1. Comparable sales grew 27 percent year-over-year, with gains benefiting from going against temporary store closings in the year-ago quarter when the pandemic first emerged.
However, comps still grew 46 percent versus the first quarter of 2019. The gains followed comp growth of 26 percent in the fourth quarter and 37 percent in the third quarter.
Athleta sales reached $347 million in the latest quarter against $205 million a year ago and $223 million in the first quarter of 2019.
"What a quarter for Athleta," said Sonia Syngal, Gap Inc.'s CEO, on a conference call with analysts. "Athleta drove outsized digital growth while achieving record full-price sales through gains in performance lifestyle products, particularly warm weather shorts, dresses, swim, and tanks, and it really differentiated us from the competition."
Performance of inclusive sizing at Athleta has grown steadily since its January launch, with 70 percent of the Athleta collection now available in 1x to 3x sizing. Sleep and intimates is a newer targeted growth category for the chain.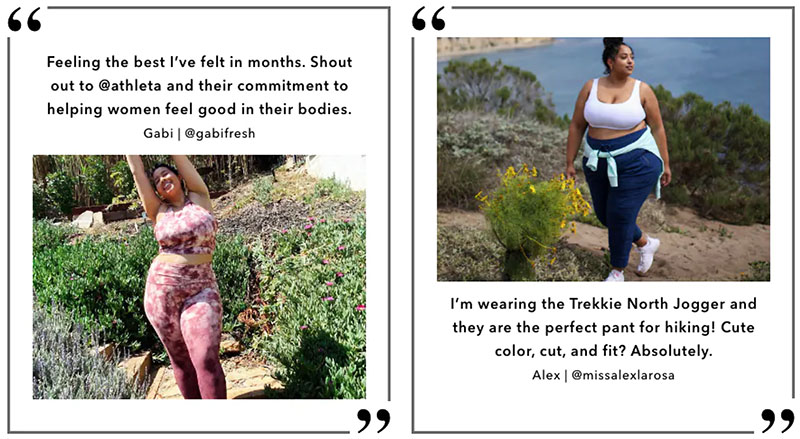 From a marketing standpoint, the "All Powerful" campaign resonated, driving positive engagement at two times the industry benchmark, with impressions across print and digital totaling over 160 million. Syngal said, "Athleta had some major wins in its effort to raise brand awareness by amplifying our values."
Signing Of Simone Biles Builds Brand Awareness
Syngal also highlighted Athleta's signing of Simone Biles, the most decorated American gymnast with a combined total of 30 Olympic and World Championship medals. Biles had long been with Nike.
"Athleta will have two gold medal athletes at the world stage in Tokyo this summer who will amplify the brand's mission to empower women and girls," said Syngal. "Simone Biles joins Allyson Felix as the brand's newest ambassador and will bring her personal story of unparalleled career achievement with her journey of pushing through pain and adversity. 
These value-led partnerships are driving the awareness of Athleta. And, in fact, when we announced our partnership with Simone Biles, Athleta had the highest non-holiday search result in our history."
Athleta's investments in digital are also paying off with app performance exceeding expectation and success in digital marketing driving new customer growth to historic highs, pushing Athleta's total customer file to 4.5 million in Q1.
From a real estate standpoint, Athleta announced plans during the quarter to open its first stores in Canada, the home of primary competitor Lululemon. Syngal said, "With an online site launching later this summer and two stores planned for fall, this move is a proof point in our strategy to extend customers access through new entry points. Our vision to grow purpose-led billion-dollar lifestyle brands is taking hold."
Gap Inc. said it continues to plan to open between 25 to 30 Athleta stores and between 30 to 40 Old Navy locations this year. Combined, Old Navy and Athleta represented 66 percent of company sales in Q1, moving closer to Gap Inc.'s target of 70 percent by the end of 2023. The company is in the process of closing several flagship Gap and Banana Republic locations.
Athleta had 202 locations at the close of the quarter, up from 199 at the start of the quarter.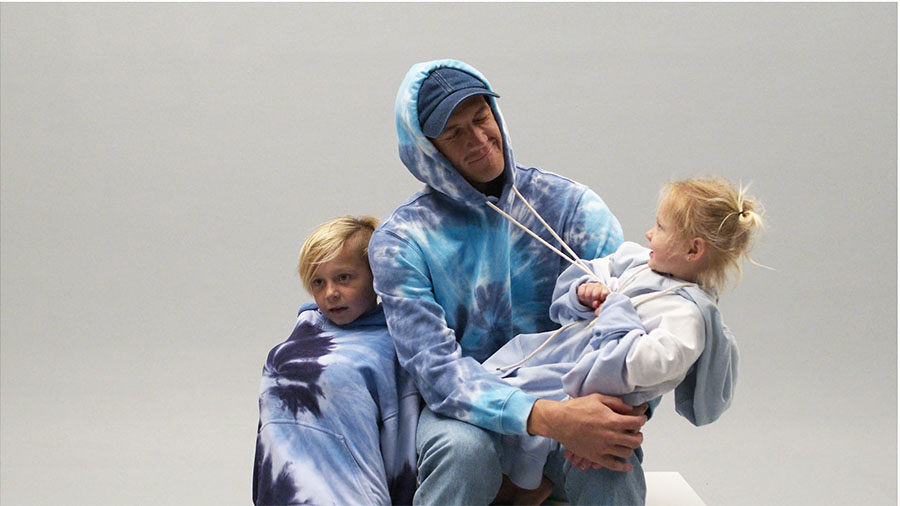 Gap Inc. Lifts Full-Year Guidance On Stronger-Than-Expected First Quarter
Companywide, Gap Inc. netted a profit of $166 million, or 43 cents per share, in the first quarter, rebounding from a pandemic-impacted loss of $932 million, or $2.51, in the year-ago period. Excluding one-time charges associated with the sale of Janie & Jack and Intermix, earnings were 48 cents, beating Wall Street's consensus target calling for a loss of 5 cents.
Revenue increased to $3.99 billion from $2.11 billion a year earlier, when the retailer's stores were temporarily closed during the pandemic. Analysts had estimated revenue on average of $3.45 billion.
By brand, other than Athleta, Old Navy's comparable sales rose 35 percent year-over-year and were up 25 percent versus 2019. Banana Republic's comparable sales fell 4 percent year-over-year and were down 22 percent versus 2019. At Gap's namesake banner, comparable sales grew globally 29 percent year-over-year but were down 1 percent on a two-year basis. Online growth overall was up 61 percent year-over-year and 82 percent when compared to 2019.
"Our strong performance in Q1 can be attributed to two things," said Syngal. "First, and most importantly, our Power Plan 2023 is taking hold. And second, the macro tailwinds, which included the third round of stimulus checks and increased vaccine distribution, created an inflection point. Our teams are maniacally focused on growing our purpose-led billion-dollar lifestyle brands, and our customers are responding. The marketing investments we've made over the last several quarters to fuel demand, coupled with the macro tailwinds, are supercharging our business."
Gap Inc. said amplified marketing efforts resulted in nine-tenths of a point of market share gains for Gap Inc. overall, ending the quarter at 5.5 percent of total U.S. apparel market share, the highest the company has seen in recent years.
Syngal noted that according to the NPD Group, Gap Inc.'s market share gains outpaced the industry average, with gains seen at Old Navy and Athleta.
Regarding broader trends, Syngal said, "Growth in active and fleece continued to rise, showing customers hesitance to let go of the cozy mentality while we saw a resurgence in dresses and summer fashion as customers also wish for a spring awakening. While these trends benefited the entire industry, we are uniquely positioned to take advantage of the factor -joggers and dresses, digital and in-store, stepping out and staying in. Customers are embracing their own blend of and, which allows us to play to our strengths."
Based on its strong first-quarter results, Gap Inc. now expects adjusted earnings to be in a range of $1.60 to $1.75 per share this year, with net sales rising in the low- to mid-twenty percent range from 2020. Previously, Gap Inc. was forecasting earnings to be in the range of $1.20 to $1.35 per share on sales growth in the mid-to-high teens.
Photos courtesy Athleta, GAP