By Thomas J. Ryan
Many members of Gen Z are struggling with adolescence and now have to deal with COVID-19. A number of surveys have detailed the challenges younger generations are facing handling social distancing restrictions and COVID-19's potential fallout.
…
Concerns Over COVID-19 High Among U.S. Teenagers
A survey of U.S. teenagers, ages 13 to 17, from Common Sense Media taken between March 14 and April 1 found 80 percent Gen Zer's saying they're following news about the coronavirus closely, and their concern is high — 61 percent are worried they, or someone in their family, will be exposed to the virus, and 63 percent are worried about the effect it will have on their family's ability to make a living or earn money.
Other findings in the survey:
54 percent of teens said they are "very much" practicing social distancing, 40 percent said they are doing so "somewhat," and 6 percent "not at all;"

80 percent have stopped attending public events or visiting restaurants, movie theaters or concert venues;

68 percent have stopped meeting in person with close friends;

37 percent have reached out to a friend or family member they haven't talked with in a while; and

42 percent said that they feel "more lonely than usual." Among genders, 49 percent of girls felt "more lonely than usual" versus 36 percent of boys.
…
Teen Spending Hit By Coronavirus
Self-reported teen spending was down 13 percent this spring due to COVID-19, according to Piper Sandler's 39th Semi-Annual Taking Stock With Teens Survey.
The survey highlights discretionary spending trends and brand preferences from 5,200 teens across 41 U.S. states with an average age of 16.2 years. It was conducted from February 17 to March 27.
"Our Spring Teen Survey was conducted during a time of significant upheaval as the world (and U.S. teens) grappled with the realities of COVID-19," said Erinn Murphy, Piper Sandler senior research analyst. "In fact, we believe the majority of our responses came from teens taking the survey from their own homes."
In Spring 2020, coronavirus appeared as the second "Most Important Political & Social Issue," cited by 11 percent. The environment was first at 16 percent, similar to Fall 2019. A significant uptick of teens worried about the economy was also seen.  Forty-seven percent of the respondents indicated they believed the economy was getting "worse,"  up from 28 percent last year. COVID-19-related concerns were expressed in the Northeast, the part of the U.S. that has suffered the most from the virus.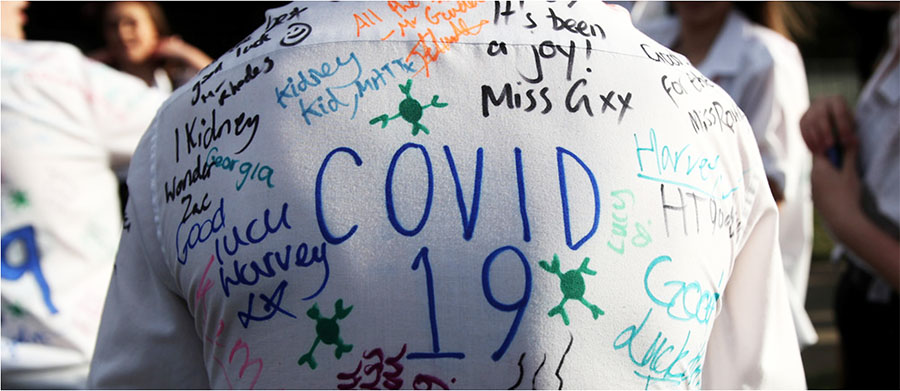 Teens And Young Adults Increasingly Committed To Social Distancing
According to a survey of teens and young adults, ages 16 to 30, taken on April 6, the percentage of overall respondents who consider the COVID-19 virus "very serious" increased to 63 percent from 51 percent in a survey taken from March 20 to 25.
The difference between the two surveys conducted by Swytchback further found:
The number of respondents who knew that large gatherings of people were extremely high-risk environments for spreading the virus increased from 84 percent to 89 percent;

‍The number of respondents who knew that social distancing and frequent hand-washing helped to prevent the spread of COVID-19 increased from 93 percent to 94 percent and from 96 percent to 97 percent, respectively;

The number of respondents who were unaware that the virus could be spread by people who showed no symptoms decreased by 2 points from 13 percent to 11 percent;

The percentage of overall respondents who did not know that there was no cure at present for COVID-19, decreased 4 points from 27 percent to 23 percent; and

‍The number of respondents who understood that the CDC website was a trusted source of information, increased 2 points from 91 percent to 93 percent.
…
COVID-19 Supporting Healthier Habits Among Youth
A new survey released April 20 of Millennials and Gen Zs from Vice Media Group found more than one in four (27 percent) have improved their sleep habits and similar percentages have started a new exercise program (26 percent), or self-care routine, (24 percent) amid the pandemic. One in 10 respondents (12 percent) added or increased a meditation practice.
Overall, 87 percent of the 9,360 respondents across 30 countries in the study, "Youth in Pandemic," felt they are doing everything they can to limit the spread of COVID-19. Twenty-eight percent believed others are not proactively doing what it takes to limit the spread of the virus.
For COVID-19 information, 90 percent of respondents rely on government organizations such as WHO, 58 percent on national leaders and 53 percent on local leaders. More than 4-in-10 (43 percent) want tips centered around "what to do," 48 percent seek uplifting or comic-relief content and 46 percent want non-COVID-19 articles.
Millennials, in the prime of their careers, worry more about economic impact, whereas Gen Zs in their social prime, express more fear about mental health and relationships. The younger generation is also more likely to claim the media causes them anxiety and stress compared to Millennials and Gen X.
…
Gen-Z Missing Coming-Of-Age Milestones
In-depth interviews of more than 200 Gen-Z members from Archrival, a creative agency focusing on youth culture, explored the impact of teenagers missing out on coming-of-age moments this year, including proms, sports seasons, graduation and heading to college, due to the disruption caused by COVID-19. Slightly older ones interviewed felt they're missing career opportunities, from dream internships to first jobs.
The interviews found younger consumers increasingly concerned that their expectations for their lives may have to change.
Suggestions from Archrival to brands included:
Have a human-first approach in all you do. The world feels scary, hopeless and overwhelming right now. Help Zs see that everyone—regardless of age, race, class or generation—is in this together.
Give Zs the opportunity to celebrate the moments they feel they've missed out on. Think graduation festivities, prom, summer camp and more.Help Zs capture the professional opportunities they've worked so hard for and are now stressed about missing out on; think digital internships that can be added to their resumes, or social media and digital marketing jobs that can replace lost campus gigs.
Remember that while none of us know what the future will bring, this is Gen Z's first time experiencing crisis and recession. Assure Zs that life will go on after this.
Expect Gen Zs to seek out stability, safety and comfort, at least in the near-term future. Provide opportunities for Zs to experience much-needed freedom and adventure, without stepping too far beyond their safety nets.
Listen. Zs can tell if brands are hearing them or just pushing their own agendas, so tune in to their stories and experiences. Empathy is your north star right now.
…
Employee Care A Priority For Gen Z Amid Pandemic
When asked what is the role of brands in light of COVID-19, the top two answers were ensuring employee and consumer safety (74.7 percent) and protecting employees financially (72.7 percent), according to a survey from Gen Z consumers from DoSomething.org, a digital platform that encourages social change among youth.
Retail stores such as Apple, Walmart, Starbucks, Disney, and Nike all received top mention for closing down or adapting their hours while keeping employees on the payroll.
The survey of DoSomething.org's members between the ages of 13 to 25 was taken April 8 and showed concerns about COVID-19 growing compared to a similar survey taken on March 18. Among the findings:
49 percent deeply missed being able to hang out with their friends in-person in the April 8 survey, up from 40 percent on March 18;

40 percent shared they are very concerned about COVID-19, up 6 percentage points since March 18;

When initially asked how they felt about the outbreak, the top answers were frustrated (54 percent), nervous (49.3 percent), and disconnected (40 percent). Three weeks later, 63 percent reported feeling frustrated, 54.2 percent felt sad, and 50.2 percent felt nervous; and

Feeling disconnected had grown from 40 percent to 47.9 percent over the three week period.
Photos courtesy Getty, Reuters