By Eric Smith
Any brand's growth plan usually includes some combination of hiring new talent, increasing efficiency, fine-tuning its pricing structure or strengthening its marketing message.
But Garmont International S.r.l. is focused on all four of these drivers simultaneously as the company amplifies its North America business in hopes of repositioning itself here. Specifically, sales of outdoor footwear in North America compose just 10 percent of global revenue when they should be at least a third based on this market's sheer size, according to Bill Dodge, CEO, Garmont North America.
So far, so good, he said, as hiking, light hiking and lifestyle categories are driving growth right now and have helped place the company on solid footing midway through 2019.
"Garmont has made good progress in the relaunch to the North American market," he told SGB recently. "Initially, it was not easy because the product line was focused on the mountaineering, approach and classic backpacking categories. Also, our pricing was not aligned to this market. It was an uphill battle on all levels. We did, however, succeed in reconnecting with our loyal consumers who loved our products in the past. And we proved to the trade that we make high-quality products that fit and perform well."
Dodge outlined Garmont's four-pronged approach for growing in North America, which has been spearheaded by the company's relatively new ownership. Five years in, that group has identified—and is now pursuing—these lofty targets.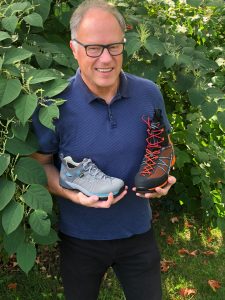 "It takes a little bit of time, especially with new ownership of the brand, to understand what you have, what the opportunities are going forward and where the challenges lie," said Dodge, pictured right. "I think we've been very methodically addressing our challenges and turning what's been good about the brand and the past into what consumers are looking for in today's market. I think that's where the opportunity lies."
Dodge understands the pitfalls lurking for the longtime footwear company that's based in the Montebelluna area of Northern Italy with North America headquarters in Exeter, NH. At the top of the list is a crowded marketplace, as legacy and startup brands alike vie for both mind and market share. Failure to innovate is another. But he also sees plenty of runway as Garmont activates four strategic initiatives designed to meet its ambitious goals.
Here is where Garmont is looking to build a competitive advantage in hopes of taking share and boosting the company's top and bottom lines.
People
Getting the right people in place is paramount for a brand to thrive. Garmont has made a series of recent hires in targeted positions, starting with last fall's addition of Michele Battocchio as COO, Mauro Baldini as global marketing and communications manager, and Davide Calcagnotto as global supply chain manager.
Last month, Battocchio said his goal is for Garmont's people to listen to the brand's customers and use whatever intelligence is gathered to create a competitive advantage.
"In my previous work leading international sporting goods companies, I have learned that success is the result of the ability to analyze, listen and then identify a brand's future prospects. In this way we can expand the brand's reputation with compelling solutions for the present and future needs of the evolving outdoor consumer."
Battocchio even added new in-country management at the company's manufacturing facility in Vietnam, bolstering the brand at the production level too. For Dodge, each new hire strengthens Garmont's go-to-market strategy.
"Brand and product are still the most important factors, but it is the people who shape these," Dodge said. "The new team has a focus on this market and is now assembling a more cohesive brand story that will be told through a new website and targeted marketing efforts coinciding with the arrival of new products."
Efficiency
Garmont NA recently opened a new distribution center in New Jersey, which is farther away from Garmont's headquarters but larger than its previous facility and closer to a major port, giving the company a huge supply chain advantage thanks to faster and cheaper shipping.
"Many of our reorders ship the same day as we receive them," Dodge said. "We've also been able to take advantage of a larger warehouse that has better pricing with shipping companies. Our shipping costs have come way down as a result of this move, which will benefit our retailers as well."
The emphasis on efficiency was a direct result of hiring Calcagnotto as global supply chain manager, Dodge said. His moves so far, namely the fast-tracking of this new DC, have helped Garmont's efforts to "make it a lot more efficient to get products between the factories and the retailers."
Pricing
Garmont continues to adjust pricing to better align with the company's key channel—outdoor specialty—and targeted customer base. Those changes are already making a difference in margins and sell-through.
"We reshaped our pricing structure, offering better margins to the retailers and competitive retail pricing," Dodge said. "As a result, we are now seeing much-improved sell-through. For this market, our business is up 66 percent year over year. Yes, it is from a relatively small base, but it is the beginning of important momentum. We have had a very good reaction to the SS20 [spring/summer 2020] line, and it appears we will build on that momentum next season."
While Dodge said any adjustment to pricing takes time and the company "can't do it overnight, it's an important turning point to provide the famous Garmont quality and fit at very competitive prices."
Marketing
A talented executive team, efficient supply chain and savvy pricing strategy can only go so far, of course, so to better resonate with retail partners and end customers alike, Garmont is now focusing on telling its brand story "in a better way and with a louder voice," Dodge said.
As the brand looks to reconnect with its legacy while remaining squarely focused on the current and future demands of consumers, Garmont's addition of Baldini has already helped Garmont sharpen its brand message to its dealer and consumer audiences, Dodge said.
"He's a younger guy who understands the best way to connect with consumers today," Dodge added. "He's already worked very hard to come up with new ways to communicate about the product specifically, and you'll start to see that come through in our marketing and on our website that's being built right now."
It's too soon to know if the moves Garmont has made, and continues to make, to amplify its presence in North America will pan out. But as Garmont forges this path, the brand is clearly taking steps in the right direction.
"I feel we're just getting started," Dodge said. "We just really just got our legs under us, and now we're implementing our strategies, which will help us make sure our product line represents what consumers need and want."
Photos courtesy Garmont