By Eric Smith
Speaking at the William Blair 2018 Growth Stock Conference in Chicago, IL, on Wednesday afternoon, Fox Factory Holding Corp. CEO Larry Enterline said the company has significant growth potential with sales of mountain bike parts.
One bike category in particular has Fox Factory especially excited about ramping up the company's revenue prospects.
"We've traditionally been in the high end of the premium mountain bike market," Enterline told presentation host Ryan Sundby of William Blair. "We define a premium mountain bike as a fully suspended bike … with a price point of $1,500 and above. We've traditionally been in the $2,000 to $2,500 and above part of the market, and one of our growth opportunities is to get down to that lower end of premium."
Not only that, but Enterline said Fox Holding has geographical opportunities, including selling more mountain bikes in South America, where Fox Factory products "traditionally have been under-distributed," Enterline said.
Fox Factory is a direct supplier of automotive suspension products to OEM automakers like Ford and Toyota; powersports suspension products to manufacturers like Polaris and mountain bike suspension; fork and frame products to companies like Scott, Trek, Giant and Specialized as well as boutique brands like Pivot and Yeti.
Enterline estimated that the company's target price point has a market of a million units or maybe more each year—50 to 60 percent of that market in Western Europe, 35 percent in the U.S. and the remainder in the rest of the world—and can help that segment grow.
Demand for mountain bikes has slowed some but is still growing at a steady enough clip to warrant investment in production and distribution, Enterline said.
"It went through a period where we growing at 15 percent several years ago," he said. "I think mountain flattened out a little bit but is still growing. It surpassed the bike industry in general. Premium grew even faster and is still a positive grower and will remain so for the next few years."
Enterline said the company's innovation in suspension, drive train and frames will help the company continue to take share, not only to mountain bike manufacturers but also e-bike makers.
Founded in 1974, Fox Factory has been putting suspension on wide variety of vehicles since the company's inception, including bikes, ATVs, motorcycles, snowmobiles and trucks.
Over the past 44 years, the company has designed a wide variety of performance-defining products that serve a diversity of markets and customers. That has helped create what Enterline called a "true aspirational brand" revered in the mountain biking and powersports world by professional athletes, weekend warriors and enthusiasts alike.
"The Fox brand is very deep," Enterline said. "If you're a desert racer or mountain biker, you know who Fox is," he said on the call. "In almost every category we go into, we get a great brand presence. That's led to a great group of end customers who are true brand evangelists."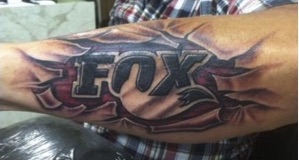 Enterline said Fox is one of the few hardgoods companies whose logo people actually tattoo on themselves, a factoid verified by a Google image search of "fox racing tattoo" and also evidenced in the photo here, which Fox Factory included in its presentation PDF.
"That's a pretty good testament to the nature of what they feel our products do for their activity of choice."
In May, Fox Factory reported net income for the first quarter ended March 30 of $ and earnings per share of 36 cents, beating Wall Street estimates by 2 cents. The company reported revenue of $129.8 million, which beat Wall Street estimates by $4.3 million.
"We started the year with record quarterly sales driven by strength in both our powered vehicle and bike offerings, resulting in sales and profitability above our expectations," Enterline said when the earnings were released May 2. "Looking ahead, our team remains committed to further building Fox's brand presence in our existing powered vehicle and bike categories, and we believe Fox's differentiated market position will continue to fuel our expansion in the diverse end markets we serve."
Photos courtesy Fox Factory Holding Corp.