EMarketer became the latest research firm to come out with the bullish forecast on the growth potential of esports as well as the related advertising opportunity to reach a hard-to-reach and coveted millennial demographic.
The reports arrive as Nike last October signed its first Esports player, Jian Zihao of the Chinese League of Legends, to an endorsement deal. In February, Nike become the official apparel and footwear partner of China's League of Legends Pro League (LPL). Puma, Adidas, New Balance, New Era, Champion and Fanatics are among other companies in the active lifestyle space that have formed esports partnerships.
"Esports was once an under-the-radar activity for enthusiasts of multiplayer online games," eMarketer principal analyst Paul Verna wrote in the research firm's first forecast on esports and gaming revenues. "Just a few years later, it's a multimillion-dollar business in the US, with implications for game developers, players, leagues, teams, live venues, streaming platforms, TV networks, audiences and marketers."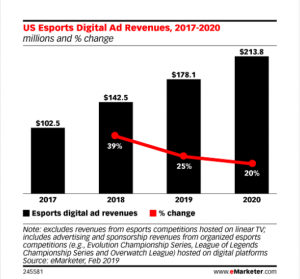 Among the findings from eMarketer's report:
Digital advertising revenues in the U.S. from esports are estimated to have reached $142.5 million in 2018 and expected to expand 25 percent this year, to $178.1 million. In 2020, digital advertising revenues are expected to reach $213.8 million.
Monthly viewership of games online in the U.S. is expected to expand 18 percent to 30.3 million in 2019, and reach 46.2 million by 2023.
The report noted that esports' executives consistently cite Google's YouTube and Amazon-owned Twitch and Twitch, which tend to garner younger audiences, as the leading platforms for esports viewing in the US.
"Esports fans have unique characteristics that make them more elusive but potentially more lucrative for marketers," Verna said. "They are typically young, TV-averse millennials who have higher-than-average disposable income."
Also promising for advertising is the finding that esports fans are open to marketing messages embedded in the esports experience, whether those are sponsorships, branded videos, in-game integrations, influencer-driven endorsements or even traditional ads.
---
A separate new report, "The Esports Report," from the Video Advertising Bureau (VAB) finds esports to be one of the fastest-growing, content-driven video platforms in the U.S. currently with its annual growth in audience and revenues expanding at a double-digit rate globally.
The global audience, according to VAB, is expected to reach 454 million in 2019, up from 395 million in 2018 and 335 million in 2017. In 2022, the global esports audience is projected to reach 645 million.
Esports sponsorship, advertising and media rights revenues are projected to reach $1.5 billion by 2022, a 67 percent increase versus 2019 projections. In 2019, North America alone will generate $409 million of total global esports revenues.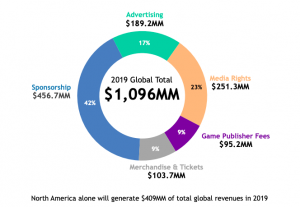 Similar to eMarketer's report, VAB's report revealed esports' fans to be a highly desirable target for marketers. The esports community was found to be varied and includes audiences of working professionals, parents, as well as college students with disposable income. But the majority of esports fans fall into the hard-to-reach millennial male demographic:
Sixty-five percent of esports fans are millennials with an average age of 26;
Sixty-two percent are male;
More than 87 U.S. colleges now have varsity esports programs and provide scholarships;
More than half of fans (58 percent) 25-years and older live with children in their households;
Forty-three percent of fans have an annual household income of over $75,000, with 31 percent having a household income of over $90,000;
Esports fans are 30 percent more likely to be multicultural.
Esports platforms, such as Twitch, Bandai Namco and Activision Blizzard, offer some of the highest engagement among millennial males based on time spent with the games and tournaments. Twitch visitors who are male and 18-34 years old spend, for instance, an average of 426 minutes each month on the platform – higher than Snapchat, Instagram or Twitter.
VAB's report also noted that while starting as a digital-only platform in 1995, esports has experienced major growth on TV leading to cross-screen programming and advertising opportunities. More than 11 TV networks, including ESPN and TBS, now present esports leagues and tournaments
VAB's report further found that most esports fans are multidimensional and have a variety of interests beyond esports and video games including TV shows, music, movies and traditional sports. On interest in traditional sports, the report found that 65 percent of esports fans are interested in football, 57 percent in basketball, 47 percent in baseball, and 39 percent in both soccer and boxing. Finally, in line with eMarketer's report, esports fans have a positive attitude toward advertising and are willing to sample products from brands involved in esports:
Forty-one percent of players believe sponsors are critical to the success of esports;
Sixty-three percent definitely try products shown during esports games.
"The dynamic esports community with its millennial male skew, delivers the passionate, desirable and elusive audience marketers covet," said Jason Wiese, VAB's SVP, director of strategic insights, in a press release. "Our new report finds this audience to be multidimensional, willing to engage with a variety of cross-platform content across screens, and is brand loyal and highly receptive to integrated advertising campaigns."
---
In its 2019 Global Esports Market Report, Newzoo predicted that the global esports market for the first time would exceed the billion-dollar revenue mark this year. Revenues are expected to reach $1.1 billion in 2019, a year-on-year growth of 26.7 percent. Around 82 percent of the total market ($897.2 million), will come from endemic and non-endemic brand investments (media rights, advertising, and sponsorship). The highest-grossing individual esports revenue stream worldwide is sponsorship, expected to generate $456.7 million in 2019. The fastest-growing esports revenue stream by far is media rights.
"Esports' impressive audience and viewership growth is a direct result of an engaging viewership experience untethered to traditional media," said Newzoo CEO Peter Warman in a blog entry. "Plenty of leagues and tournaments now have huge audiences, so companies are positioning themselves to directly monetize these Esports Enthusiasts. While this began happening last year, the market is constantly expanding on its early learnings. The result: 2019 will be the first billion-dollar year for esports, a market that will continue to attract brands across all industries."
The global esports audience is projected to expand to 453.8 million worldwide in 2019, a year-on-year growth of 15.0 percent, according to the fifth edition of the Newzoo's annual report on the esports industry. This audience will consist of 201.2 million Esports Enthusiasts (16.3 percent year-on-year growth) and 252.6 million Occasional Viewers (14.0 percent year-on-year growth). As the esports market matures and the number of local events, leagues, and media rights deals increases, the average revenue per fan is projected to grow to $6.02 by 2022.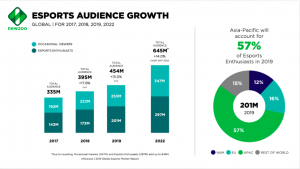 North America will once again be the largest esports market, boasting revenues of $409.1 million in 2019, according to Newzoo's report. It will show strong growth toward 2022, when it will reach $691.1 million. The largest share of North America's 2019 esports revenues will come from sponsorship ($196.2 million). Meanwhile, media rights will contribute most to this growth and will remain the fastest-growing and second-largest esports revenue stream in the region. The 23.9 million Esports Enthusiasts in North America will generate $17.13 per fan this year, higher than in any other region.
China will generate revenues of $210.3 million in 2019, overtaking Western Europe as the second-largest region in terms of revenues. The country is notable for the growing popularity of mobile esports, including casual titles. Yet, the recent slowdown of game licenses in China will affect Chinese gamers' exposure to new esports titles. Fewer new games are appearing in the market, especially when it comes to Battle Royale and mobile titles. Still, esports is becoming extremely important for China, where major cities such as Chongqing, Xi'an, and Hangzhou are competing to become the country's new esports hub.
Beyond Nike, esports deals in the active lifestyle space include:
Adidas in February 2018 reached an agreement to provide apparel for Team Vitality, the French eSports organization. It has since reached additional deals with China-based Lyon EDG FIFA team and Portuguese organization Grow uP eSports.
Puma this past January entered a partnership with North American esports organization Cloud9. Puma became the official apparel and official game-day pants/shoes provider of the Cloud9 LCS (Legends Championship Series) team.
New Era in February 2019 signed on as the official apparel partner of Australia's Essendon Football Club's esports team.
Fanatics last December signed on as the official retail and licensing partner of the Overwatch League. Fanatics secured U.S. and international rights to produce Overwatch League jerseys, fan gear, headwear, and hard goods sold across all retail and wholesale channels.
Champion last September became Team Dignitas' official jersey, casual wear and athletic wear provider. Last November, Champion signed on as the official apparel sponsor of the Robert Morris University-Illinois esports program.
New Balance in August 2018 became the presenting partner of the F1 (Formula 1) Esports Series. Drivers will be wearing new Balance socks and shoes while competing.
K-Swiss last August formed a partnership with the Los Angeles-based esports organization, Immortals, to launch the first signature sneaker for a professional gaming team.
Tilly's recently reached a sponsorship deal with the High School Esports League, the largest Esports league at the high school level, encompassing approximately 1,200 schools nationwide. Tilly's will donate an Esports academic scholarship and conduct a two-week, all-store augmented reality event this spring with prizes to support the partnership.
Image courtesy Nike