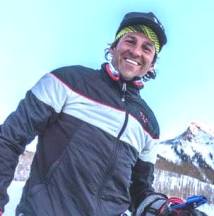 Dynafit Athlete Marshall Thomson earned the title of Overall Ski Mountaineering National Champion this past weekend at the US Ski Mountaineering Championships.
The race format consisted of three separate races – with the overall winner determined as an aggregate of the three races – with the vertical discipline on Friday, the individual discipline on Saturday and the teams/pairs race on Sunday. En route to the overall title, Marshall finished 1st in the vertical race, 1st in the team race (with partner Scott Simmons) and 2nd in the individual race. On another note, Breckenridge based Dynafit sales rep and athlete Pete Swenson had a successful weekend as well, finishing 3rd in the team race. Pete was also named Masters National Champion.

"Thank you to everyone who helped with this great event," said Marshall, picture above and to the right. "I love watching this sport grow and learning on how to improve it at every event. I could not have done this without the support from @dynafitna #mdrive #crestedbuttemountainresort #crestedbutteskipatrol #maxwells and as always thank you Karl for being there #karliracing. Scott Simmons thank you for being such an awesome ski partner. I had a blast. Every competitor and fan of the sport thank you."

This news comes less than two weeks from the prestigious Gore-Tex Grand Traverse, scheduled to start at midnight on March 28th. Marshall, and teammate Tom Goth, finished 1st at the 2013 Grand Traverse. Marshall is slated to race the 2014 Grand Traverse with Dynafit President Benedikt Boehm.
Based in Munich Germany with North American Headquarters in Boulder CO.