In his first comments to the investment community since taking over as president and CEO of Duluth Holding, Sam Sato said he is seeking to better scale Duluth's omnichannel assets and remains focused on building a multi-brand brand platform across Duluth Trading, Alaskan Hardgear, 40 Grit and Best Made.
"So much of our internal discussions have been around how do we develop and grow those brands independent of each other without losing some of the core values of what's made Duluth what it is today," said Sato, the former CEO of The Finish Line chain who officially became Duluth's CEO on May 3.
Sato added on Duluth's first-quarter conference call with analysts, "And that's really around product innovation, quality, performance, and benefit attributes of the products that we make. The opportunity to expand our brand reach is really about expanding the groups of consumers we speak with. And so we're doing some work now on how we frame that up."
His initial observations a month into the job is that Duluth has already undergone "a lot of heavy lifting and the building blocks are in place," citing the chain's strong omnichannel position, the Duluth Trading brand's deep connection with customers, and the company's commitment to product innovation and a customer-centric culture.
He added, "What I'm thinking about now is how to leverage assets and how to broaden the brand reach while maintaining its integrity. And how to enable a digital-forward business to meet the evolving needs of our customers. While all retail CEOs are thinking about many of the same things, I want to engage our team to think holistically about the enterprise and how their contributions can make one plus one equals three. To me, that's how we create long-term value. Over the next 90 days, we plan to dig in deep and evolve our long-term strategic plan."
Duluth paused its retail store expansion early last year as the company explored how consumer purchasing behavior may change coming out of the pandemic and Sato said it's still early to discuss post-pandemic growth strategies.
"Certainly, the company's in a really good position from an omnichannel perspective," said Sato. "Really the next step is twofold. One is really starting to identify where we can leverage some of the current things we're doing really well. How do we leverage that to better scale the business? The second is to identify within the omnichannel framework, and specifically, the customer journey and customer experiences, what role each touchpoint plays as well as each support mechanism plays. So where do our digital marketing, digital channel, brand voice, and target consumer voice play in our forward-looking strategy? And how does that support each of our unique brands."
Also being evaluated is what role specifically does digital play beyond commerce and what role stores play. Sato said, "We're going to assess the needs of the stores and specifically how they help impact and broaden our brand reach within certain DMAs (designated market areas). But suffice to say, we're going to be very strategic and how we assess the role of the stores and ensure that as we do start to make decisions around the future of the physical plant that we've got data to support that."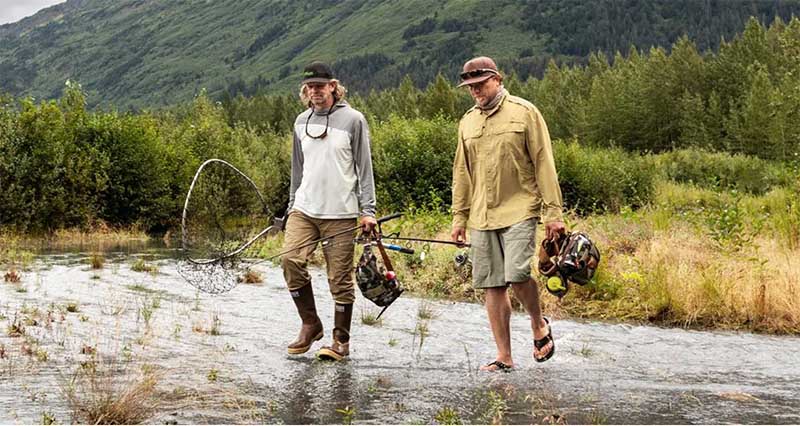 Duluth Raises Full-Year Guidance On Solid Q1
Sato made his remarks as Duluth slightly raised its outlook for the year after reporting first-quarter results that topped Wall Street targets.
Steve Schlecht, executive chairman and founder who had been filling as CEO since 2019 after former CEO Stephanie Pugliese joined Under Armour, said, "It looks like consumer shopping patterns are beginning to normalize as COVID fears moderate. While these are encouraging signs, it's still too early to know what the new normal will be post-pandemic. What we do know is that our strong omnichannel model will serve our customers well regardless of how they want to shop and that our customers are responding very favorably to our spring-summer collections as they head outdoors."
Net sales in the quarter ended May 2 increased 21.4 percent to $133.4 million. Wall Street's consensus estimate had called for sales of 125.9 million.
Retail store sales jumped 92.6 percent to $45.1 million as stores were closed for roughly half of the time in the year-ago quarter as the pandemic emerged. Retail is expected to be up 50 percent in the current second quarter.
Direct-to-consumer (DTC) sales gained 2.1 percent to $88.3 million. In the year-ago period, DTC sales grew 32 percent as spending shifted to digital with stores closed. The number of new buyers was down by 29 percent in the latest first quarter, but sales per customer grew 20 percent. For the second quarter, DTC sales are expected to be down in the mid-teens range.
Combined online and offline sales in markets where Duluth has stores increased 33.3 percent, to $89.9 million. The increase was driven by a continued ramp-up in-store traffic as compared to the prior year. Net sales in non-store markets increased 1.9 percent, to $42.0 million, compared to the heavy volume in the prior year resulting from increased digital advertising to promote its online warehouse clearance and global sale events, coupled with extended free shipping offers.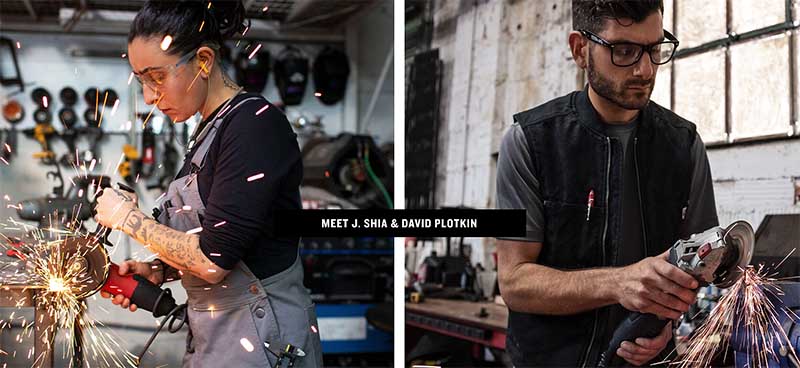 Spring And Summer Collections See Favorable Response
Men's apparel sales climbed 23.6 percent driven by growth in seasonal outerwear and outdoor active. Women's apparel sales increased 13.9 percent driven by strength in woven bottoms, including shorts, skorts and capris.
"In both men's and women's we're receiving a favorable response to our spring and summer collections, especially for outdoor activities that play to our strengths like gardening, hiking and fishing," said David Loretta, CFO.
In men's, seasonal outerwear, outdoor active and underwear led the way. New incremental sales from 40Grit and Best Made contributed 500 basis points of the growth.
With 40 Grit, learn more here, or click on the image above, the customer is responding well to seasonal basics, which is accounting for 40 percent of the mix. A handful of core 40 Grit styles were also introduced on Amazon to further test alternative channels of distribution. Sales of the new premium Best Made brand were above expectations. Alaskan Hardgear sales were up 79 percent, driven by clearance of winter outerwear items and healthy full-price selling on the lightweight spring and summer collection.
Women's saw a strong response to woven bottoms, line extensions, core fabrications such as Dang Soft for underwear, and seasonal goods such as shorts, skirts and capris. The women's swimwear launch has been well received. A women's workwear line for 40Grit appealing to younger, more price-sensitive customers was introduced on April 7 and is seeing positive early results. Shorts, overalls, and mid-tops are the most popular items. Women's lines under Alaskan Hardgear and Best Mate brands are also in the works.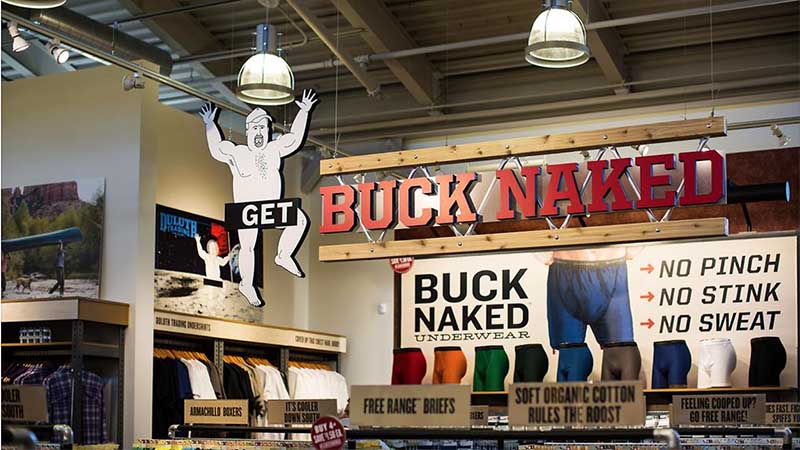 Loretta said Duluth is expanding its displays of Buck Naked underwear inside 13 Tractor Supply stores to an additional 100 during July after a successful pilot test. He said, "We see this as a great opportunity to expand our brand awareness with a top-tier partner and we'll continue to monitor progress for future expansion."
Gross margins in the quarter improved 230 basis points to 49.9 percent due a reduction in promotional, clearance and sitewide sales events as compared to the period of slower store traffic in the year-ago first quarter.
SG&A expenses decreased 9.3 percent and were reduced as a percent of sales to 48.5 percent, compared to 64.9 percent in the corresponding prior-year period. The decrease was primarily due to decreased traditional advertising, reduced digital prospecting spend, the elimination of third-party logistics, and $1.6 million of non-recurring COVID-19 related expenses. The decrease was partially offset by increased wages due to company retail locations being open for the full fiscal quarter.
Net income was $498,000, or 2 cents per share, compared to a net loss of $15.2 million, or 47 cents, in the prior-year first quarter. Wall Street's consensus estimate had called for a loss of 20 cents a share. Adjusted EBITDA increased to $10.1 million compared to a loss of $11.6 million in the prior-year first quarter.
Net inventory was $144.2 million against $149.0 million at the start of the quarter and $175.0 million a year ago that was inflated due to the closed stores.  Loretta said, "Our overall inventory position is back in sync with our sales demand, which led to improved inventory turns and free cash flow generation."
The updated full-year outlook calls for:
Net sales in the range of $695 million to $710 million
, up from a range of $680 million to $700 million previously;
Adjusted EBITDA in the range of $68 million to $71 million, up from a range of $66 million to $70 million previously;
EPS in the range of $0.66 to $0.72 per diluted share
, up from a range of 64 cents to 70 cents previously; and
Capital expenditures, inclusive of software hosting implementation costs, of $15 million to $16 million
, up from approximately $15 million previously.
Photos courtesy Duluth Trading Company