By Thomas J. Ryan
At SFIA's 7th Annual Industry Leaders Summit held in Baltimore, MD last week, technology's disruptive force was again an overriding theme at the event but developing deeper connections with consumers was at the heart of many discussions.
Keynote presentations were given by the top executives at Topgolf and Zumba on how they attract fans, partly through digital channels. Attendees also heard how Lululemon is seeking to better understand their customer's behavior to empower the company's innovation platform. Other topics included the potential for 3D printing, the digitization of the fan experience, China trade, and employee diversity.
But increasing engagement appears to be getting more focus because sports play is increasingly competing with screen-time on mobile devices.
Chris Clawson, chairman of SFIA, who recently returned to Life Fitness as CEO, noted SFIA asked industry participants for the first time in 2018 whether declining sports participation was a concern for them. The topic immediately led the list. Said Clawson, "When things start to go left or they start to go right we, as an industry, have to pay attention."
One promising development is the possible passage of the PHIT Act, which would change current federal tax law to include physical activity as a medical expense as a form of prevention. Effectively, consumers would receive 20- to 30-percent out-of-pocket discounts on gym memberships, yoga classes, athletic equipment, and a wide range of other sports and fitness expenses.
Tom Cove, shown in the lead image, SFIA's president and CEO, said the bill was close to passing last year but was derailed by the government shutdown. He said passing the act remains vital as 28 percent of all Americans reported no activity in SFIA's participation findings for 2018. Costs are found to be a primary inhibitor from youth participating in sports at schools to millennials joining their local health club.
Cove said SFIA is on track to get as many members of Congress to support the act this year as last year but he urged for continued support. Said Cove, "We're on the road to victory. The next six to eight months is our target."
Other successful programs include Project Play, an initiative of the Aspen Institute that seeks to build healthy communities through sports. Project Play recently earned wide acclaim for its "Don't Retire, Kid" campaign that calls attention to the finding that kids, on average, quit playing sports by age 11.
Another thriving program is Good Sports which, as of August 2019, had donated more than $50 million in new sports gear to communities in need. But much depends on the ability to recruit younger talent to the industry, an underlying goal behind SFIA's 4th Annual Start-Up Challenge that was held at the event, as well as to better engage today's digitally-savvy consumer.
Digitizing The Golf Experience
In the first keynote, Erik Anderson, executive chairman, Topgolf Entertainment Group, told the story of how Topgolf has reimagined the golf experience by blending technology and entertainment.
Anderson said the traditional driving range has been all about "solitary confinement" but Topgolf first began gamifying the experience by implanting electronic chips in balls to measure the distance they land from targets. This allows users to not only better gauge their own improvement but compete against others globally. Game statistics and player information are displayed on nearby monitors.
Desiring not to be just "another place where you visited," Topgolf has continually added new elements. Eateries and bars with live and recorded music support socializing. Newer experiences include the "Swing Suite," a lounge outfitted with a virtual reality system that enables guests to play virtual games of golf as well as baseball pitching, "zombie dodgeball" and other games.
Anderson said that while fewer people tend to want to go to a golf course and play for five hours, they'll come to a Topgolf, wait for two hours, play for two hours, and then hang out for another hour. Said Anderson, "It's still a five-hour experience, but it's an immersive, self-generated, very-social, very-fun environment."
An emerging opportunity for Topgolf is content programming, which launched in 2017 and has already had two hits with the "Who Will Rock You" and "Chef Showdown" series.
Topgolf, which operates 63 facilities in the U.S. and three in Great Britain, may seek to similarly gamify other sports. Anderson cited soccer and baseball as two possibilities. The success will depend on whether the sport can deliver an "authentic experience," or offers a high level of competitiveness, the degree to which it supports the community and whether the sport can be digitized.
The Staying Power Of Zumba
In a second keynote, Alberto Perlman, the founder of Zumba, discussed the staying power of Zumba, the high-energy exercise fitness program using Hispanic and Latin dance steps. About 15 million people take classes globally every week.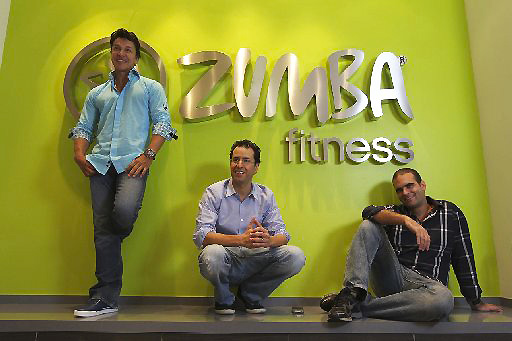 Perlman, shown center-right, estimated that 20 of his past businesses failed before he found wild success with Zumba, with its launch during the 1990s. He believes to be successful, business has to first have a "great product."
He believes Zumba hasn't become a fad like many other fitness crazes because beyond the workout, the dancing element adds community bonding as well as an emotional release for practitioners. He likened Zumba to yoga in that it offers "endless learning" for practitioners.
A second factor to success, however, is to "get lucky" with timing, according to Perlman. In his case, Zumba was aided at the time by growth in the fitness industry, Latin music becoming more accepted with the arrival of Ricky Martin and Shakira and eventually the popularity of Dancing with the Stars. The Internet's arrival and social media also spread the word.
Finally, Perlman believes long-term success involves having "something else besides money as your motivator." He said instructors continually come back with stories about how Zumba has changed lives, helping individuals work their way through not only personal goals but to recover from hardships or tragedies. Said Perlman, "Everybody is thinking about how to make money. That ocean is packed. You need to think about something else, and then create a business model that funds that somehow."
The Science Of Feel
Taking a fresh take on engagement, Tom Waller, SVP, Whitespace at Lululemon, focused his presentation on "emotional fitness" and Lululemon's concept of "the science of feel."
Waller noted how people often feel better or worse throughout their day depending on the garment they choose to wear in the morning. He said Lululemon is increasingly seeking to translate those insights into customer behavior into the design. Said Waller, "We all believe we unlock our full potential when we feel our best."
As such, Whitespace, Lululemon's R&D department, is paying close attention to neuromechanics, or how an individual's sensory system informs their nervous systems in how they perceive the world.
Ironically, a break-through for the Whitespace team came in 2013 when Lululemon faced a major recall of black pants. The pants contained Lululemon's initial break-through Luon fabric and were see-through when worn.
The team came up with the Align pant that became a blockbuster hit. But the big lesson the Whitespace team learned was that women were looking for "different sensory experiences" while the retailer has been only offering one with the Luon fabric. The finding has incentivized expanded experimentation around pants.
Lululemon next extended the "science of feel" concept to advance the sports bra category. Waller noted that most bras are designed to stop breast movement, but Lululemon's design team embraced how the breast moves with a women's individual gait to invigorate the retailer's sports bra range with the Enlite.
A latest effort to understand emotional fitness is Embody, which enables users to access meditation in an eyes-open state through virtual reality. Introduced earlier this year at the SXSW and Sundance festivals, the individual tries to match the movements of a virtual instructor while weight-sensing mat and a camera track the user's movement to gauge accuracy.
Waller said Embody aims to make meditation more accessible to "give you direct access of how your body works" and that's expected to provide more insights into how self-awareness and regulation translate into performance.
Riches In Niches
One session featured a roundtable exploring today's start-up successes with the Founders of three niche brands: George Foreman III, co-founder, Everybody Fights; Michael Schaeffer, co-founder NoBull; and Bruce Smith, CEO of Hydrow.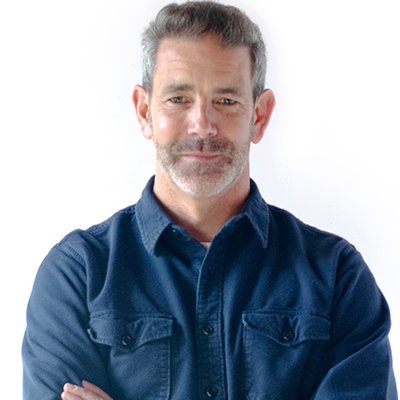 Moderator David Knies, chief growth officer at Essential Design, shown right, said the industry continues to find brands being built by tapping into micro-communities, citing Peloton in the connected fitness area, SoulCycle in boutique fitness, Lululemon in apparel, and Barstool Sports in sports/fitness media. The three start-ups interviewed similarly stand out for delivering community-driven experiences and their tight connections with their fans.
Everybody Fights, which will have almost 30 gyms in operation by year-end, offers circuit training, cardio and recovery classes. But boxing is the theme that anchors the community aspect of the gyms as well as the mission of many members to change their lives through fitness, even if they don't box. Said Foreman, the son of the famed boxer, "People just want to be in that atmosphere."
Everybody Fights also features amenities such as a sauna, steam rooms, a juice bar as well as friendly pricing compared to some of the popular fitness studio boutiques.
NoBull focuses on CrossFit and its name was inspired by the Crossfit's fans' dedication to putting in the work to improve their fitness. Said Schaeffer, who discovered CrossFit while working at Reebok, said, "We don't believe in gimmicks." The brand was discovered by CrossFit fans via Instagram and has expanded into functional fitness and running.
Working similarly to Peloton, Hydrow is an at-home rowing system that allows users to join live or pre-recorded training sessions with world-class rowing champions who are actually doing the work out on the Charles River or elsewhere while they work out on a rowing machine at home.
Smith had Hydrow taps into the love of being on the water as well as the community-aspect of working with a team. Said Smith, "We're happiest when we move around in packs." Hydrow recently secured a major order from Best Buy.
Smith said his mission is to re-tell the story of the benefits of rowing. These include the speedy fitness benefits from a rowing workout but also the connections to water and rowing partners that allow rowers to "get back to your reality" with many consumed by digital devices. Smith half-joked, "My goal is to get people to stop buying treadmills."
3D-Printing At Scale
A fireside chat with Phil DeSimone, co-founder and chief customer officer of Carbon, explored his company's success scaling 3D printing. In the sports space, Carbon first partnered with Adidas last year to launch the Adidas' Futurecraft 4D shoe, which takes a digital model of a customer's foot structure and quickly prints a shoe to fit it.
Earlier this year, a partnership with Riddell produced the first 3D-printed football helmet liner that can custom-fit football players' individual head shape and size. In August, Carbon teamed up with bicycle manufacturer Specialized for a 3D-printed bike seat.
Carbon uses Continuous Liquid Interface Production (CLIP), a photochemical process that harnesses light and oxygen to rapidly produce objects from a pool of resin. Instead of layering like traditional 3D printing, the liquid metal fuses into shape. DeSimone related the vision for the technology to the cyborg featured in the movie "Terminator Two" that could fuse into different shapes.
DeSimone said Carbon's process continues to move quicker. The Riddell turnaround from initial conversation to product launch took only eight months while the turnaround with Specialized took six months.
DeSimone believes the limits in traditional manufacturing, including the heavy costs around prototyping and labor, as well as Carbon's continued advances,  will continue to support the company's expansion. Said DeSimone, "The shoe is about energy return. The saddle is about pressure management. The helmet is about energy dissipation. We can do all of those things and that gives us the potential to reach other verticals."
Digitizing The Sports Fan Experience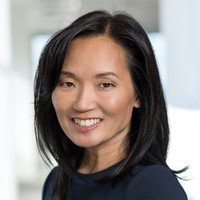 Tamiko Hutchinson, VP, Intel Capital, shown right, shared how the Intel Sports division is tapping the company's vast computing expertise to digitize and reimagine the sports fan experience. A focus of her presentation was on Intel True View, which uses a series of strategically positioned cameras at sporting events to capture volumetric (pixels with volume) data to create unique 360-degree and 3D game action highlights.
The highlight videos are published to a mobile app where fans can select a player and take control by spinning and shifting the perspective to basically watch the game from any angle. For example, with a recent partnership with Manchester City, fans are able to see the field through the perspective of a player to gain a better view of what influenced their action, such as his shot at the goal.
Hutchinson said it takes "massive amounts of data to create one of these great immersive experiences." At Etihad Stadium, Manchester City's home, dozens of 5K ultra-high-definition cameras, as well as on-premises Intel servers powered with processors, crunch up to one terabyte of data for each 30-second clip. Intel is also bringing similar interactive highlight clips to fans of football and basketball.
The Power Of Diversity
Ron Lumbra, managing director at Heidrick & Struggles, the executive search firm, discussed best practices and challenges in recruiting, on-boarding and developing diverse talent.
Lumbra pointed to numerous studies that have proven the benefits of having more diversity across ranks from a business perspective. But, he also believes a company's goal to increase diversity should be part of its mission and values.
He noted how the CEOs from the Business Roundtable, a non-profit led by 181 of the U.S.'s top CEOs, recently updated their corporate principles to argue that companies shouldn't always put shareholder returns first but also consider the needs of all stakeholders, from workers to customers, suppliers and communities. Lumbra said, "It's about exploring what's our impact on society."
Progress is being made on diversity including 57 percent of board placements being diversified last year. Companies with diverse board members tend to drive a more diverse c-suite. Women have been seeing strong momentum in advancing to executive ranks, especially in landing on boards, but the representation of minorities on boards and exec ranks is seeing an upward trend as well.
Among his tips for driving diversity is a strong commitment from the c-level.  About half of the major U.S. corporations now measure how they're faring against diversity goals, Lumbra noted. According to a report by Calvert Investments, 42 percent of the companies in the Standard & Poor's 100 Index link executive compensation to diversity goals. Many companies also have mentorship programs to support career development for women and minorities.
Lumbra also said diversity programs have to have "intentionality" to them. For instance, firms have to be "patient" to keep seeking to fill an open position if a qualified candidate isn't found quickly.
Finally, Lumbra said firms have to be "adaptable" in exploring the reasons why certain diversity goals aren't achieved. Some challenges include geography, as some companies are based in areas without a wide pool of diverse candidates. In functions such as human resources, legal and R&D, women have made more progress in gaining senior positions than other functions. Said Lumbra, "It's not just a cookie-cutter solution."
Online Reviews Influence Demand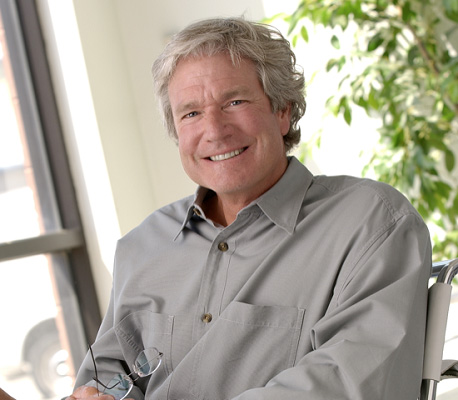 Paul Kirwin, CEO and founder of Channel Signal, shown right, explored how online product reviews can help or hurt a brand's reputations. 
Peer-to-peer communication has always been around but has reached another level with the popularity of online product reviews, stoked by Amazon's success. Kirwin noted that studies show that nine out of 10 consumers use product reviews at the beginning of the purchasing process, 84 percent trust them and 67 percent check product reviews before entering a store.
For brands, Kirwin said understanding the "storyline" across the opinions expressed in reviews, it is particularly valuable.
For example, Channel Signal research finds online conversations around running footwear include topics such as support, cushion, style, comfort, sizing, and color. But reviews show that buyers are most frustrated with shoelaces, whether too short, too long, coming undone, etc. A second factor that resonated across running footwear reviews was "out of the box delight," or instant comfort. A third was insoles. Kirwin noted that certain consumers highly appreciated the ability to take out an existing insole to put in another orthotic insole inside.
In athletic apparel, the most negative sentiments were expressed around the elastic. Shrinking, color-mismatch, color fading, and pilling were also frequently called out on the downside in reviews.
While consumer reviews can certainly be used to understand where products are falling short, positive attributes can be reinforced in marketing. Kirwin called out Athleta as one company "doing it right." Athleta's hang tags include attributes such as "lasting odor control," "wide waistband is fit to flatter" and "minimal seams reduce chafing" that mimic the positive language seen on online reviews.
Kirwin said that while many execs don't focus on online product reviews because they feel it's largely negative opinions, most reviews tend to be positive and those opinions are shaping the images of brands. Said Kirwin, "It's not what I believe. It's not what you believe. It's what they believe that's moving the marketplace."
High Hurdles To China Trade Resolution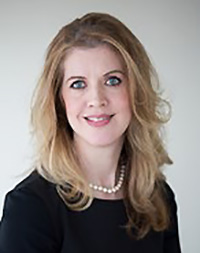 In a discussion on China trade, Frances Hadfield, legal counsel in Crowell & Moring's International Trade Group, shown right, provided a bleak assessment of the tariff situation. She noted that President Trump doesn't appear to be relying on, or listening to, the recommendations of his advisors. The administration also appears to be underestimating China's perseverance to wait out the tariff hit, and there's no sign the U.S. will offer a deal to help China "save face" in negotiation.
Any resolution is also being complicated as areas such as fentanyl imports and national security concerns are being linked into the discussion. Trump's recent move to increase tariffs by the increment of 5 percent also removed a previous belief that a 25 percent tariff rate would be the ceiling.
Hadfield offered a number of tips for applying for tariff exclusions, including common mistakes many firms are making. Tips were also provided on how to benefit from the Miscellaneous Tariff Bill (MTB) and employ other tariff-mitigation and trade-related cost-saving steps.
More Challenges Than Opportunities In Today's Retail Marketplace 
At a breakfast session, Matt Powell, VP and senior industry advisor, The NPD Group, said that in footwear, athletic overall is performing better than fashion. Athletic's growth, however, is being led by sports-lifestyle styles, which is dominated by athletic-inspired casual sneakers. In a survey last year, NPD found only 16 percent of buyers of athletic footwear indicated they intended to do a sport with their purchase.
One casualty has been basketball footwear, which has been running negative for several years and has shrunk to 5 percent of the footwear business.
In apparel, although the athleisure trend remains strong, the overall category is being hurt because people can wear "the same sweatpants and tights" across occasions, thereby reducing net purchasing opportunities. Powell said, "I don't see a time when we're going back to dressing more formally."
Other factors impacting spending overall in the sports space include younger consumers spending money on video games and AirPods, a movement toward simplification sparked in part by Netflix's "Tidying Up" series starring Maria Kondo, and the trend toward re-selling and renting apparel. Opportunities around kids are also being impacted by a declining birth rate that's partly tied to more stringent immigration policies.
For the second half of the year, Powell expects athletic footwear to decrease in the low-single-digits as the industry faces challenges anniversarying strong releases a year ago. Activewear is also expected to decline in the low-single-digits. Promotional pressures are expected to continue to the back half, driven by heightened promotions at vendors' DTC (direct-to-consumer) businesses.
On the plus side, Powell sees opportunities for brands tapping retiring baby boomers with lower-end product in sports such as golf and pickleball. He believes stores would benefit from better showcasing protection categories amid growing concerns over sports-related injuries. He believes many brands are falling short on the women's opportunity because they're not focusing on the mid-market where women tend to shop. Finally, he believes "small as the new big" as the Gen-Z generation is seeking out brands their friends don't have.
Do What You Do Best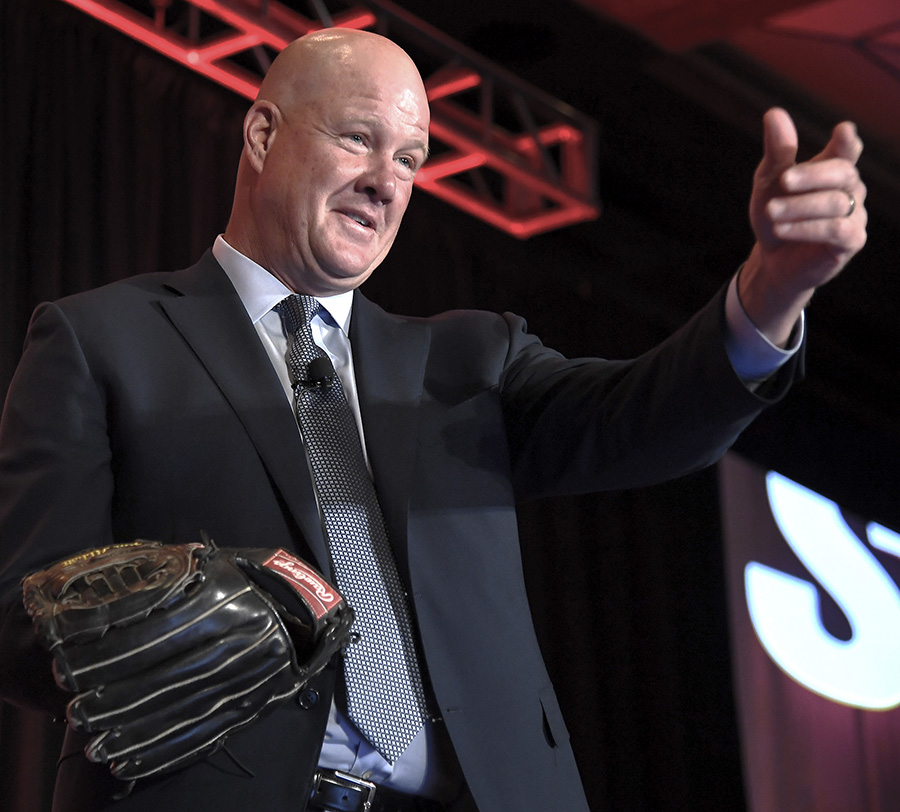 A highlight of the event was an inspirational dinner talk by Jim Abbott, shown left, the former Major League Baseball player. Born without a right hand, Abbott became a star pitcher for the University of Michigan, helped Team USA win gold at the 1988 Seoul Olympics and then went on to play 10 seasons in the majors, including pitching a no-hitter for the New York Yankees.
He discussed the three pillars that have defined his life: creativity, determination and belief.
Creativity involves "doing things a little differently," such as the way he learned to shift his glove to catch and throw a baseball. He offered that as sound advice for any individual seeking to overcome their own personal obstacles or looking to drive innovation and fresh ideas. Said Abbott, "It's about taking that chance."
Determination centers on remaining disciplined in reaching your goals, holding yourself accountable and not being distracted by "what we allow ourselves to buy into."
The third pillar involves understanding "what you do best" and "make the most of what you've been given."
Abbott detailed that the no-hitter he threw against the Cleveland Indians in 1993 came a few days after he was shelled by the same team. Before the no-hitter game, his catcher told him to scrap any game plan and instead asked him, "At the end of the game, how many pitches can you throw with trust?"
The strategy worked that day.
"I would argue to you that so much comes back to strength," Abbott said. "Even in the face of uncertainty and doubt, call upon what it is that you do best. Trust it. Believe it."
Lead photo + last photo courtesy SFIA