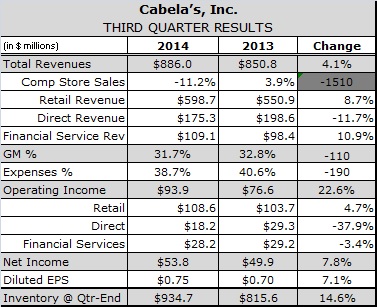 Cabela's Inc. tumbled Thursday after it dramatically lowered its full-year earnings guidance, citing disappointing third quarter sales of firearms and apparel.
The retailer reported comp stores sales declined 11.2 percent during the quarter ended Sept. 30, or 7.8 percent excluding firearms, ammunition and other shooting-related categories. That was an improvement from the 14.2 percent decline reported for the second quarter, but still short of management expectations. CEO Tommy Millner said the decline had moderated to about 8 percent since the close of the quarter and is expected to slow to the mid-single digit range for the entire fourth quarter.
"We are within shooting distance of mid-single digit," said CEO Tommy Millner. "We have seen improvement across the complex, and I would particularly call out ammo.
However, the slower than expected rebound in gun and ammo sales prompted CAB to lower its guidance for 2014 adjusted earnings per diluted share to be between $3.10 and $3.20, or 3.6-to-6.6 percent below the $3.32 reported for 2013. Just three months ago, CAB forecast 2014 earnings per share would increase at a high single-digit to low double-digit rate over 2013 levels.
Cabela's stock price dropped $8.63, or nearly 15 percent, Thursday to close at $49.31, just above its 52-week low of $48.75.
New stores, not comps, drive growth
CAB reported store expansion and income from its credit card operations drove a 4.1 percent increase in total revenue, which reached $886.0 million. Retail store revenue increased 8.7 percent to $598.7 million as CAB opened six new stores and entered into several significant markets, including Buffalo, NY; Atlanta, GA; Portland, OR; Ontario, Canada; and British Columbia, Canada. Twenty new format stores that entered the comp base for the year ended Sept. 30 outperformed the legacy store base by 40-60 percent in both sales and profit per square foot. Sales per square foot at new stores, which use about 70 percent of their space to display and sell product compared to 60 percent at legacy stores, averaged nearly $460 during the period.
Direct revenue, fell 11.7 percent to $175.3 million, due primarily to a greater than expected decline in ammunition and shooting related sales compared with last year, when ammo sales surged 39 percent.
Apparel disappoints
While falling ammo sales were the primary cause for lower comp sales, apparel sales were also down across the board.
CFO Ralph Castner said he expected apparel sales to come in flat based on what occurred in the fourth quarter of 2013, when men's apparel sales rose 14 percent despite a 25 percent decline in firearms sales.
"Now as we moved into the third quarter of 2014, we are looking at firearms down 17 percent, but men's apparel down 12 percent," Castner said. "Im not sure I know how we could have expected that phenomenon as you look back nine months ago."
Cannibalization from new Cabela's stores accounted for about 100 bps of the comps decline, but there was no meaningful impact on comp store sales from 11 stores competitors opened within the comp base during the quarter.
"For all the talk about square footage expansion, where we saw it, it had no meaningful effect at all," Millner said. "Slightly to the contrary, cannibalization — we had four stores that were directly cannibalized by new next-generation stores."
Transactions declined 13 percent, while average ticket rose 2 percent.
Big ticket sales remain strong
Boat and other power sports products were the best performing category, thanks in part to the retailer's growing line of Wildlife and Land Management products, which include Cabela's-branded tractors and all terrain vehicles. Sales of firearms and accessories were down mid-to-high-teens, while sales of footwear, fishing, camping, optics, home and gifts were off in the mid-single digit range CAB's had expected.
While Apparel sales, particularly outerwear were disappointing, Cabelas-branded apparel increased its share of overall apparel sales by 60 bps during the quarter, when CAB launched its Instinct line of premium hunting apparel. To dress completely in Instinct's least expensive 3-layer camouflage system costs about $650.
Asked if the price points on Cabela's brand apparel may be getting too lofty for many of its customers, Millner noted that Instinct "is a fractionally small part of the very top of our assortment in camouflage clothing, and shouldnt be indicative of any broader view of the category or our pricing strategy."
Overall merchandise gross margin decreased 100 bps to 36.3 percent compared with the same quarter a year ago, although 60 percent of that was attributed to changes in the way CAB splits marketing costs between its retail and credit card operations.
Credit fraud spikes
Financial Services revenue increased 10.9 percent to $109.1 million as the average number of active credit card accounts grew 7.5 percent due to new customer acquisitions in CAB's Retail and Internet channels. Growth in the average balance per active credit card account was 5.2 percent, and growth in the average balance of credit card loans was 13.0 percent. For the quarter, net charge-offs remained at historically low levels of 1.56 percent compared to 1.72 percent in the prior year quarter. Increased Financial Services revenue was driven by increases in interest and fee income as well as interchange income. However, fraud losses exceeded plan by several million dollars due to purchases made with credit cards information stolen from other retailers during the quarter.
Gross profit inched up 0.6 percent, but fell 110 basis points (bps) as a percentage of revenue to 31.7 percent. Expenses declined $4.7 million, or 2.0 percent, and fell to 38.7 percent of revenue compared with 32.8 percent in the year earlier quarter. An $11.9 million drop in incentive compensation accounted for most of the savings, but CAB also reduced its store labor costs spending on professional fees and other corporate overhead. Advertising spending remained relatively stable.
Operating income rose $17.3 million, or 22.6 percent to reach 10.6 percent of revenues, up 160 bps from a year earlier as newer, smaller stores continued to outperform CAB's legacy stores in sales and profit per square foot, Millner said.
Net income rose 7.8 percent to $53.8 million, or 75 cents per diluted share, compared with 70 cents a year earlier and would have risen a further 6 cents per diluted share, if not for $4.0 million increase tax reserves CAB set aside for prior years related to a change in the mix of income from foreign tax jurisdictions.
Highly promotional quarter ahead
Inventory increased by 14.6 percent, or $119 million, year-over-year to $935 million as of Sept. 30, or well below the 19.0 percent increase in square footage during the period. Millner described the inventory as clean, but said he expects margins to decline slightly given the outlook for a highly promotional fourth quarter.
"Our sell through on promoted items was meaningfully higher than the year-ago period," Millner said of the third quarter. "So, they are looking for value and a deal, and we intend on giving it to them in the fourth quarter."