Deckers Brands reported fourth-quarter results that came in far ahead of Wall Street targets as both Ugg and Hoka benefited from getting back in stock on key assortments.
In the quarter ended March 31, sales jumped 31.2 percent to $736.0 million, above Wall Street's consensus target of $639.2 million. On a currency-neutral basis, sales climbed 31.7 percent.
By channel, wholesale sales leaped 37.6 percent to $448.8 million while direct-to-consumer (DTC) sales advanced 22.2 percent to $287.2 million. Comparable DTC sales increased 19.3 percent.
By geography, domestic sales climbed 37.4 percent to $521.0 million, while international sales rose 18.2 percent to $215.1 million.
Gross margin fell 450 basis points to 48.7 percent. The lower gross margin was primarily related to an approximate 490 basis point freight impact, primarily from increased air usage and higher ocean rates, unfavorable channel mix as wholesale growth outpaced DTC and adverse foreign currency exchange rates with partial offsets from Hoka margins benefiting from price increases and favorable brand mix.
SG&A expenses rose 13.7 percent to $277.4 million but were reduced as a percent of sales due to sales leverage to 37.7 percent from 43.5 percent a year ago. The increased spend was primarily related to higher headcount, marketing and performance-related compensation.
Due to the sales gains and expense leverage, operating income jumped 48.9 percent to $81.3 million from $54.6 million. With a lower tax rate, net earnings surged 106 percent to $68.8 million, or $2.51, well above Wall Street's consensus estimate of $1.32.
For the year, sales increased 23.8 percent to $3.15 billion and gained 23.2 percent on a constant-currency basis as the company eclipsed $3 billion of revenue for the first time.
The annual gain marked acceleration of 23.8 percent and 19.4 percent over the prior year. Operating income improved 12.0 percent to $564.7 million, and net earnings improved 18.1 percent to $451.9 million, or $16.26 a share.
Ugg's Q4 Sales Expand 25 Percent
Ugg brand sales jumped 24.7 percent in the quarter to $374.6 million while increasing 15.4 percent in the year to $1.982 billion.
Powers noted that Ugg marked its second consecutive year of driving double-digit growth.
"Success in fiscal 2022 was driven by continued consumer adoption of the brands' diverse product assortment as all major categories increased double-digits over the prior year," said Powers.
Men's footwear grew to over $300 million after adding approximately $100 million over the last three years. Apparel and accessories combined increased 47 percent over last year, now representing more than 6 percent of the brand mix at more than $100 million. Women's Classics continue to drive incremental dollar growth through newness.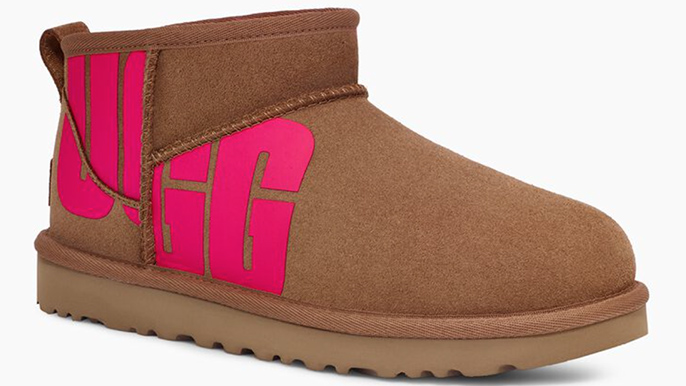 Increasing demand for a broader assortment of Ugg products is directly related to the successful launch of new franchises and updates to existing franchises. He called out the Ultra Mini, shown right, and Tasman, both benefiting from being seen as a sneaker alternative and for their greater year-round wearability.
From a channel perspective, domestic wholesale for Ugg drove "impressive growth," international regions' growth rate exceeded the U.S. growth rate for the first time in four years, and global DTC increased mid-single digits on top of the more than 30 percent increase from the prior year.
He noted that the gains came despite logistics challenges impacting the timing of deliveries and the availability of products. Said Powers, "Ugg outperformed well beyond our expectations in the fourth quarter as wholesalers accepted later-than-normal deliveries and DTC shoppers waited beyond the peak holiday season for the availability of key items that have been out of stock."
From a demand standpoint, favorable indicators for Ugg include U.S. search interest increasing 9 percent over last year and 20 percent over two years ago, according to Google Trends, with 18- to 34-year olds remaining the UGG brand's largest age bracket of consumers and incremental purchases of multiple products at the same time, led by Tasman, Neumel and slipper combinations. Ugg also saw an increase in the brand's loyalty program enrollment across all regions, with nearly six million global members at year-end.
For fiscal 2022, Powers said Ugg will continue to focus on maintaining its brand heat. The CEO said, "To do this, we expect to elevate the brands through disciplined and strategic global marketplace management prioritize the consumer experience at DTC to build loyalty, edit to amplify the assortment, driving fewer but more powerful product stories and attracting new consumers through innovative fashion collaborations."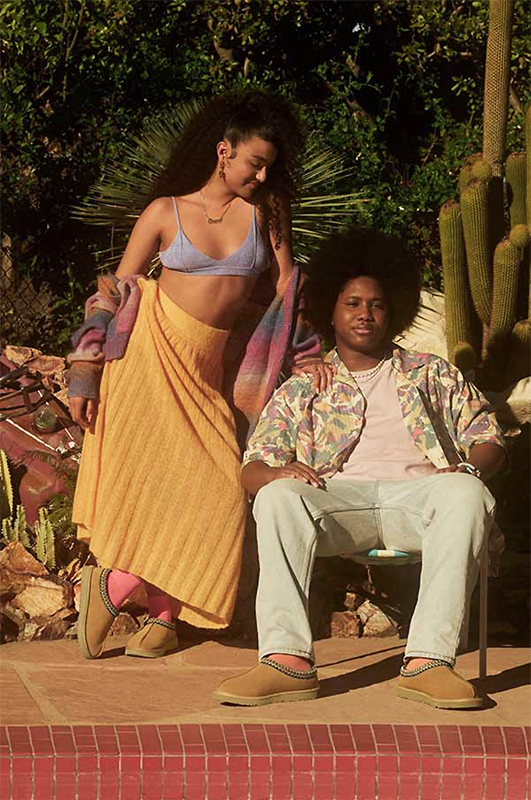 Hoka's Q4 Sales Surge 60 Percent
Hoka's sales increased 59.7 percent in the fourth quarter to $283.5 million. For the full year, Hoka's revenues jumped 56.1 percent to $891.6 million.
Power said Hoka's results for the fourth quarter benefited from improved supply and growth continues to be seen in every region and across all channels.
For the year, Hoka global wholesale sales accelerated, increasing 55 percent versus the prior year, with volume that is now larger than the brand's entire business in fiscal 2021. Global direct-to-consumer (DTC) increased 58 percent with strong gains in acquired and retained consumers.
Powers said the majority of growth in fiscal 2022 came from market share expansion with existing run specialty and outdoor retailers versus opening new points of distribution and he said the brand will continue to be disciplined in adding new distribution. Powers said, "Hoka has a superb group of wholesale partners who have continued to support the brand's strategic vision, enhance the brand credibility and awareness with core consumers and help broaden the scope of consumers that Hoka reaches."
He said that while Hoka has grown to the No. 1 or No. 2 brand in certain locations, the brand has identified several regional growth opportunities within pockets of the U.S. and overseas. One of its new strategic relationships is Foot Locker.
"Hoka and Foot Locker have shown mutual interest for several years now and, over that time, created a distribution plan that aligns the interest of both parties," said Powers. "We are excited to be opening Hoka in a limited number of Foot Locker doors beginning this summer, with the intent to increase the brand's exposure with the young consumers in key markets where Hoka lacks presence with the existing distribution. We know from our experience with Ugg that the Foot Locker team has a clear perspective on their consumer and believe this valuable partnership can have a considerable impact on Hoka awareness with the 18- to 34-year-old audience."
In the DTC channel, Hoka's acquisition rates increased 50 percent versus the prior year, and retention increased 62 percent versus the prior year. Powers said, "Ultimately, DTC is where Hoka can best showcase the breadth and newness of the brand's innovative product assortment, including apparel, and provide a convenient consumer experience to drive repeat purchases. Over the last year, Hoka drove a more than 40 percent increase in the number of consumers making multiple purchases and those purchasing across multiple categories."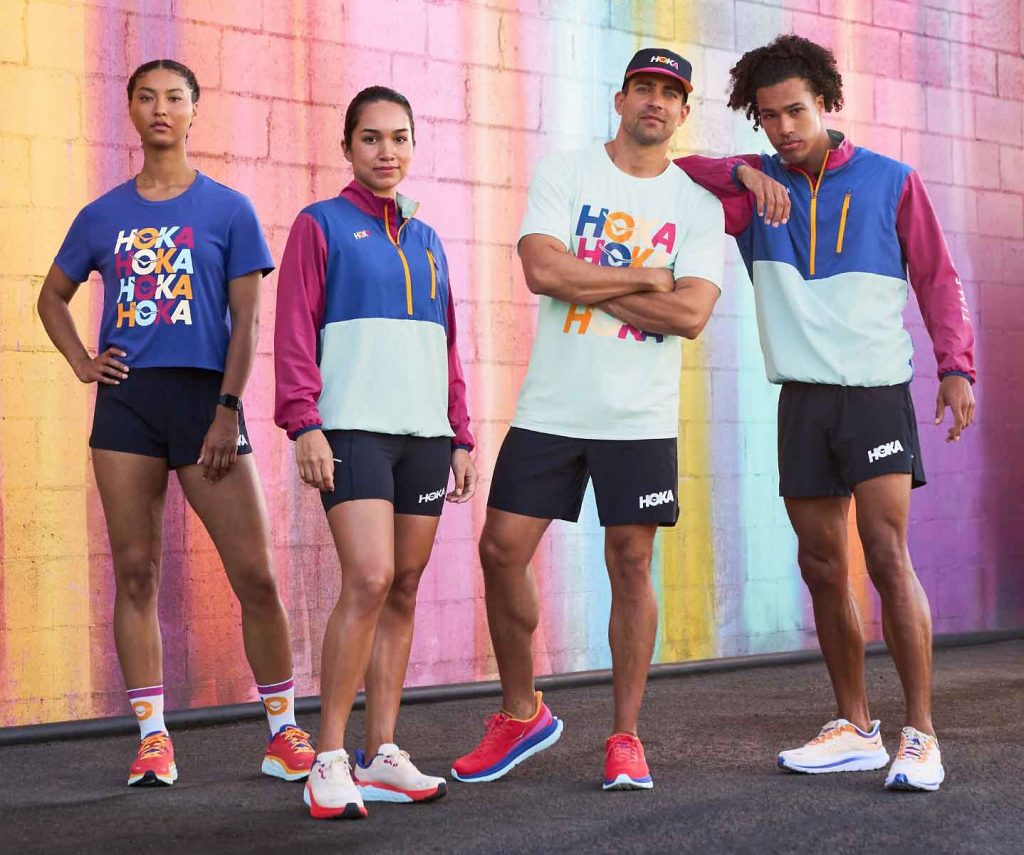 Hoka's digital marketing activations are helping drive DTC acquisition with a specific focus on the 18- to 34-year-old consumer, helping the brand expand its mix with these consumers by two percentage points over last year and six percentage points over two years ago.
Hoka is "seeing a fantastic consumer response" to its pop-up retail locations within physical retail, with New York City the strongest performer. New pop-ups have recently opened in Chicago and Venice, CA. Hoka plans on opening "a limited number of permanent locations in key cities," with the first U.S. location planned in New York City by the end of this fiscal year.
On innovation, Powers called out several new updated releases from Hoka, including the Bondi X, SpeakGoat 05, Mach, AnaCappa, and Kawana. He said, "Hoka continues to develop a compelling product assortment that is built with all types of athletes in mind, serving the spectrum of performance frontiers to extreme hikers and trail explorers and those looking for everyday all-day comfort."
Powers also mentioned plans announced earlier Thursday on the pending exit of Wendy Yang, who had led Hoka and Teva as president of the performance lifestyle segment. Powers said, "I want to thank Wendy for her leadership and contributions over the past seven years. With Hoka and Teva in their strongest position to date, I am confident in our ability to continue our positive momentum."
Stefano Caroti, president of omnichannel, will assume Wendy's responsibility on an interim basis. Yang will remain with the company in a consulting role through August 15 to support the transition.
Teva Q4 Sales Grows 9 Percent
Among its smaller brands, Teva's sales decreased 8.8 percent in the fourth quarter to $54.8 million. Teva brand net sales increased 17.3 percent in the year to $162.7 million. Powers said about Teva, "Growth this year was driven by the brand's leadership in sports sandals and progress building share in closed-toe categories, highlighted by the success of the hurricane and the Rembert franchise. While wholesale drove the majority of growth for Teva in FY '22, the brand was able to comp the exceptional DTC growth experienced in the prior fiscal year. 
Success at DTC was driven by a significant increase in retained consumers, which the brand will look to replicate in the upcoming year."
Sanuk's sales slipped 1.7 percent in the quarter to $11.9 million. Sales for the year increased 3.0 percent to $43.1 million. Powers said about Sanuk's year performance, "We are pleased with the brand's performance driven by our greater mix of full-price business and an increase in higher price point items."
Sales of Other brands, primarily composed of Koolaburra, increased 2.4 percent in the quarter to $11.2 million while decreasing 7.5 percent in the year to $70.9 million. Powers said the decline for the full year was due to the disruption of wholesale deliveries that resulted from pandemic-related bottlenecks. Koolaburra brand's DTC business increased 35 percent for the year and is now three times the size of DTC volume two years ago.
Inventories, including amounts in-transit, were $506.8 million compared to $278.2 million. Steve Fasching, CFO, said inventories are ahead 63 percent versus two years ago and are "more closely aligned with the sales growth of 48 percent for the same period. And due to the significant increase of ocean freight rates in the second half of fiscal year 2022, this inventory includes approximately $50 million of embedded incremental ocean freight."
For the fiscal year ended March 31, 2023, Deckers expects:
Sales to be in the range of $45 billion to $3.50 billion, representing a gain in the range of 9.5 percent to 11.1 percent;
Gross margin is expected to be approximately 51.5 percent against 0 percent in FY22;
SG&A expenses, as a percentage of sales, are projected to be roughly 34 percent, up from 33.1 percent in FY22;
Operating margin is expected to be in the range of 17.5 percent to 18.0 percent, against 17.9 percent in FY22.
Effective tax rate is expected to be approximately 22 percent to 23 percent.
Diluted earnings per share are expected to be in the range of $17.40 to $18.25 compared to $16.26 in FY22.
Photos courtesy Ugg/Hoka