Deckers Brands saw a "robust" direct-to-consumer (DTC) business in the fiscal first quarter ended June 30, driven by triple-digit online growth in both the Ugg and Hoka One One brands, but those gains were mostly offset by the headwinds experienced from owned retail store closures and some wholesale doors remaining closed during a portion of the quarter. Granted, the quarter is the company's smallest quarter of the year, but the company said the strength of its e-commerce and digital marketing platforms, fueled by adaptive marketing tactics, created a demand for counter-seasonal Ugg products and continued Hoka momentum, driving the company's success in the first quarter.
As reported in SGB Update, net sales for the first fiscal quarter ended June 30 increased 2.3 percent to $283.2 million, compared to $276.8 million for the comparable period last year. On a constant-currency basis, net sales increased by 2.8 percent.
DTC net sales for the first quarter increased 74.2 percent to $139.8 million compared to $80.3 million for fiscal Q1 last year while Wholesale net sales decreased 27.1 percent to $143.3 million in fiscal Q1 compared to $196.6 million for the comp period last year.
Domestic net sales increased 10.2 percent to $184.3 million in the quarter compared to $167.3 million for the same period last year, but International net sales decreased 9.7 percent to $98.9 million compared to $109.5 million for the same period last year.
The consolidated gross margin was 50.3 percent of sales compared to 47.0 percent for the year-ago period. SG&A expenses were $150.3 million compared to $161.4 million for fiscal Q1 last year. The company's operating loss was $7.7 million compared to an operating loss of $31.4 million in the year-ago period. DECK's basic loss per share was 28 cents a share compared to a basic loss per share of 67 cents in the comp period last year.
From a brand standpoint, global Ugg revenue in the first quarter decreased 10.0 percent to $124.7 million for the fiscal first quarter compared to $138.5 million for the comp period last year, driven by a 49 percent decline in wholesale, which was primarily caused by COVID-19-related wholesale door closures. Partially offsetting the decline in wholesale, the Ugg brand experienced a 53 percent increase in its DTC business as e-commerce was able to more than make up for the lost volume from the company's owned-retail store closures.
Deckers Brands President and CEO Dave Powers explained on a conference call with analysts that e-commerce strength was fueled by an accelerated shift to consumer demand to online platforms and supported by the investments Deckers has made in the e-commerce business resulting in a triple-digit increase in both acquired and retained consumers as compared to last year.
Powers said loyalty members accounted for nearly 40 percent of DTC revenue for Ugg, which compares to 28 percent for the comparable period last year. From a regional perspective, the domestic Ugg business maintained the momentum experienced throughout the fiscal year 2020 with revenue growth in the first quarter versus the year-ago quarter. He said the domestic performance was fueled by 18-to-34-year-old consumers purchasing online as Ugg.com saw a significant increase in consumers within this age group, representing over 40 percent of total online purchases in the quarter. Internationally, Ugg declined versus last year primarily related to COVID-19 store closures, the multi-year marketplace reset in Europe and the brand having a smaller e-commerce presence relative to the U.S. market making it more challenging to offset the volume loss from retail stores.
Ugg brand reportedly experienced global success with its slipper business through the innovation of emotional and comfortable product that resonated with a broad range of consumers. Powers said the company believes the gains in Ugg slippers were due in part to COVID-19 related to work-from-home mandates as people seek out casual and comfortable shoes to wear in their homes.
Ugg's Fluff Yeah is the brand's top-ranked style in terms of revenue in the first quarter for the second year in a row. And its companion style, Oh Yeah, was number two in its introductory season. Both styles are resonating well in driving growth in both women's and kid's sizing, suggesting a Mommy and Me trend. In fact, Fluff Yeah and Oh Yeah styles drove nearly half of the total purchases by 18-to-34-year-old consumers. The company believes that the hybrid slipper/sandal phenomenon that Ugg created is here to stay.
According to Google Trends cited by Powers, Ugg experienced a 76 percent increase in search interest during the first quarter.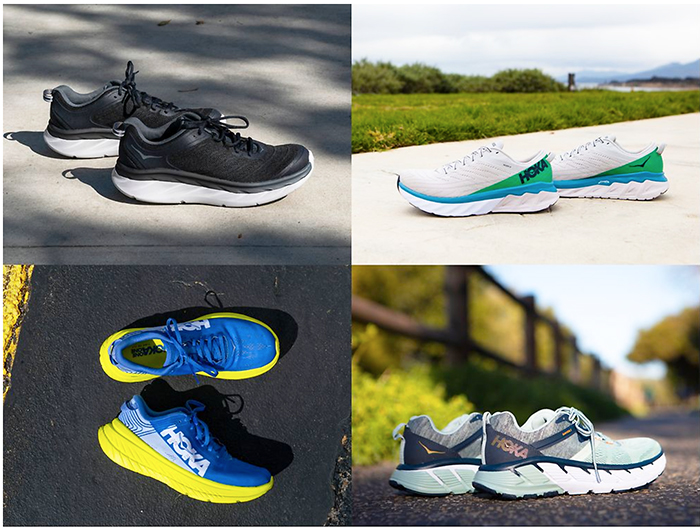 Hoka One One global revenue for the first quarter increased 37.1 percent in the June quarter to $109.0 million compared to $79.5 million in the year-ago quarter. Hoka was able to grow both wholesale and DTC channels primarily due to the size and strength of its domestic e-commerce business as well as the rapid expansion of distributor volume internationally. Powers said the expansion of the Hoka brand internationally has been a great indicator of the accelerating consumer appetite for Hoka outside of the U.S. specifically within Europe.
During the quarter, Hoka DTC experienced triple-digit revenue growth, aided by a similar triple-digit increase in customer acquisition as compared to last year.
Teva brand net sales for the first quarter decreased 7.9 percent to $35.2 million compared to $38.3 million for the same period last year. Teva's performance included a notable acceleration of its DTC business in the back half of the quarter. For the quarter, DTC represented 39 percent of Teva's revenue, up from 19 percent in the previous year. Overall revenue declined in the quarter, The brand experienced global growth with its universal franchise-style that now features straps made from recycled plastic.
Sanuk brand net sales for the first quarter decreased 29.2 percent to $13.2 million compared to $18.7 million for the same period last year. Powers said the brand saw significant strength in the online channel in the period, while physical retail experienced disruption from the pandemic conditions adversely impacting both owned-retail and wholesale business.
On the COVID-19 front, Powers said that the Moreno Valley distribution center continues to operate at a limited capacity, due to increased social distancing measures, taken as a precaution to maintain employee safety.
"Our Moreno Valley DC team and third-party logistics partners continued to work through the challenges associated with shipping higher levels of product sold through our e-commerce channel, in addition to the increasing volume of wholesale shipments, as we head into peak season," he explained. "As a result of these conditions, we anticipate higher costs associated with employee safety and increased payroll costs related to DC employees. We continue to adjust our retail store fleet operations in compliance with updated and ever-changing health and safety standards. To provide some context for our retail store operations during the first quarter, approximately 20 percent of our stores were open for the entire 90-day period. The average store was open for roughly half the quarter. As of this week, approximately 95 percent of our global stores are open, but in most cases operating at a limited capacity."
Powers said it foresees the potential risk of additional store closures or limitations during peak periods. "Similar to our owned-retail stores, many of our wholesale partner stores were closed for much of our first quarter but have since reopened with limited operations. We have continued to work closely with our wholesale partners to identify areas of risk and make the relevant adjustments to our order book," he said. "Given the significant portion of business remaining in this fiscal year, as well as the uncertainty around economic conditions and consumer sentiments, we still anticipate cancellations to outweigh the orders."
Powers did say that sourcing disruptions have been mitigated thus far, and they are not experiencing major sourcing disruptions at this time.
Looking ahead, Powers issued guidance that mitigates some of the fiscal Q1 successes. "While we expect direct-to-consumer and Hoka revenue to increase as a proportion of our total revenue in fiscal 2021, we do not expect to repeat the levels of penetration experienced in this first quarter," Powers explained. "Additionally, though we're optimistic about the Ugg brand's start to fiscal 2021, the brand is a long way from its peak holiday time frame, which we are expecting to be highly competitive and feature increased level of promotional activity across the marketplace.
"Starting in the second quarter, wholesale is expected to become a more impactful portion of the Ugg brand revenue, especially as we move some customer shipments forward to help alleviate potential pressure during the third quarter at our distribution centers. Given the number of unknowns, we continue to approach the Ugg brand's peak season with appropriate caution. To summarize, our portfolio of brands delivered an excellent quarter and an exceptionally challenging environment. I'm proud of our teams for their dedication and discipline to achieve our best first-quarter result of the past nine years."
Looking at the balance sheet, Cash and Cash Equivalents were $662 million at quarter-end, up from $503 million at June 30 last year and up from $649 million at March 31 of this year, making the first quarter net cash positive. Inventory was down 8 percent to $435 million as compared to $473 million last year. Inventory levels were said to be down partially as a result of the intentional phasing of later receipts to more closely align with the timing of anticipated demand as Deckers moves into later quarters. Deckers had no material short-term borrowings under its existing credit lines which have an available balance of $470 million.
Photos courtesy Ugg/Hoka One One