Columbia Sportswear's second-quarter direct-to-consumer (DTC) e-commerce business grew 72 percent year-over-year and represented 28 percent of global net sales during the quarter as the company managed through the impact of the global COVID-19 pandemic. Company Chairman, President and CEO Tim Boyle detailed on a conference call with analysts that online represented roughly 40 percent of Columbia's retail sales, including the company's e-commerce site and wholesale partners online businesses.
"Momentum in the channel remains quite strong as many consumers are still choosing to shop online rather than shop in stores," explained Boyle. "Through the first few weeks of July, we've seen continued e-commerce strength, while DTC brick-and-mortar store traffic and performance remains well below prior-year levels." The overall DTC business, while representing a larger portion of the business, still fell 32 percent in the quarter.
Boyle said the company is also actively preparing to support anticipated higher volumes of e-commerce sales during the heavier sales volume periods in the latter part of the year. COLM continues to roll out its new mobile e-commerce platform, Experience First, or X1, which remains on track to go live for the Columbia, Sorel and Mountain Hardwear brands in North America during the current quarter. In 2019, the company implemented X1 across 10 countries in Europe-direct and for the Prana brand in the U.S.
Overall, Columbia Sportswear company sales were down 40 percent year-over-year with declines moderating as the quarter progressed. April net sales were down nearly 60 percent, and June net sales were down 20 percent. Sorel was said to be the "best-performing brand in the quarter, posting just a 12 percent decline." Wholesale revenues were down 46 percent for the period.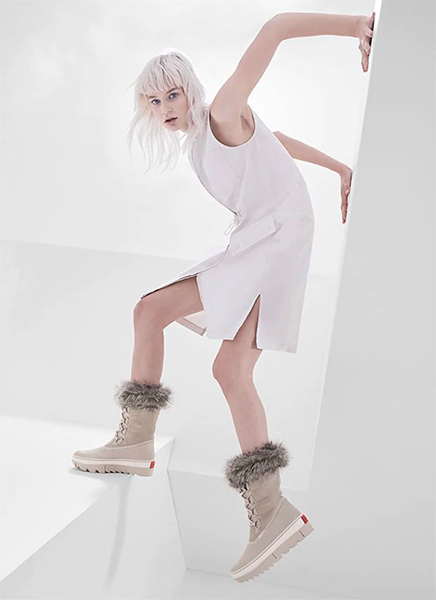 Overall, net sales decreased to $316.6 million in the second quarter ended June 30, from $526.2 million, for the comparable period in 2019. Sales declined 42 percent at Columbia, fell 28 percent for Prana and Mountain Hardwear slumped 44 percent for the period.
Region sales were down 42 percent in the U.S., off 34 percent in the LAAP (Latin America Asia Pacific) region, or down 32 percent in constant-currency terms. Korea was apparently the lone market to generate sales growth, due in part to government stimulus that boosted retail consumption during the quarter. China, which was the first market to experience pandemic weakness, was down mid-teens in constant-currency terms.
EMEA (Europe, Middle East, Africa) region net sales decreased 36 percent for the quarter, reflecting lower consumer demand across both distributors and direct businesses.
In Canada, which experienced a longer shutdown in many regions, net sales fell 56 percent and declined 54 percent in constant-currency terms.
Category sales were down 44 percent in Apparel, Accessories and Equipment while Footwear sales declined 23 percent.
Gross margin contracted 200 basis points to 46.2 percent of net sales, from 48.2 percent of net sales in the year-ago period. The largest drivers of this contraction were said to be all COVID-19 related including higher inventory provisions and increased promotional activity resulting in lower product margins primarily in the DTC channel. The headwinds were partially offset by a higher mix of DTC e-commerce sales which generally "carry higher gross margins and lower volumes of off-price wholesale sales compared to last year."
SG&A expenses decreased 10 percent to $217.7 million, or 68.7 percent of net sales, from $240.8 million, or 45.8 percent of net sales, for the comparable period in 2019.
The resulting loss from operations of $70.3 million, or -22.2 percent of net sales, from operating income of $16.4 million, or 3.1 percent of net sales, for the comparable period in 2019.
Columbia's Sportswear posted a net loss of $50.7 million, or a loss of 77 cents per share, in Q2 compared to net income of $23.0 million, or 34 cents per diluted share, for the year-ago period.
Exiting the quarter, COLM had $476 million in cash and short-term investments, minimal short-term borrowings and over $1 billion in total liquidity. "With that said, we are facing unprecedented uncertainty as we begin the second half of the year," Boyle surmised. "Many countries, particularly the United States, struggle to contain the virus and geopolitical tensions are high. Globally, our retail store traffic and performance remain well below pre-pandemic levels. and the depth and duration of this economic downturn remain unknown."
Looking ahead, Boyle said the company's Fall 2020 order book was essentially complete in January, prior to the pandemic hit in Europe and North America. He offered that the order book has "compressed slightly, [but] not a tremendous amount." He said the company sees an opportunity where they have inventory that may become important later in the season when there will be a "likely shortage of inventory in winter products." He stated that many of the company's competitors "canceled all orders for merchandise coming in from Asia in winter" while they were "very selective" in terms of how they worked that effort. "We basically reworked our order book to match our inventories which were existing in-country, whether that's Europe or North America or wherever, and match those orders, move the orders around so that we could remove purchase orders from Asia for the riskiest merchandise, he explained."
Photo courtesy Columbia Sportswear/Sorel