By Thomas J. Ryan
Crocs Inc. reported first-quarter earnings that handily topped Wall Street's targets as sales topped expectations. Revenues benefited from the brand's fifth consecutive quarter of double-digit direct-to-consumer (DTC) comp growth but growth accelerated overall with demand for Classic clogs in the Americas region exceeding supply.
"Rapidly accelerating demand for Classic clogs outpaced supply, particularly certain core colors," said CEO Andrew Rees on a conference call with analysts. "Our supply chain teams have been working hard to increase capacity at existing factories and bring new factories online."
Classic clog inventories are expected to be back to appropriate levels by the end of the current quarter.
A significant reduction in operating expenses also helped drive underlying profitability. Crocs nonetheless kept its guidance the same for the year.
In the quarter, net income rose to $24.7 million, or 33 cents a share, from $12.5 million, or 15 cents, a year ago.
After adjusting for non-recurring gross margin and SG&A charges incurred in both periods and adjustments in the year-ago period related to previously outstanding Series A Preferred Stock, net income improved 52.6 percent to $26.7 million, or 36 cents, from $17.5 million, 23 cents, a year ago. Wall Street's consensus estimate had been 15 cents.
Revenues were $295.9 million, up 4.5 percent on a reported basis and 9.0 percent on a currency-neutral basis. Excluding the $6 million impact from store closures, revenues jumped more than 11 percent on a currency-neutral basis with gains in all channels and geographies.
Revenues topped guidance in the range of between $280 million and $290 million. Wholesale revenues grew 5.2 percent, e-commerce revenues jumped 16.5 percent, and retail comps expanded 8.7 percent.
In the Americas region, first quarter revenues grew 4.3 percent to $129.1 million, which included a negative currency impact of $1.3 million. The growth was led by a 20.6 percent gain in e-commerce and a 9.7 percent increase at retail that offset a 2 percent decline in wholesale due to shortages in Classic clogs. Said Anne Mehlman, EVP and CFO, "We grew nicely in North America, despite limited Classic clog availability as demand for that product continued to accelerate."
In Latin America, wholesale revenues declined as a result of the negative currency impact and ongoing economic disruptions. The DTC business in Latin America delivered another strong quarter with 21 percent e-commerce growth and a 12 percent retail comp.
In Asia, revenues for the quarter were $91 million, just about flat with last year's first quarter. This includes a $4.3 million currency headwind. Mid-single-digit increases in the wholesale and e-commerce channels were offset by a decline in retail primarily due to store closures.
In EMEA, revenues grew 11.6 percent to $75.7 million despite currency changes reducing revenues by $7.1 million. On a currency-neutral basis, revenues grew more than 22 percent. Said Mehlman, "The brand heat we are experiencing in the U.S. is spreading to EMEA, driving revenues and sell-throughs."
Gross margin was 46.5 percent, topping guidance of 45.5 percent. Year-over-year, margins fell 290 basis points. Non-recurring expenditures related to the relocation of its Americas distribution center to Dayton, OH reduced the gross margin by 40 basis points resulting in an adjusted gross margin of 46.9 percent, 250 basis points below last year's first quarter but above guidance of 46 percent.
Currency headwinds negatively impacted gross margin by 140 basis points, coming in worse than anticipated. The currency headwinds are expected to moderate in the back half of the year. Also impacting margins were higher freight rates associated with inflation and the use of shipments to speed up deliveries of Classic clogs.
SG&A expenses, however, were reduced 7.9 percent to $105.0 million due to the company's SG&A reduction program and the movement of some marketing expenses into the second quarter. As a percent of sales, SG&A was lowered from 40.2 percent to 35.5 percent, exceeding guidance between 37 percent and 38 percent of revenues. Excluding $700,000 of non-recurring charges, adjusted SG&A improved 410 basis points to 35.3 percent.
Income from operations rose 25.7 percent to $32.6 million. Excluding non-recurring gross margin and SG&A charges, adjusted income from operations rose 21.5 percent to $34.5 million.
Rees said demand for the Crocs brand "continues to accelerate" due to healthy responses to its Spring/Summer collections and attention drawn to a number of new collaborations, including two with American singer Post Malone. The brand is also partnering with key regional brands and personalities, including the L.A. streetwear brands, Pleasures, Left Hand LA, Chinatown Market, and PizzaSlime, in the first quarter.
Crocs further earned wide buzz for an appearance during Shanghai Fashion Week at the Vivienne Tam runway show. A collaboration last month with Beams, a leading specialty retailer in Japan, also drew wide attention.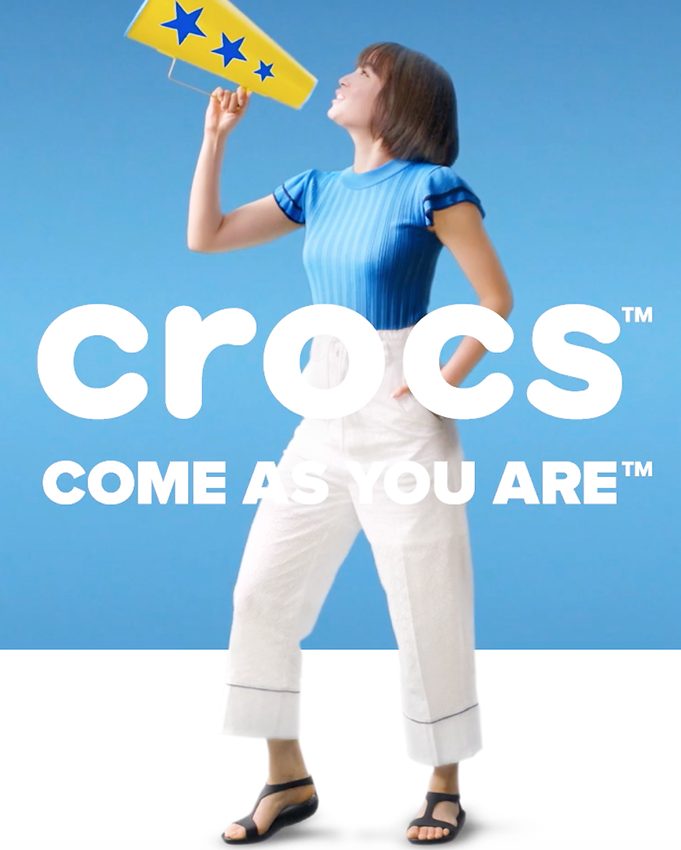 On the overall marketing front, Rees said the brand's Come As You Are campaign continues to resonate globally with "accelerating rates of brand relevance and engagement."
In terms of product, clog revenues grew 12 percent in the first quarter and represented 56 percent of footwear sales. Said the CEO, "The excitement that now surrounds our Classic icon started in the U.S. and spread to EMEA, and we're confident that we can ignite this trend in the rest of the world."
The popularity of Jibbitz charms for personalization is also supporting the clog's popularity.
Sandals, another focus area, also grew 12 percent in the quarter to generate 27 percent of the company's footwear revenues. The addition of new colors and embellishments helped support the sandal category's eighth consecutive quarter of double-digit growth.
In the comfort technology area, LiteRide, launched in March 2018, "has been a tremendous success" and is expected to more than double sales in 2019. Reviva, a new flips and slides line with bubbles in the footpad to massage the foot, is seeing a solid early response.
Inventory was down 6.1 percent at the quarter's end.
Crocs maintained its guidance for the year while expecting the positive momentum seen in in the Americas and EMEA to continue. Rees said the main priority in the Americas region is catch up on inventory shortages of Classic clogs and then leverage Croc's current "brand heat" to gain more shelf space. He said, "I think the door growth with new accounts is really not the big driver, the big driver is SKU penetration and door penetration in existing accounts."
For the current year, Crocs expects:
Revenues are projected to be up 5 percent to 7 percent over 2018 revenues of $1.09 billion. Currency headwinds are now expected to result in a negative impact of $25 million, up from $20 million previously. Store closures are expected to continue to have a negative impact of $20 million.
Gross margin is still expected to decline to 49.5 percent compared to 51.5 percent in 2018 due to costs tied to the new distribution center, the strengthening dollar, and higher freight and distribution costs.
SG&A is still expected to be reduced to approximately 41 percent of revenues from 45.7 percent last year. Non-recurring charges are expected to be $3-to-$5 million related to various cost reduction initiatives in the latest year versus $21.1 million the prior year.
Operating margins are still expected to be approximately 8.5 percent. Excluding those non-recurring charges, Crocs expects to achieve its interim target of a low double-digit operating margin.
For the second quarter, Crocs expects revenues to arrive between $350 million and $360 million compared to $328.0 million in the second quarter of 2018. A positive impact is expected from the Easter shift to help offset the negative impact of $6 million due to store closures and $10 million due to the stronger U.S. dollar. The guidance reflects constrained levels of Classic clogs as a result of surging demand; however, inventories are expected to be restored to appropriate levels by the end of the quarter.
Gross margin in the current year is expected to erode to approximately 51 percent from 55.3 percent due to cost for the new distribution center, a negative impact of approximately 150 basis points from the stronger dollar and a negative impact of approximately 160 basis points from higher freight and distribution costs in the Americas.
SG&A in the second quarter is expected to be approximately 40 percent of revenues. This includes non-recurring charges of approximately $2 million related to various cost reduction initiatives. In the second quarter of 2018, SG&A was 44.0 percent of revenues and included $8.4 million of non-recurring charges.
Photos courtesy Crocs