By Thomas J. Ryan
CES 2020 marks the tenth year in a row that fitness and wearable technology have been featured at the largest consumer tech show, and this year's event continued to highlight that digitization has a ways to go in taking sports and fitness to the next level.
Among the major sporting brands, Asics launched its first smart shoe in partnership with No New Folk Studio (NNF), a Japanese-start-up focused on sensor technology, and Asics' Institute of Sport Science (ISS). The prototype on display showed NNF's Orphe Track Sensor embedded into Asics' Evoride running shoe, and through the tracking device, a range of inputs—including kick strength and stability—gives runners real-time feedback to help get them stronger and more efficient while in motion. The shoe launches at retail later this year.
At the Asics' booth, attendees were able to witness the feedback and analysis from ISS scientists who work at Asics' Energy Research Lab (shown below and in the lead image). Marking its recent acquisition of Race Roster, Asics also invited attendees to an open 5K run during the show.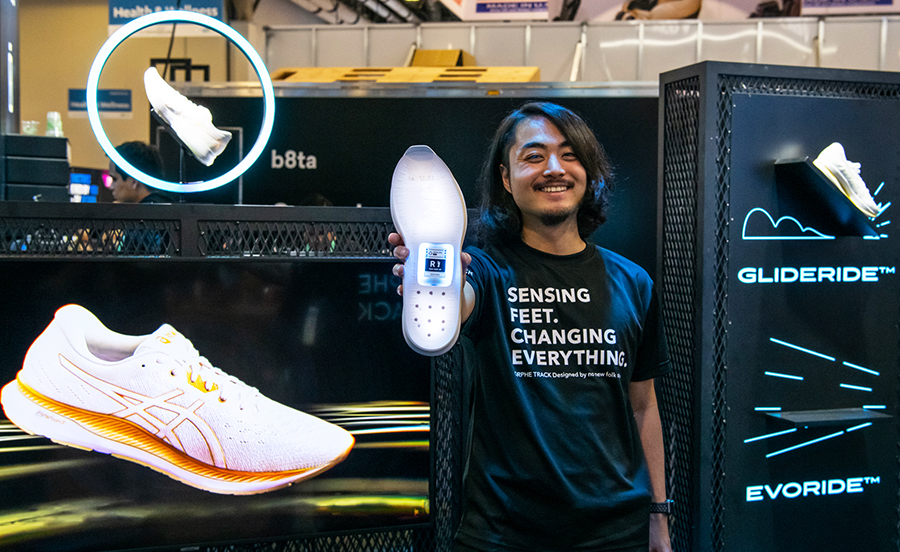 "Coming to CES is a springboard moment for Asics sports innovation," said President and COO Yasuhito Hirota in a statement. "We always strive for perfection, and that's why we waited until now to have our own booth at CES. I'm really pleased to be showcasing the incredible innovation that is normally hidden away in our ISS labs especially in a year that is so important for sport, for Japan and, of course, for Asics as well."
Samsung made the most noise among tech giants with its demo of GEMS (Gait Enhancing & Motivating System) shown below. Representing the future of workouts, GEMS is an exoskeleton, or a wearable mobile machine, powered by AI. Users place bands around their waist and thighs and a virtual fitness instructor guides users through their workout. The data collected is synched back to their mobile phone. Samsung describes the system as "an integration of an exoskeleton with powerful software all connected to Samsung AR Glasses, a Galaxy smartphone and watch and other devices." Samsung did not disclose when GEMS would launch.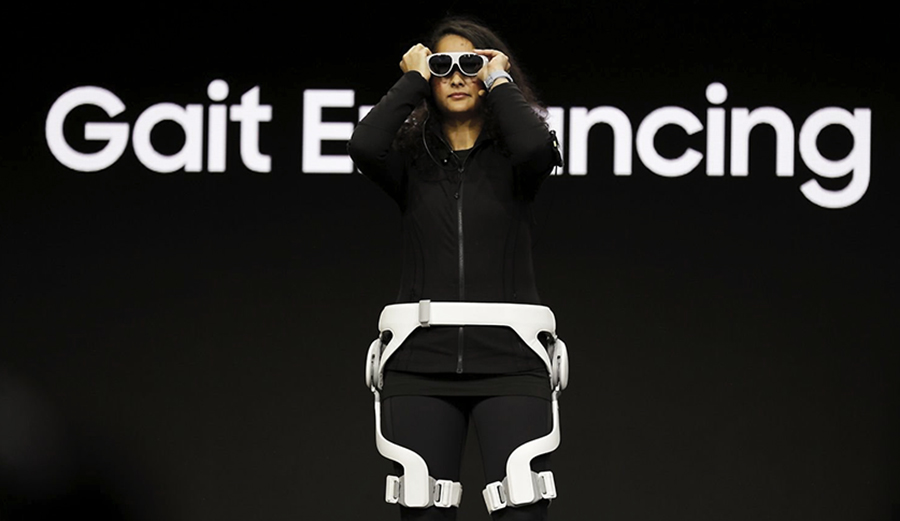 Overall, the major theme at this year's show was the rollout of 5G and AI (artificial intelligence); however, as in recent years, more attention was devoted to 8K TVs, smart homes, robots, and self-driving cars more so than fitness gear.
The buzz over wearables in the active lifestyle space has cooled down with the challenges facing Fitbit, GoPro and others in recent years. Nike discontinued its Fuelband wearable device in 2014 and none of the industry's three major leaders, including Adidas and Under Armour, had a presence at this year's CES show.
But with advances such as AI and motion-sensing technology, attendees could find a myriad of sports and fitness gadgets at the show. Fitness wearables continue to advance from simply counting steps to devices that measure heart rate, blood flow, balance, and more. With Peloton going public at an $8.1 billion valuation, fresh takes on the at-home fitness craze were readily on view. Educational sessions explored how technology could change the sports fan experience and the growing popularity of esports was also on view across gaming products.

The following active lifestyle products captured the attention of SGB Executive at this year's show.
AfterShokz | Xtrainerz
Manufacturer of bone conduction headphones for runners and cyclists, AfterShokz displayed its first waterproof line designed for swimmers and triathletes. The Xtrainerz is waterproof in up to six feet of salt or freshwater and has 4GB of MP3 storage. The device features an eight-hour battery.
BodyEnergy Technology | BodyEnergy Treadmill
The BodyEnergy Treadmill requires the user's hands and feet to move the belt and control the running speed (up to 12 mph) and intensity. Using your arms and legs to power the machine makes for a more effective and well-rounded workout. Users are promised they'll burn twice the calories compared to the average motorized treadmill running at the same speed.
Cubbi | Go Compact Elliptical
The under-desk elliptical manufacturer, Cubii, launched its second-generation product, the Cubii Go Compact Elliptical, shown below. The device comes with an extendable handle that allows the user to move it around like a carry-on suitcase. The design includes lower pedals for ease of use.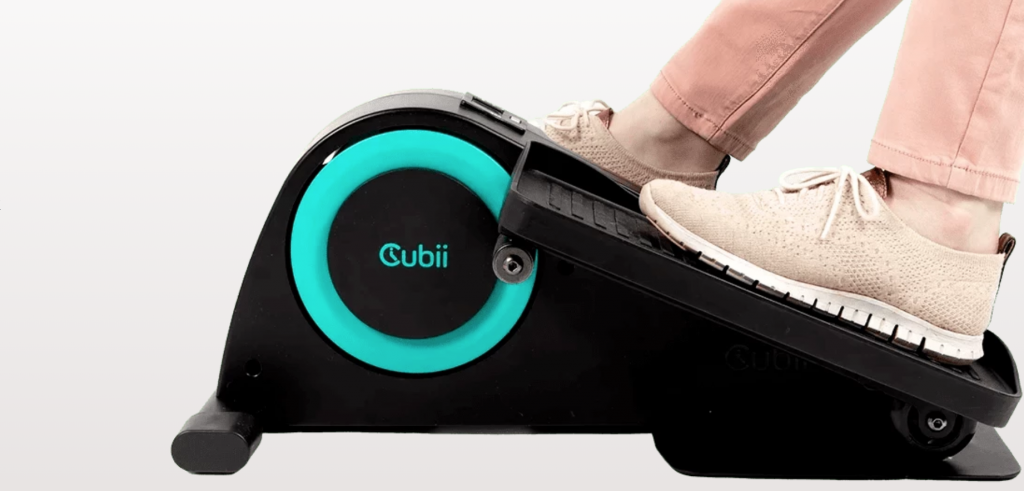 e-Novia | Wahu
According to Italy's e-Novia, Wahu is "the first sole in the world to immediately adapt to changes in its external environment and the dynamic state of the person wearing the shoe." Using micro-compressors, interconnected cavities and AI, the user can activate settings via the Wahu app to modify grip, shock-absorption and traction control while walking. The device can also generate a digital signature based on a user's stride, analyze plantar (foot arch) pressure and prevent falls. 
EnvisionBody
Using augmented-reality software in real-time, EnvisionBody will show an individual a mirror image of themselves with less weight or more muscle mass in real-time. The device can be used as an exercise motivational tool that interfaces with exercise equipment. It also has applications for social media entertainment, full-screen display for cosmetic surgeons, diet & weight loss consultants, and fitness centers.
IEVA | Time.C
Ieva's Time.C smartwatch, shown below, not only detects activity and heart rate but environmental variants such as sun exposure, pollution, temperature, noise levels, and humidity. The collected data may support dietary, skincare and haircare product suggestions to combat the negative effects of environmental stresses. For example, wearers, through the accompanying app, may receive skin and hair care product suggestions to beat bad hair days and reduce the signs of aging. The watch is also able to ensure users stay hydrated during the year.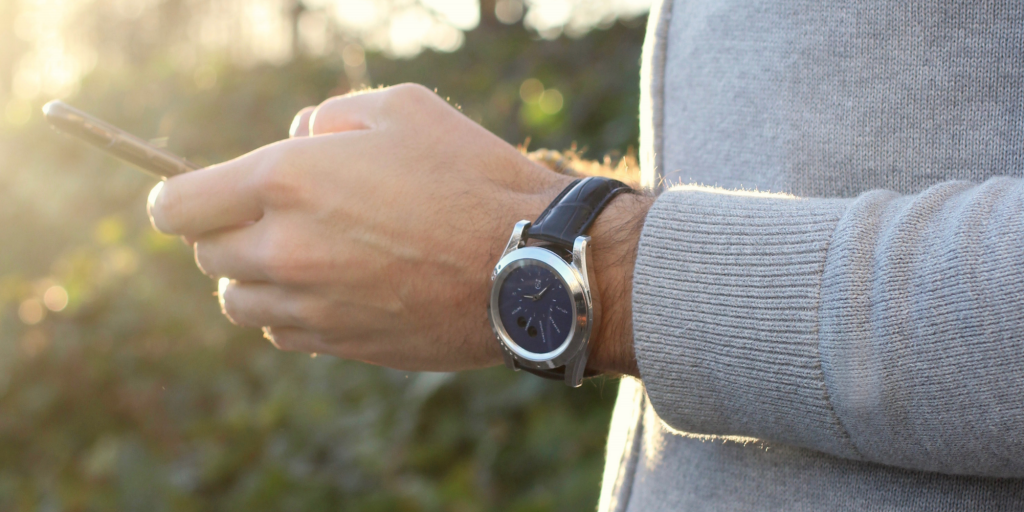 Intel | 3D Athlete Tracking
Developed by Intel and hosted on Intel-based data centers in Alibaba's cloud infrastructure, 3D Athlete Tracking (3DAT) uses AI to gain near real-time insights and visualizations of athletes in action. Highly mobile cameras capture the form and motion of athletes, then algorithms analyze the biomechanics of their movements. The technology is expected to enhance replays of the 100-meter and other sprinting events at the 2020 Olympic Games in Tokyo.
iStim | UweaR
Incorporating flexible, washable and conductive fabric printed electrodes to create comfortable garments that provide electrical stimulation to enhance the wearer's blood circulation, iStim UweaR's twenty-four massage modes support muscle improvement and pain relief. The device also records all data and is able to evaluate the stimulation performance and analyze the usage status for personal healthcare management.
Manta5 | Hydrofoil
An e-bike that can travel on water from ocean shorelines to lakes and rivers, the Hydrofoil, shown below, uses carbon fiber foils (the wings) and a waterproof e-bike battery and motor. Cyclists can reach speeds of up to 12 mph, comparable to traditional sailboats. The bike is made from carbon fiber and aircraft-grade aluminum making it buoyant and light enough to carry. Manta5 promises a workout similar to that of a road or mountain bike, and the 460-watt electric motor offers variable pedal assist that can be dialed down or up depending on rider preference.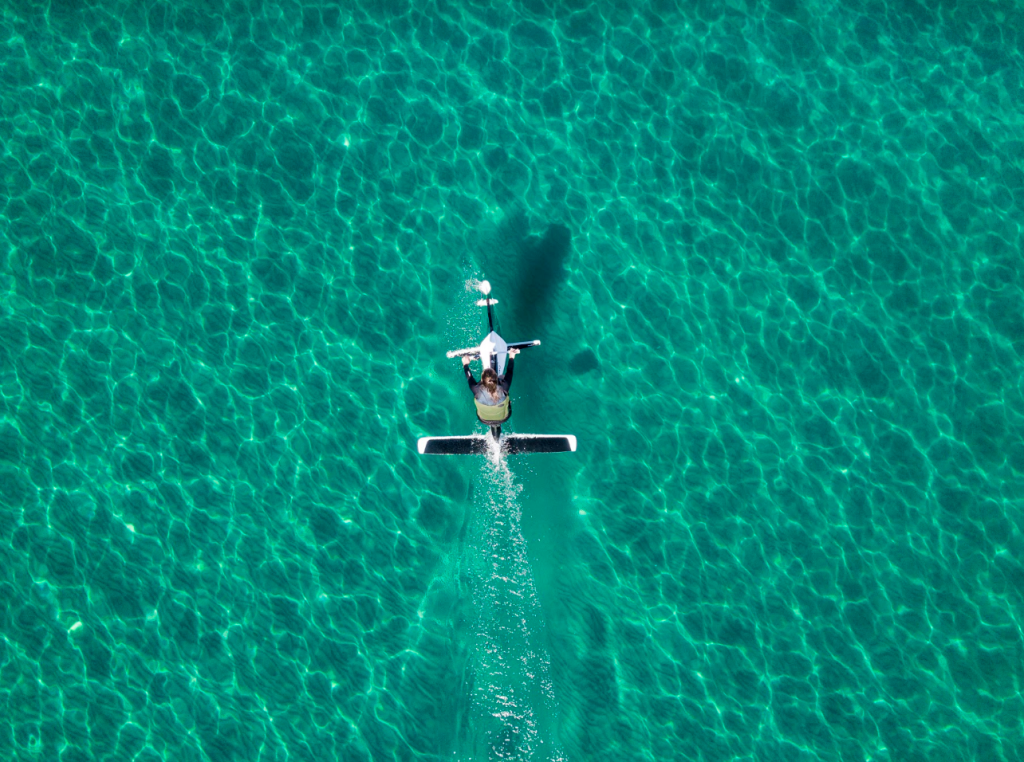 Mateo | Smart Bathroom Mat
Helping individuals capture and track health data including weight, posture and body composition, the Smart Bathroom Mat connects to a smartphone or connected mirror coaching app. The device leverages 7,000 dot-pressure mappings to recognize registered users and deliver body metrics and tailored advice via the companion app accessible from a smartphone or a connected mirror. The app provides access to a user's history and includes dietary recommendations and personalized exercises.
Maxpro | Maxpro Fitness
Maxpro's Maxpro Fitness "replaces a gym full of machines yet fits in a backpack." Onboard electronics and sensors communicate to the Maxpro coaching app, which acts as the user's trainer. With the app and a mobile phone, users can view all of their workout data, history and progress towards goals.
MyxFitness
MyxFitness, shown below, displayed its in-home fitness equipment and on-demand digital classes that were initially launched in November while introducing a digital-only service to start in April 2020. MyxFitness competes with Peloton but is about half the price, offers total-body personal training and takes up less space in a home gym. The membership package offers unlimited access to content, including weekly updated workouts, a library with hundreds of total-body workouts and professional coaches to personalize a user's fitness plan. Classes range from cycling to HIIT, cardio dance, barre, yoga, and meditation.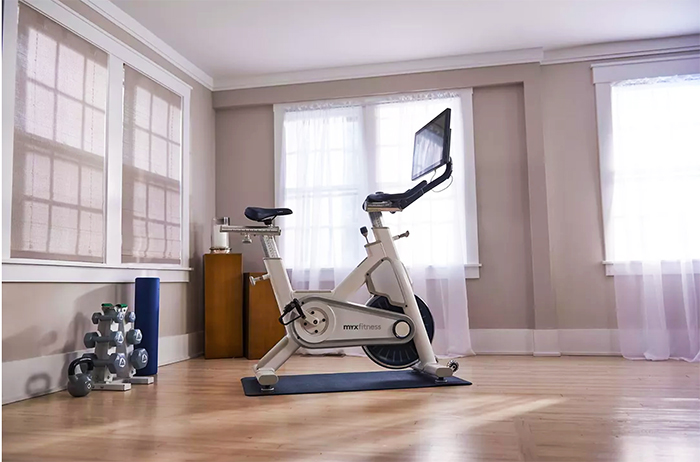 Nautilus Bowflex | C6 Indoor Cycling Bike
The first connected indoor bike from Bowflex is available for less than half the price of a Peloton bike. Users can digitally connect to third-party apps to ride with their favorite trainer via streaming on-demand classes from Peloton, or they can interact, train and compete against other cyclists on Zwift. Users can also virtually ride through locales around the world with Explore the World—Nautilus' proprietary app featuring real-world maps with high-def video with new routes added regularly.
Nite Ize | RunOff
Nite Ize showcased the expansion of its travel collection with the launch of the RunOff Waterproof Phone Case, RunOff Waterproof Phone Pouch, RunOff Waterproof Tablet Case and RunOff Waterproof Small Packing Cube. "The newest additions to RunOff make device operation and accessibility simple while giving you the confidence that even in the elements, your valuable gear and devices will be protected," said Rick Case, CEO and founder of Nite Ize.
NURVV | Run Insoles
Featuring 32 sensors that capture running metrics at 1,000 times per second, including cadence, step length, foot strike, pronation, and balance, the data is transmitted to the NURVV Run Coaching app where the wearer can find actionable insights and personalized coaching. The NURVV Run Coaching app also offers in-run coaching, including personalized speed and technique workouts.
OtterBox | Amplify Glass Screen Protector
OtterBox launched its first glass screen protector, shown below, with integrated antimicrobial technology registered with the EPA. The Amplify Glass Screen Protector is made from aluminosilicate manufactured by Corning, well-known for its Gorilla Glass. The screen also protects against scratches and drops.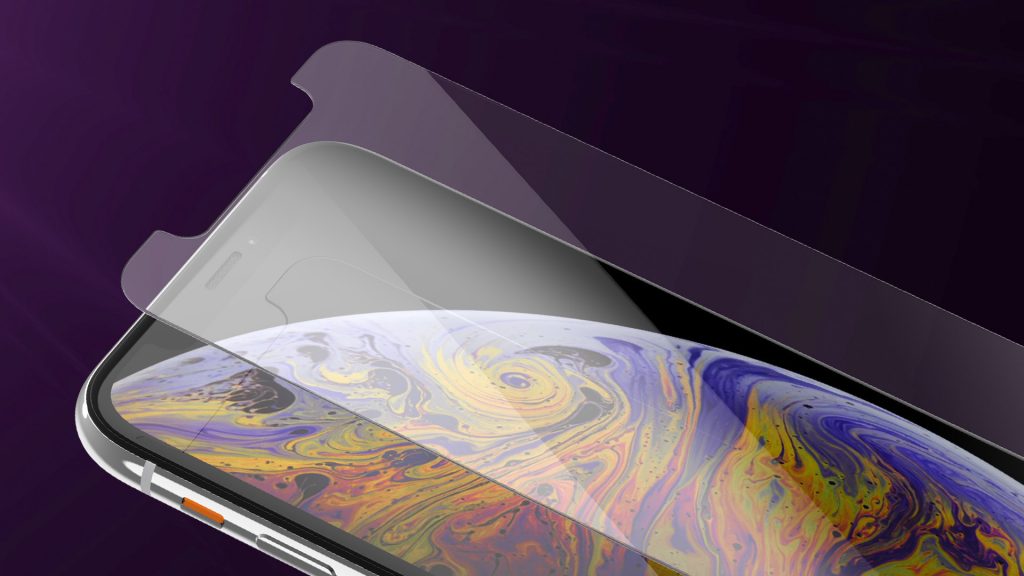 Philips | SmartSleep Deep Sleep Headband 2
Philips SmartSleep Deep Sleep Headband 2 continues to actively improve deep sleep but added new features. Fall asleep sounds help soothe the wearer to sleep while SmartAlarm helps wake the wearer in their lightest stage of sleep within approximately five to 30 minutes of the desired wake time. The smaller, lighter design also features bone conduction tones replacing over-the-ear speakers, dry sensors and an improved SleepMapper app experience featuring REM phase tracking for a more robust look at the wearer's sleep patterns.
Roam Robotics | Elevate Ski Exoskeleton
The Elevate Ski Exoskeleton from Roam Robotics enhances and prolongs a skier's experience by offloading weight from the knees and quads to minimize discomfort. The technology combines onboard sensors with smart software to anticipate turns while simultaneously adjusting the knee and quad support. The device received mention in Time magazine's "100 Best Inventions of 2019."
Suunto | 7 Smartwatch
Combining the best of Suunto's sport and instrument watch features with modern smartwatch technology powered by Google's Wear OS, the 7Smartwach, shown below, is compatible with both iOS and Android-powered phones. Features include free offline outdoor maps, one-button access to more than 70 sport modes, customizable faces and straps, and common smartwatch features such as access to to-do lists, incoming messages and calls, quick payments, and other notifications.

UrgoTech | URGOnight
A daytime sleep training system that leverages neurofeedback therapy, the URGOnight is comprised of a wearable electroencephalogram (EEG)-headband and app. URGOnight trains the brain to produce brainwaves clinically associated with sleep. The program consists of exercises inspired by themes ranging from growing leaves on trees, herding jellyfish and drawing relaxing patterns. A virtual coach guides the wearer through their personal journey explaining the exercises and offering advice on improving scores.
Withings | ScanWatch
A wrist-worn health device that can detect AFib (atrial fibrillation), a form of irregular heart rhythm, wearers can take their ECG on demand as well as monitor for AFib using the embedded PPG sensor that continuously monitors heart rate. ScanWatch is also able to detect the presence of night sleep apnea through a SpO2 sensor. Like all Withings trackers, ScanWatch also tracks activities such as steps, calories, elevation, workout routes, and automatically recognizes more than 30 daily activities.
YogiFi | Series-1 Pro Mat
The Series-1 Pro Mat from YogiFi is an intelligent yoga mat that delivers personalized yoga sessions. Patented technology embedded inside the mat tracks yoga postures non-intrusively (without the use of a camera), provides real-time feedback and automatically correlates vitals and breathing patterns through the wrist wearable. Artificial intelligence automatically recommends personalized wellness programs based on the individual's history, current limitations and future goals. The mat has a 270-degree projection view that allows the user to practice yoga with a choice of backdrops including, for example, the Himalayan Mountains, waterfalls in a rain forest, scenic landscapes, and exotic beach locals.
Photos courtesy CES 2020, Samsung, Cubii, Manta5, MyxFitness, Otterbox, Suunto