By Eric Smith
In the aftermath of the 1960 Winter Olympics in Squaw Valley, which had been televised widely in the U.S. for the first time, the sport of skiing surged.
Along with a newfound interest in the pastime came such equipment advances as fiberglass skis, step-in bindings and molded buckle boots. There was also a boom in the number of suppliers making ski gear and retailers selling it to a population that not only had more disposable income but also more places to make turns.
However, another economic factor soon took hold. Mass merchants became the dominant sales channel for skis, boots and poles, and the specialty stores that once thrived now found themselves with little to no buying power. They simply lacked the volume potential of their larger competitors.
So in early 1970, eight specialty retailers met in Albany, NY, to brainstorm how they could regain some of the control they had lost over their years and also recoup the margins that had been slimmed to the width of skinny skis.
Later that year, on December 1, 1970, they filed a certificate of incorporation with the state of New York for $60, and the Snowsports Merchandising Corp. (SMC) was born.
With the backing of a formal organization and strength of a united front, the specialty retailers of SMC experimented with a variety of buying strategies. They leveraged their logistics capabilities. They negotiated deals with suppliers. And they took advantage of the ability to buy inventory from each other, which was critical if, for example, one region of the country had bountiful snow during the season while another got skunked.
As more retailers saw the benefits of joining, more vendors saw the importance of the group as well, and SMC flourished alongside its member stores, doubling in size in the early 1980s.
The rest, as they say, is history. And though rapid change remains a threat, SMC has remained steadfast in the value it brings to the channel, specifically to its more than 60 members.
To commemorate the Big 5-0 this year, SMC is holding an anniversary gala Sunday, January 26, which coincides with the start of the organization's annual Winter Sports Market in Denver, CO.
As this important milestone approaches, SGB Executive checked in with SMC President Tom Gately, who has been with SMC since 1987. Here's what he said about the importance of the longtime buying group, changes in the industry, and what's on tap for the organization and the snow sports specialty channel in the next 50 years.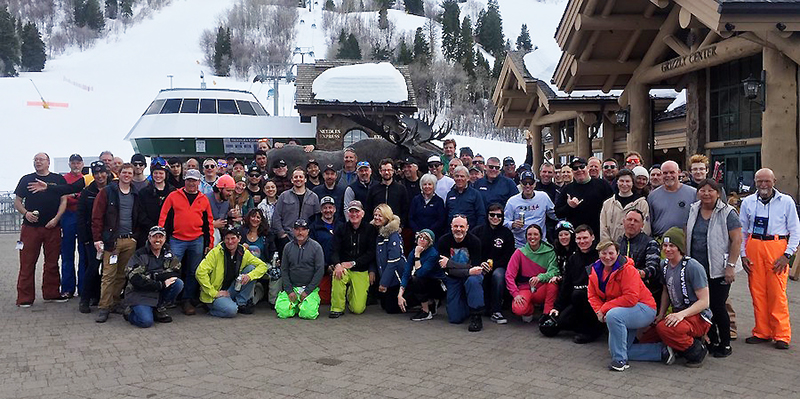 Congrats on the 50th anniversary. What does that longevity say about the importance of what SMC provides to its members and snow sports in general? I think it starts with the premise that specialty retail is the lifeblood of our industry. We've done a pretty good job of keeping our focus on doing what's right for our members. But we also take our role as the industry's leader in this channel very seriously and often work on projects that end up benefiting all specialty retailers—whether they're associated with our group or not.
What has been the biggest fundamental change in the business since SMC launched and how did the organization adapt—or how is the organization adapting? From day one, SMC has always been a place where like-minded entrepreneurs can get together, share best business practices, opinions on trends, benchmark with each other on "How's Business?" and identify common challenges. But quite some time ago we recognized we needed to bring more benefits to our vendor partners—more than just an opportunity for presenting the line and relationship building. It became clear that due to the high expense of trade shows, vendors were looking for more concrete quantitative transparency on the ROI or "worth" of our show. Hence our Megadeal Meeting—a special buying opportunity at Winter Sports Market—was introduced and has grown to the point where we now deliver orders in excess of $10 million in that one event. It is now the single most important benefit we provide to both our members and vendors alike.
This year we've taken that meeting to a new level by introducing a new online ordering platform from Elastic Suite. We're looking to expand this B2B site in the future to modernize the way we interact with our members and vendor partners.
What do specialty shops provide for customers in today's marketplace, and how have those that values changed—if at all—in the past 50 years? Specialty shops have always been at the forefront of "where skiing is spoken." Yes, they have the experience, training and expertise far and above what an online site can provide to make sure customers are getting the right gear, apparel and accessories. Boot fitting is one place where our members truly excel. This greatly increases the chances of a good experience and hopefully results in a life-long, active participant. But it's always been about much more than that. SMC stores are in it for a dedication to the sport that is evident in everything they do. This enthusiasm shines through—whether it's in connecting with the accomplished professional or those just thinking about trying our sports. Over 25 percent of our members are second-generation owners—that speaks volumes. The shop isn't only their livelihood; it's their life.
What's the biggest threat to snow specialty retailers and how are they working to overcome it? The number of distribution channels continues to grow. It used to be just three—brick & mortar, big box and internet. And now it's like the example of entertainment viewing—tons of options exist and it's hard to keep track of it all. In our case, every sale to one of these alternative outlets vying for the same consumer dollar earmarked for recreation is a sale that a specialty shop loses. That has had a dramatic effect over the years. Those retailers that are embracing the change in how consumers shop, whether it's their commitment to omnichannel, social marketing or experiential endeavors will be able to compete, but it's not easy. Specialty retailers already wear many hats and it's extremely difficult to be proficient at all.
How have retailer/supplier relationships changed in the last half-century and what needs to improve still? There have always been friction points—whether it's selling to professionals, non-policing of Minimum Advertising Policies or even abuse of shop employee programs. Some of these issues we've been fighting for 50 years. And it's clear that many suppliers feel the need to sell directly to consumers for their brand to be presented professionally. But I think communication needs to improve—I don't think it's too much to expect to know what a supplier's plans are for distribution before a retailer commits their open-to-buy dollars. Yes, retailers might not like the answer, but as long as all know the terms and conditions under which they're operating and have a level playing field with other retailers it's fair commerce. As one of our members puts it, "I don't like surprises."
The trade show lineup seems to keep shifting; why is the Winter Sports Market still viable and how do you ensure it continues to thrive? Our annual trade show, Winter Sports Market, has always been the focus of our year. Our members understand that this is the one place they can not only meet with each other but also get access to the principals of our vendor partners, look them in the eye and make a determination of whether this is the vendor where they want to spend their hard-earned, open-to-buy dollars. And it's not only for the upcoming season but into the future as well. In this age of digital communication, we continue to feel that human interaction is still extremely important.
Snow sports participation is critical for all industry stakeholders, including retailers; how are SMC members working to get more people sliding down snow? Probably the biggest area our members have embraced in order to create more skiers is the emphasis on junior lease programs. Not only do these programs help keep skiing affordable, they engage the entire family and align with the values that the specialty shop was founded on. Skiing and snowboarding are clean, healthy, family activities that you can participate in well into later years in life.
How do you see SMC evolving over the next 50 years? We will continue to stay true to our mission—SMC is a member-owned organization and we will help our specialty retailers wherever possible. We'll add value to our vendor partner relationships. We're very fortunate that we have members that are an active group of market leaders that are never shy about what we can do to make their lives easier while they navigate the challenges of being a modern retailer.
Photos courtesy Snowsports Merchandising Corp.