Caleres, Inc. used a now-familiar retail playbook on their road to recovery after the worst of the COVID-19 health crisis passed. After reporting good first quarter momentum in the Famous Footwear retail chain, when reporting their Fiscal Q4 in early March, the market shifted quickly and CAL was by March 19 temporarily closing their fleet of retail stores and shifting focus to the e-commerce portion of their business. The company also said it established a virtual workplace and empowered the vast majority of employees to work from home during this period. But Caleres also had to employ other cost-cutting tactics such as negotiating to modify leases, including the deferral and abatement of certain lease payments, reducing inventory receipts, extending payment terms, furloughing employees (while eliminating others and reducing salaries for the remaining team), cutting the CapEx spending budget by 40 percent for the current year, and tapping into its revolver while triggering the accordion feature that expanded their borrowing capacity to $600 million.
On a conference call with analysts, Diane Sullivan, CEO, President, and Chairman said the business was on track for a 13 percent increase in comp-store sales at Famous Footwear in the first quarter and was showing positive signs in its wholesale business before the health crisis intensified and forced the closure of all stores. Sullivan said the Famous Footwear e-commerce business experienced a triple-digit increase in sales during the store closure period as "top brands in sport and casual product offerings resonated with consumers who required more casual styles to fit their new stay-at-home reality."
Sullivan went on to say Caleres effectively utilized its temporarily closed stores as a sourcing point for delivery and adapted its BOPIS capability to include a contactless curbside pickup option at certain locations. Famous Footwear is offering this service at approximately 375 locations and will expand to more than 600 stores in the next couple of weeks.
…
In early May, Caleres welcomed back furloughed store employees with nearly 95 percent of store managers returning to lead the effort and initiated its first stage of in-store service. To date, Caleres has successfully resolved in-store operations at 553 Famous Footwear locations— representing approximately 60 percent of the store fleet — and 33 Allen Edmonds and 36 Naturalizer locations. CAL expects to have nearly 85 percent of its stores open by late June with the "remaining stores primarily located in the regions heavily impacted by COVID-19 reopening when it is safe to do so." Sullivan said the Company is seeing sales at the newly reopened Famous Footwear stores coming in "well above last year's levels." She noted that the majority of its stores are off-mall and "ideally situated for physical distancing, which provides consumers with the level of comfort, safety and experience she prefers."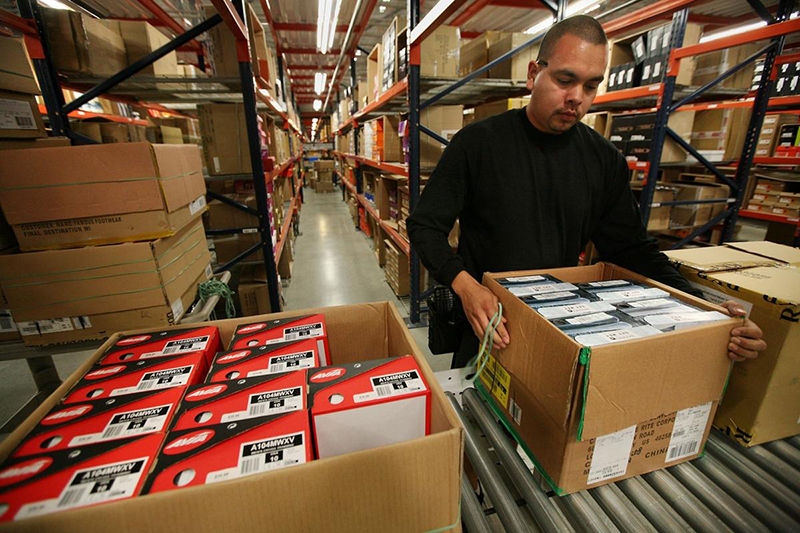 "Our branded portfolio stores, that have reopened, are experiencing sales trends above our internal expectations, and our wholesale partners have begun to reopen their locations and place some new orders for delivery," reported Sullivan. "We are working closely with our key retail partners to ensure we are liquidating spring inventory very aggressively and that we are set up well for fall."
Additionally, the e-commerce businesses have continued to outpace management expectations even as stores have reopened with "strong increases at both Famous Footwear and our branded e-commerce sites." During the first several weeks of May, the Famous Footwear e-commerce sales reportedly increased more than 200 percent while the internal branded sites saw sales up nearly 40 percent compared to last year. Notably, quarter-to-date, we have seen improved traffic and conversion rates at key branded sites in our portfolio," said Sullivan. She said roughly half the people that shopped online were new customers.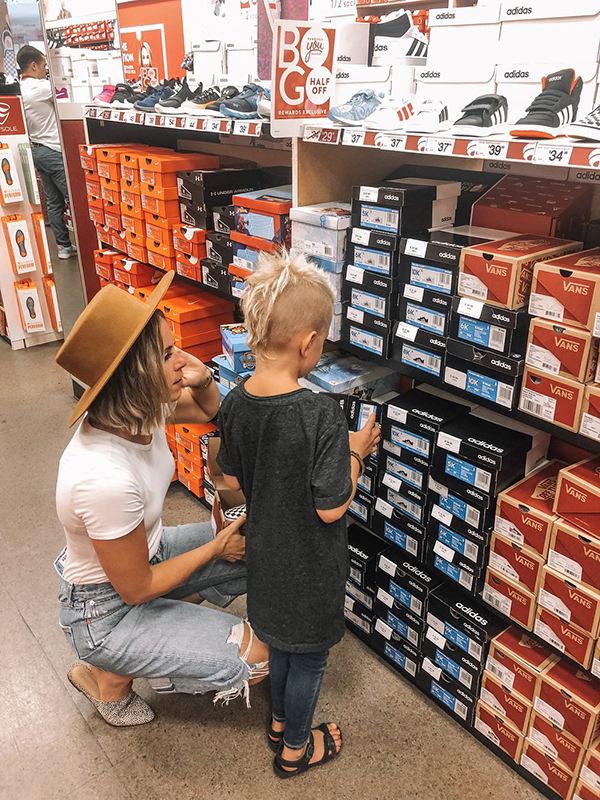 Net sales were $397.2 million in the fiscal first quarter ended May 2, compared to $677.8 million in the first quarter of fiscal 2019. Famous Footwear total sales were $191.3 million, down 45.7 percent from the 2019 first quarter. Same-store sales rose 12.8 percent at Famous Footwear through mid-March and were up 12.6 percent for the entire quarter driven by strength in e-commerce. The company's comparable-store sales calculation removes closed stores from both periods. Branded portfolio sales were $217.2 million, a decrease of 36.3 percent for the quarter, impacted by "wholesale cancellations and branded store closures during the final seven weeks of the first quarter."
Sullivan pointed out that e-commerce was about 28 percent of Famous Footwear sales in Q1 compared to 10 percent of sales for the 2019 full year. E-comm sales were up north of 200 percent in May. E-commerce-related businesses are about 36 percent in the quarter for the company's branded portfolio and the Company sees that business accelerating since the end of the quarter.
Adjusted gross margin was 39.5 percent of sales compared to an adjusted gross margin of 42.3 percent in the year-ago quarter, driven by "a larger mix of e-commerce sales at Famous Footwear and the resulting shipping costs associated with that business."
Famous Footwear had an adjusted gross profit margin of 39.2 percent, down 420 basis points from the 43.4 percent margins in Q1 last year. The branded portfolio had an adjusted gross margin of 38 percent compared to an adjusted gross margin of 39.3 percent in the fiscal 2019 first quarter driven by the "promotional nature of retail selling post store closures."
Consolidated SG&A expense was $225.2 million, representing a decline of approximately $37 million compared to the first quarter of last year. This reflected lower corporate and store payroll expenses as well as the initial benefits of expense reductions. While Caleres worked with landlords to defer certain payments, the company still "expensed the full amount of rent in accordance with GAAP, irrespective of the payment schedules."
The company's adjusted net loss was $50.4 million, or a loss of $1.30 per diluted share, in the first quarter. This compares to an adjusted net income of $15 million, or 36 cents per diluted share last year.
Caleres ended the first quarter with $187.7 million in cash, "slightly above the levels when stores closed in mid-March" and approximately $438.5 million of borrowings under its revolving credit facility. The growth in online activity, along with a delay in cancellation of inventory receipts, enabled the Company to end the quarter with inventory down 9.7 percent versus the end of the comparable quarter last year.
…
During the Q&A period, Sullivan said that the changes they made strengthened their position in the performance categories and sports lifestyle and casual, and easy wearing footwear is where the market is today. More recently, she said they are seeing the ability to "really sell some flat sandals."
Sullivan said they are taking a very conservative approach to the brand portfolio business because they have generally heard that most of the marketplace is thinking about planning the back half of their business down 30 percent to 40 percent. "We're making sure that we keep our inventories in line with that and that we're also pivoting where we need to on certain brands to make sure we're focused on the categories of business that we believe — where we believe the consumer is going to be," she explained.
For back-to-school, Sullivan said "everybody is really hoping that kids are going back to school for sure" and said that, "everything that's driving our business currently, along with the strength in our kids business, we think is going to carry on nicely through the second quarter and into the third quarter."
"We believe we've got the right inventory levels to do the business that we'd like to do, and we think it's in the right brands and the right styles," said Sullivan.
Photos courtesy Famous Footwear