Duluth Trading managed to show only a 3.8 percent decline in first-quarter revenues, to $109.9 million. Accelerated growth in the digital and women's business helped mitigate the closing of all its stores for seven weeks in the quarter in response to COVID-19.
The apparel brand closed all 62 locations on March 20.
…
Online sales grew 32 percent in the quarter versus a 52 percent decrease in retail channel sales for the 13-week quarter. The online gains were highlighted by an 84 percent uptick in online sales in April, helping drive overall sales ahead 5 percent for that month, said Stephen Schlecht, executive chairman and CEO, on a conference call with analysts.
Significant investments in technology, distribution and digital marketing over the last two years helped the Company's ability to meet what amounted to the "equivalent to peak season holiday demand" in April, according to Schlecht. Developing ship-from-store capabilities over the last year also paid off as 20 percent of direct orders were shipped from store inventory as they were closed.
"Our enhanced website and mobile features, our ability to ship from in-store, our strong digital marketing campaigns and the tireless efforts of our people, all played key roles in fulfilling our brand promise to our customers during the quarter," said Schlecht.
Overall for the quarter, website visits grew 43 percent, mobile traffic was up 67 percent and conversion was greater than last year in all digital channels.
Online Shift Reaches New Customers
Ramped up investments in digital marketing helped increase direct, new buyer growth over 113 percent in the quarter. New buyer accounts, overall, were up in every category other than the stores, and total new buyer growth increased 59 percent.
Duluth said it sees new buyer acquisition starting to reaccelerate coming out of 2019 with low double-digit growth seen in February into March before digital growth accelerated those gains. Said Schlecht, "The majority of new customers are new to the brand, and we started to see some early trends of repeat business that give us a good indication that, over time, they'll be permanent customers of the brand. But there's certainly an uncertainty around the coming months and the back-half of the year."
The online strength has continued into May with direct sales providing the bulk of sales. Total sales for May, on a preliminary basis, were essentially equal to last year. Direct sales were up 66 percent year-over-year, product gross margins are trending notably better and new buyer additions improved 76 percent versus May 2019.
Women's Accelerates Growth In Q1
Among categories, women's total sales increased 10 percent in the quarter and increased its penetration to 32 percent of the mix compared to 28 percent last year. The overall men's business was down 9 percent.
Online sales of women's merchandise accelerated to 57 percent year-over-year growth in the quarter, ten times the growth rate experienced in Q119. A rebranding effort, the launch of a TV ad campaign celebrating inspirational women and new product assortment supported the strength in women's. Said Schlecht, "It also indicates to us that our product offerings are squarely in the sweet spot of what people want while sheltering at home; comfortable, durable, solution-based apparel that can transition from work to leisure activities."
Efforts this year to increase emphasis on newness are also gaining traction. Plus sizes increased to 10 percent of the overall women's business, and Duluth's Garden collection was up over 100 percent in the quarter. In men's, the Dang Soft program, print underwear and additional pant fits were among the newer items resonating with customers.
This October, the 40 Grit line aimed at the "no-nonsense price-sensitive younger guy" is launching. Said Schlecht, "It is an important step in attracting a younger generation to the Duluth Trading brand, and we have other plans on the drawing board to momentum moving in this direction."
By early May, Duluth was able to reopen 20 stores in accordance with local regulations, and all stores are now open. Schlecht said, "Anecdotally, we are seeing that customers returning to stores are buyers, not just shoppers. Even so, it's still too early to predict if there will be a major and permanent dislocation in consumer shopping trends."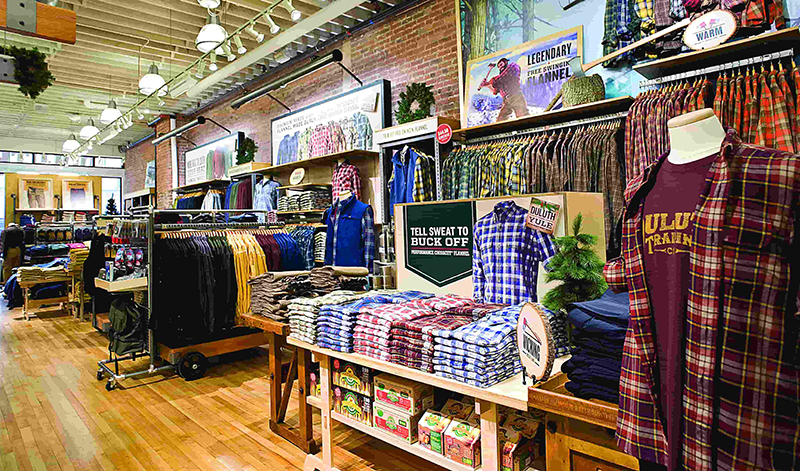 Inventories Vault 68 Percent
Duluth reported a net loss of $15.1 million or 47 cents per share, in the quarter, almost double the net loss of $7.6 million, or 23 cents, in the first quarter last year.
The higher loss was largely tied to more aggressive product promotions to clear inventories that caused gross margin to decrease 570 basis points to 47.6 percent.
Duluth had already entered the quarter with elevated inventory levels following a subpar holiday season, and inventory levels only increased further due to the store closures. At the close of the quarter, inventories were $175.0 million against $104.3 million a year ago, a hike of 67.8 percent.
To help balance inventories, Duluth has adjusted fall and winter orders by working with manufacturing partners, pushed some year-round orders into spring 2021, reduced the order size on slow-moving SKUs, and temporarily extended supplier payment terms
Dave Loretta, CFO, said, "These actions will help mitigate the impact of disruptions to our sales channel and keep our inventory management objectives on track, but we still expect to see inventory balances higher through the end of 2020."
Improvement in inventory levels is seen in the back half of the year but the related "near-term pressure on gross margin will impact second-quarter results," said Loretta.
Overall SG&A expenses for the quarter increased 1 percent to $71.3 million. With COVID-19's emergence, expense-reduction initiatives were taken, and the store closures reduced half the cash burn from the retail channel. Excluding $1.6 million of nonrecurring personnel charges related to the pandemic disruption, SG&A decreased 2 percent.
Store Expansion To Slow
Beyond cutting expenses and adjusting future inventory purchasing, Duluth expanded its borrowing capacity by $20 million to preserve liquidity. Capital expenditures will be curtailed by 50 percent partly by reducing its planned store openings this year to 4 from 10.
Schlecht said the rate of new store openings "will certainly slow down" as a result of learnings from the digital acceleration in the quarter. But, he said, stores "play a key role" in reaching customers as witnessed during the quarter. Direct growth in store markets in the quarter was up 40 percent in the quarter compared to 26 percent in non-store markets.
Duluth ended the quarter with $9 million in cash and $84.8 million outstanding on its $150 million credit line. Said Loretta, "We are in a solid financial position with sufficient liquidity to manage through these challenging times."
Photos courtesy Duluth Trading Company