At the 23rd Annual ICR Conference, Steven Miller, Big 5's chairman, president and CEO, provided a rare deep dive into the sporting goods chain on the same day Big 5 reported a record year as a wide range of outdoor sports and fitness activities have been embraced during the pandemic.
"We're excited to be coming off an extraordinary fourth quarter that capped off a record year," said Miller. "Clearly, customers are trusting Big 5 to find a great assortment of products that enable them to recreate and stay healthy and active during the pandemic."
The updated guidance for the fourth quarter ended January 3 includes:
Net sales grew 19.0 percent to $290.5 million from $244.1 million a year ago. The latest quarter ran 14 weeks versus 13 weeks a year ago;

Same-store sales increased by 10.5 percent;

Merchandise margins improved approximately 240 basis points year-over-year; 

Preliminary SG&A expenses, as a percent of sales, decreased 470 basis points; and

EPS is expected to range from 90 cents to 93 cents, well above the previous range of 35 cents to 60 cents. The latest quarter included benefits of 10 cents a share related to a favorable insurance settlement and 2 cents for the reduction in deferred tax asset valuation allowance. In the year-ago quarter, EPS was 2 cents or 4 cents, excluding an asset impairment charge.
For the full year ended January 3:
Sales grew 4.4 percent to $1.04 billion from $996.5 million. The latest year ran 53 weeks versus 52 weeks the prior year;

Same-store sales increased by 3.0 percent;

Merchandise margins increased 190 basis points;

Preliminary SG&A expenses, as a percent of sales, decreased by 320 basis points; and

EPS is expected in the range of $2.53 to $2.56, which compares to 40 cents last year.
The fourth quarter benefited from a boost from favorable winter weather throughout its markets at the tail end of the quarter. Traffic was down as customers limited travel amid rising COVID-19 cases, but that was more than offset by an increase in average sales driven by a combination of more items in each basket at a higher average unit retail per item.
Gross margins in the quarter benefited from a favorable product mix shift and reduced promotional activity. The SG&A expense rate reflected lower advertising costs and reduced store operating hours.
The full year's performance marked a strong rebound after the beginning of the year was impacted by an absence of winter weather in its markets and the need to close approximately half of its stores for a period of time beginning at the end of the first quarter as COVID-19 restrictions went into place. As a result, Big 5 lost 22 cents a share in the first quarter.
Sales earlier in the year were also impacted by a lack of team sports and the cancellation of leagues, although momentum built upon store re-openings as homebound consumers sought ways to stay healthy and active.
Big 5 ended the year with no borrowings under its credit facility compared to $66.6 million of borrowings a year ago. The performance marked the first time the chain ended the year debt-free since its IPO in 2002. Cash at the close of the year was $64.7 million, up from $8.2 million as of the end of the 2019 fiscal year. Inventories were down 19.2 percent at year-end.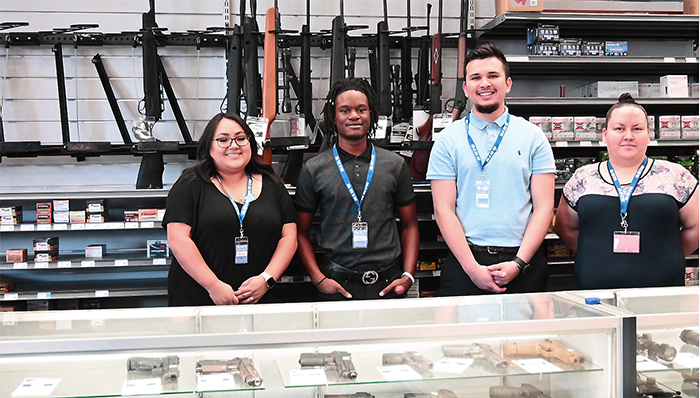 Sales Rebound In Second Half With Shift To Hard Goods
In Miller's presentation, the pandemic's most significant impact was seen in a chart that showed hard goods expanding to represent an estimated 60 percent of sales in 2020, up from 50 percent in 2019. By comparison, apparel is estimated to have represented 22 percent, down from 28 percent in 2019, and footwear, 18 percent against 22 percent.
Miller said the shift toward hard goods was primarily due to "meaningful increases" in customer demand due to the pandemic in categories including home fitness, backyard recreation, individual sports, such as tennis and golf, hunting and fishing, and camping and watersports.
He said Big 5's broad offerings enable the retailer's merchant team to make adjustments to emphasize hotter categories continually.
"Our advantage is that our product offerings are highly diversified in many categories," said Miller. "For example, while the pandemic negatively impacted team sports sales, demand in other categories surged, and we were in a great position to recognize those shifts and move quickly to procure more inventory and capitalize on trends."
"As fast as we're chasing the product trends, it was a real challenge to keep up with demand," added Miller. "Lots of items were selling out as fast as we could unload the truck. Certainly, many of our customers learned when our truck deliveries were."
His presentation explored other strengths in Big 5's business model beyond its broad assortments and started with the explanation of how Big 5 found its name.
"This is our 66th year in business," said Miller. "The company was founded in 1955 when my father and two associates combined five stores that were selling war surplus products. He needed a name for the new venture, and they settled on Big 5. As the story goes, it was such a massive undertaking for the founders that they figured they would always be operating just five stores, never even imagined a sixth.
"Fast forward to today; we now operate 430 stores in 11 Western states and, over the years, have developed a strong business that revolves around a model that provides customers with the optimal mix of value, selection, service, and convenience."
Unique Assortments Seen As Differentiator
Miller said Big 5's "unique assortment is a big part of what distinguishes us in the marketplace." The mix includes branded inline products complemented by exclusive products. The focus is on more basics rather than fashion items that mitigate markdown risk.
The use of analytics provides Big 5 with the ability to customize each store's product assortments. Said Miller, "Our experienced team and nimble distribution system enables us to get the right product in the right stores at the right time. This has never been more important this past year. We would never have achieved the results we did if it weren't for the quick execution of our team to get the product and move it where it needed to be."
Harking back to Big 5's roots selling excess war surplus products, opportunistic buys remain integral for the retailer and support a treasure hunt experience for shoppers. Said Miller, "Opportunistic buys enable us to extend our product assortment beyond traditional sporting goods products, creating a treasure hunt experience of shopping with us. We can successfully sell anything from Bluetooth speakers to hair clippers to massage guns. It's worth noting that exclusive products typically deliver healthy gross margins for our business."
On real estate, Miller said Big 5 plays "the role of your convenient neighborhood store" with a flexible store format.
"We tremendously out store the competition up and down the West Coast, and particularly in California where we have four times the number of stores as our nearest competitor," said Miller.
The chain's standard store size averages 11,000 square feet that "customers can quickly navigate."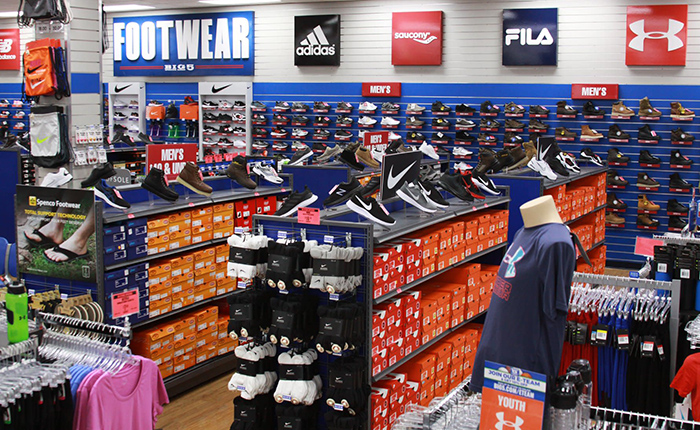 Heavy Store Penetration Seen As Competitive Advantage
Miller said that although Big 5 has an expanding e-commerce business, "we believe our true strength is our competitive advantage in our stores."
Among the benefits of having an ample store presence are filling customer needs for immediacy.
"Our convenience store locations support immediate demand for seasonal products," said Miller. "When the snow falls, you want to hit the mountains. You realize your kids' first day of soccer practice is tomorrow, and you need cleats you know will fit right and need it now. There's no time to order online, especially given the hassles of returning products online."
He also said many products found at Big 5 are "eCommerce resistant," citing products such as firearms and ammunition that can't be sold online or items such as treadmills, weights or basketball backboards that are too bulky and expensive to ship.
Finally, he said many products Big 5 offers support a shared in-store shopping experience.
"For example," he said, "taking your child into buying their first baseball glove is a big deal. There's no greater joy for a parent then looking at their son or daughter try on that glove, pick out that batting helmet or perhaps a bat, and see the twinkle in their eye. That's an experience you simply cannot replicate online."
Miller added, "The bottom line is we want to drive customers into our stores because once people are in our stores, they're exposed to fun impulse items that build a ticket and often have very healthy margins."
Online Focused On Supporting Stores
Miller said the e-commerce channel is accretive and growing, but the retailer's focus is on ensuring online doesn't cannibalize the stores. In-store sales are "far more profitable," primarily due to the shipping and handling costs associated with e-commerce.
Miller said, "In other words, the focus is on optimizing our omnichannel platform to support our extensive network of stores."
In the future, Miller said retail rationalization has been ongoing for the last few years and "may accelerate as the full impact of the pandemic shakes out and this may create additional opportunities for us."
From a sales perspective, trends "remain in our favor," with strong demand for home fitness products and other outdoor recreational activities. Miller also suspects individuals making significant investments in equipment for home gyms or taking up, or re-engaging with, golf, tennis, hiking, camping, or fishing are likely to continue those pursuits.
"Inertia is a strong force," said Miller. "We believe that even once the disruption of the pandemic subsides, customers will continue to pursue these activities and will make further investments in their equipment. Someone who is lifting 10-pound dumbbells today may work up to 15 and 20 pounds down the road."
He also believes that the work-from-home trend will provide more time for people to recreate.
"There is certainly in today's world, an increased interest in being healthy and active," stated Miller. "This all bodes very well for our business. Over the past several months, we have expanded our customer base and believe that we are in the forefront of customers' minds regarding sporting goods. Big 5 has a strong value proposition. We believe our compelling price points are likely to continue to resonate with customers given the economic uncertainties that lie ahead."
From an earnings perspective, he believes Big 5 should continue to benefit from an improved cost structure driven in part due to cost saving initiatives put into place due to COVID-19, including reduced advertising spending and shorter store operating hours.
He concluded, "In short, our combination of value, selection, service, and convenience has perhaps never been more relevant, and we're excited about our position as we begin the New Year."
Photos courtesy Big 5