By Eric Smith
Headwinds continue to batter Camping World Holdings Inc., with such factors as a soft RV market, tough comps with 2018, operational restructuring and even a lawsuit taking a toll on the company.
Shares of Camping World fell $1.97, or 14.1 percent, to $12.03 at market close Thursday after the company a day earlier had reported first-quarter earnings dropped sharply. Camping World reported a Q1 net loss of $26.8 million and earnings per share of (52) cents, missing consensus estimates by 64 cents. Non-GAAP earnings per share of (67) cents missed by 83 cents.
Revenue of $1.1 billion was up 0.6 percent from the same quarter a year ago, in line with Wall Street's consensus estimate.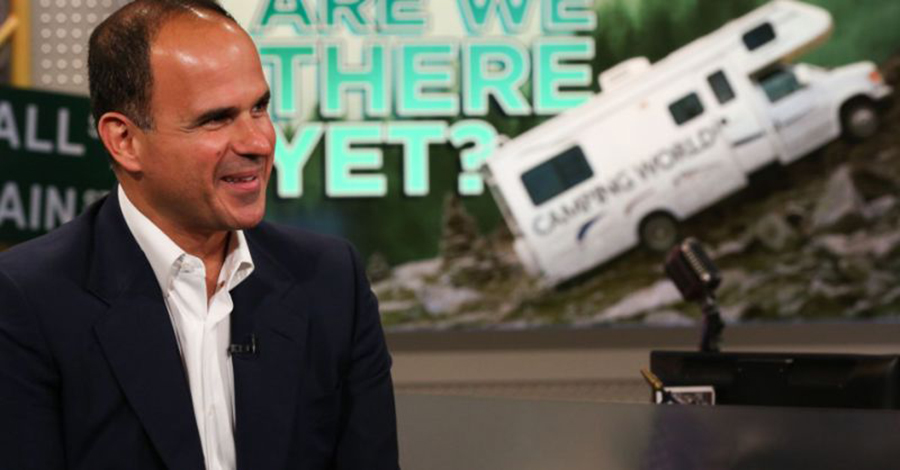 "Our financial results for the quarter and the directional trends for the business are effectively in line with our full-year guidance expectations," CEO Marcus Lemonis, pictured left, said on Wednesday afternoon's earnings call with analysts. "Consistent with our forecast and despite the industry shipment data, we have seen an improvement in sales trends beginning in mid-March and it has continued into April and early May. To reiterate, we are reaffirming our full-year sales and adjusted EBITDA outlook of $4.9 billion to $5.1 billion, and $320 million to $340 million, respectively, for the 2019 calendar year. We are the number one RV retailer in America. We believe that the combination of all of our assets and resources, both tangible and human capital are what makes us unique and creates a massive moat around our business."
But while Lemonis might exude confidence as he speaks of building a moat around Camping World to ward off threats, the company finds itself navigating a challenging landscape, and questions remain as to whether the company is making the maneuvers.
First, the macro RV marketplace remains sticky. Not only are manufacturers dealing with inventory issues, but the overall climate continues to weaken.
According to the Recreational Vehicle Industry Association's March survey of manufacturers, the most recent one available, total RV shipments ended the month with 38,015 wholesale shipments, a 26.3 percent decrease from the 51,607 units shipped in March 2018. (January's survey saw an even steeper drop.)
Towable RVs, led by conventional travel trailers, totaled 33,754 units for the month, a 25.8 percent decrease compared to last March's total of 45,490 units. Motorhomes finished the month with 4,261 units, down 30.3 percent compared to the March 2018 total of 6,117 units.
Meanwhile, RV shipments are expected to moderate slightly this year, according to a recently released forecast prepared by RV industry analyst Richard Curtin.
In the spring 2019 issue of the RV RoadSigns newsletter, Curtin projected that total RV shipments will range between 475,500 and 444,500 units in 2019 with the most likely final total being 460,100 units. While this total would mark a 4.9 percent decline from the 2018 year-end total of 483,700 units, it would also place 2019 as the third-highest year for RV shipments on record.
Despite the projected dip, Camping World remains confident that industry trends will continue to improve after a few bumps in the road during the months spanning 2018 and 2019.
"We all knew that the industry was facing serious headwinds in the fourth quarter and it had leaped over into January and February and when we look at last January and February, those are the two biggest Januaries and Februaries that our company had ever seen," Lemonis said. "We had disclosed in our forecast that it was going to be a tough first quarter comp. The results that we saw about mid-March and in April and in early May, clearly show us that that trend is reversing and that well, while there may not be a ton of tailwinds pushing us, we don't experience the headwinds that we were experiencing in January and February."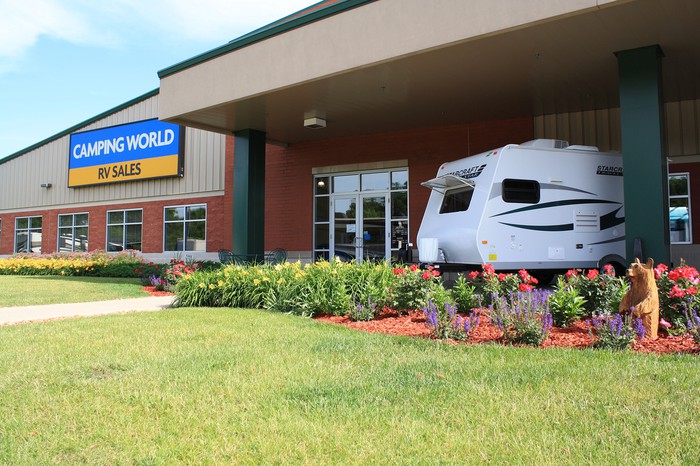 In the first quarter, Camping World's RV and outdoor retail segment revenue increased 0.4 percent, but same-store revenue decreased 11 percent to $847.9 million across the same-store base of 139 locations, of which 121 sold new and/or used RV vehicles.
And vehicle units sold decreased 5.5 percent to 23,193 units, with new vehicle units sold decreasing 7.9 percent to 15,016 units and used vehicle units sold decreasing 0.9 percent to 8,177 units.
However, Camping World's Good Sam Club revenue increased 27.5 percent to $11.5 million and gross profit increased 16.2 percent to $7.7 million, while Good Sam Club memberships increased 17.1 percent to approximately 2.15 million.
Aside from market softness and tough comps with a strong 2018, Camping World has undergone some operational restructuring, such as a series of new divisions and executive appointments and shuffling, which the company began exploring late last year and started implementing in early 2019.
"Since the beginning of the year, we have taken steps to realign the operating and reporting structure of the company, which has allowed us to eliminate redundancies, flatten the organization and increase efficiency," Lemonis said. "All of which we believe will ultimately reduce SG&A and increase sales."
Meanwhile, Camping World last month saw its shares dip in the mid-single digits after Bloomberg reported that Lemonis and a private equity investor were sued in Delaware for manipulating CWH share prices when taking the company public in 2016.
Despite the torrent of challenges facing the company, Lemonis and the Camping World team believe the management changes, restructuring and continued work to right-size inventory should pay off in 2019. Time will tell if they are proven right.
"We do not by any stretch of the imagination think 2019 is some bellwether year," he said. "And we all know that there is some softness … . We dramatically cut SG&A in the first quarter, which will have its effects in the back half of the year. And we know that the RV sales numbers should stabilize as we get deeper into the year. April is a good example. It wasn't positive comp, but it was a heck of a lot better than what we saw in the fourth quarter.
"We couldn't be more excited about where our company is going," he said. "We feel very confident about the management additions that we've made, very confident about the SG&A, reductions that we've made. And we have put a stake in the ground as the No. 1 RV retailer in America."
Photos courtesy Camping World Holdings Inc.