By Eugene Buchanan
While World Tourism Day is commemorated each year on September 27 to "foster awareness among the international community of the importance of tourism and its social, cultural, political, and economic value," this year a dark cloud rained on its parade — concerns about one of the business sectors most affected by COVID-19 — tourism and, in particular, the adventure travel industry.
"It's pretty grim," said Shannon Stowell, CEO of the Adventure Travel Trade Association (ATTA). "COVID has definitely been incredibly hard on the adventure travel market, especially for the classic outbound international adventure travel destinations."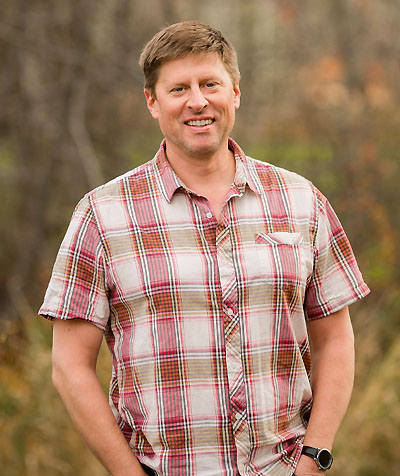 After canvassing the organization's membership base, Stowell said, shown right, most businesses see their numbers down anywhere from between 60-to-80 percent. "And the reason it's even that good is that some of them had decent numbers in the first quarter of 2020 before the pandemic hit," he said.
All this echoes trends in the general tourism market. Earlier this year, the UN's World Tourism Organization published its estimates on how big an impact the coronavirus could have on international tourism. The most positive of the three scenarios assumed travel restrictions would be lifted in July — which did not happen — and even under that scenario the UN expected a drop by 58 percent in 2020 compared to 2019 numbers.
The estimate wasn't far off. According to UNWTO, during the first six months of 2020, international tourism was down 65 percent globally as compared to 2019. The recent increase in infection rates is likely to see that number decrease further (In 2020, Italy is expected to see a record decrease of  28.5 million tourists due to the impact of COVID-19, and estimates the region of Veneto will record tits highest drop with a decrease of roughly 4.61 million tourists, according to Statista's 2020 data shown below.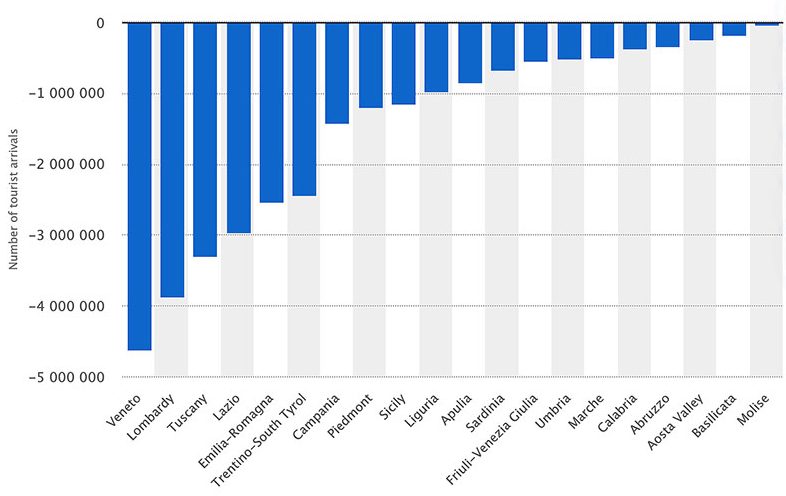 Still, certain sectors of the adventure travel industry seem to have weathered the pandemic without incurring financial debt. Guide-dependent industries like the whitewater rafting industry, Stowell said, have done relatively well, at least toward the end of the summer. "A lot of outfitters said their early summer numbers were off, but then they were booked solid in August," he added.
"Our industry did surprisingly well," said David Costlow of the Colorado River Outfitters Association. "Our members are used to adapting to drought, high water, economic downturns, and fire. This was just one more thing to adapt to. They had to run vehicles and boats at partial capacity so expenses were up, and they didn't begin operations until the second week of June but, on most rivers, we were able to run into late August and early September. The demand was strong; unfortunately, we couldn't accommodate everyone that wanted to go."
In July, in partnership with global market research firm Euromonitor International and Twenty31 Consulting, the ATTA surveyed 500 adventure travelers from its member database. It found that many expected to resume near pre-COVID-19 spending levels on travel by 2021, three years before the overall U.S. travel industry expects to reach the same level of recovery. The respondents, according to Stowell, are spending an estimated 7 percent less on travel in 2020 than they did in 2019.
More than half (54 percent) of U.S. adventure travelers plan to take a trip before December 2020, and most (70 percent) will travel within the U.S. in a small group (<10 people) by car, 100-plus miles from home. More than half (53 percent) said they plan to travel abroad before June 2021.
In contrast, a report by Tourism Economics found that spending on U.S. travel would not recover to 2019 levels until 2024. Its findings indicate that adventure travelers will drive tourism recovery especially for the hardest hit destinations with no real mass-market domestic tourism to soften the economic impact of the virus.
"It validates the economic strength and resiliency of the packaged adventure travel market segment," said Stowell. "While COVID-19 is a major factor influencing these adventure travelers' behaviors today, it is encouraging to see that this market segment is ready to make an expedient recovery."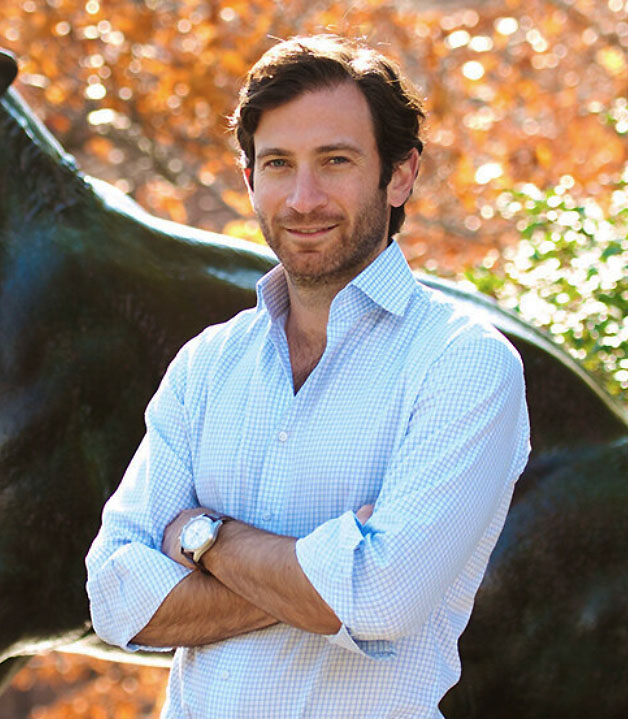 "The ATTA survey findings are consistent with the patterns we're seeing in our ongoing tracking of general U.S. travel consumers," added Twenty31 Consulting's Joe Naaman, shown right. "This adventure travel segment, which represents about 25 percent of the total travel population, is more likely to resume travel once restrictions are lifted. They're seeking immersive adventure and cultural experiences and will help drive tourism recovery."
Consumers agree, however, that they expect tour operators and guides to implement safety protocols, re-train staff, reengineer experiences with COVID-19 in mind, and adopt flexible cancellation and refund policies. But this might not be as difficult as it seems, as adventure travel businesses have already exercised safety and risk management plans year-round, said Stowell, whose group has prepared its COVID-19 Health and Safety Guidelines for ten adventure activities.
And many tour operators are already thinking outside the box. "We're seeing the creativity from companies and every type of reaction you can imagine," Stowell said. "Some companies are hibernating, some are switching to domestic offerings, some are combining forces, and some are offering language and cooking classes.
"They're doing what it takes to survive," he added. "A lot of suppliers are resilient. Our member companies in places like Nepal, Africa and Latin American are tough and have gone through a lot over the years."
Many companies are focusing on opening increased domestic options for financial reasons, but that's also a crapshoot, Stowell said. "It's all over the board as to how hard places have been hit — depending on everything from the destination to how strong domestic tourism is," he said. "And it's an uneven distribution; it's hard to predict where travelers want to go."
Here in the U.S., he added, places with iconic names like Yellowstone and Yosemite are faring well, while the lesser-known locales continue to struggle. "People seem to be going to places they've heard about and places they know will be safe," he said, adding examples of companies making it work including Austin Adventures in Texas and "glamping" and trekking company Roam Beyond.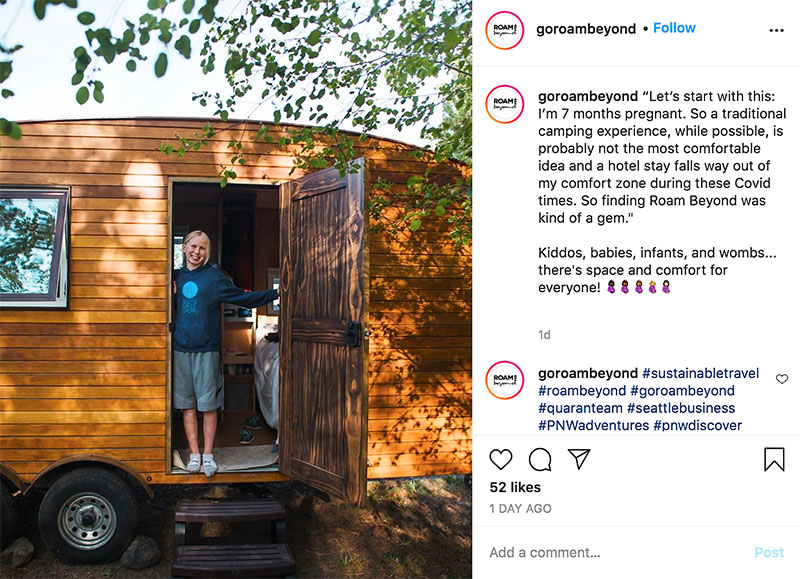 Stowell also agreed that the adventure travel segment will help drive tourism's rebound. "Adventure, nature and eco travel will be what drives tourism first and most," he said. "It will continue to appeal to people who don't want to be confined to tight places, which is what adventure travel has always been."
Polling its members, he said a Bell Curve shows most businesses feel that the industry could start on its road to recovery in the second quarter of 2021. "But it's all speculative," he said, adding the ATTA itself got "hit hard early" by the pandemic when one of its employees died from the virus in March.
He added that the ATTA also lost significant revenue from the in-person conferences it hosts forcing the organization, like many of its members, to adapt. "We stopped offering services that we weren't using as often," he said. "We're finding a path, but it's much harder for niche adventure travel companies that offer only one product. It hurts hearing heart-breaking stories from our members and watching really good companies struggling and having to find ways to start over."
Still, one positive note for the travel industry is that most companies feel adventure travelers will be key to tourism's comeback. "As we look to rebuild the travel industry, we should undoubtedly consider the adventure travelers' role," said Euromonitor's Caroline Bremner. "This market segment has a lot of potential value and the means to help drive recovery."
Lead photo courtesy Roam Beyond