Founded in Steamboat Springs, CO, 25 years ago with a line of merino wool socks and, later, baselayers, Smartwool, now owned by VF Corp. and based in Denver, CO, continues its long-held practice of sustainability.
Lately, however, with its environmental ethos emboldened by VF's push for product circularity in its brands, the company has stepped up its game. In speaking with its Sustainability and Social Impact Senior Manager, Alicia Chin, SGB Executive learned about recent initiatives that continue the brand's commitment to being a steward for the planet.
Its most recent and perhaps largest program toward creating a circular business model is its Second Cut Project.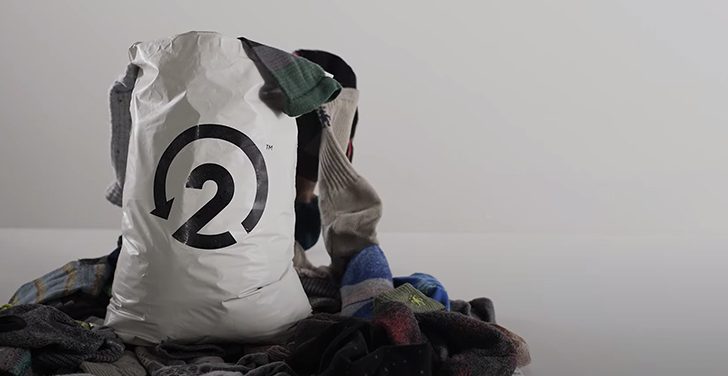 "The program engages our consumers to send back their old product, which allows us to work with our partners to innovate and develop new products from these old materials," said Chin. "Circularity is a vital part of our plans to be climate positive and reduce our overall environmental impact. Our biggest goal is to make products that are loved and last. With this, we're extending the life of raw materials, presenting a new sourcing stream and, arguably most importantly, reducing our environmental impact."
As part of the project, Smartwool also launched a "Take Back Kit," making it easier for its customers to return worn-out products—a cornerstone, it said, of achieving circularity. Customers who want to recycle old socks can add a 'Take Back' bag to any purchase on smartwool.com. Once they receive it, they can fill it with old socks and ship them back to Smartwool using the pre-paid shipping label. When received, Chin and her team work with recycling partner Material Returns of North Carolina to turn the product into filling for dog beds.
"We're planning to use socks we receive through our initial 'Take Back' program as fill for a limited run of dog beds. As an outdoor brand, we know that many of our consumers also have dogs who accompany them on their adventures."
The company also has plans to recycle old socks into new socks, going full circle with its recycling efforts.
"We have a history of innovating and using pre-consumer material waste in our Smartloft insulation, so we're approaching circularity from several ways," said Chin. "We're continuing to identify new ways to repurpose material scraps into new products while also reducing cut and sew waste altogether through our knit innovations. Designing for recyclability or disassembly is a key priority moving forward."
"Depending on the quantity and quality of what we're able to take back, we'll also work closely with Material Return to recycle socks back into yarn for us to create new accessories," Chin added. "The ultimate goal is to turn them back into socks and other apparel items. From there, we'll continue to partner across the industry to develop circular innovations to help improve and scale apparel recycling solutions. The Second Cut Project gives us the framework to innovate through our entire product creation process."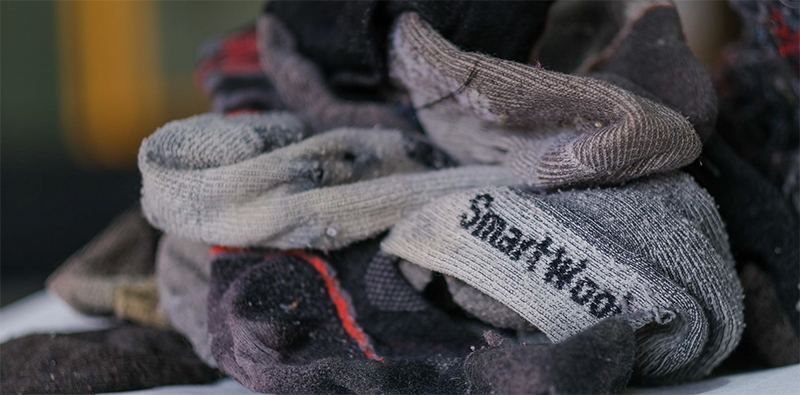 Smartwool is also introducing recycled nylon into a relaunch of its hike socks and other lines, creating a new construction process. "We launched recycled nylon in our hike socks this spring, and it will come to our running socks next," Chin said. "This was a tremendous achievement by our product development team."
While the company has used recycled nylon in other apparel products in the past, it's never done so to the extent of its hike line launch. "We believe in progress over perfection, meaning the more we can design our socks and apparel to not only be long lasting and durable but fully recyclable, the less virgin raw material we'll need to use to create them," Chin said. "This causes less impact on the environment and less material in the landfill."
The company is also addressing sustainability at the source: its New Zealand sheep, where the farmers who grow wool for the brand signed a regenerative farming pact. Smartwool is working toward having its wool certified as regenerative.
"It's a huge and important step for us," Chin said, adding that these regenerative practices also improve biodiversity and water quality. "The majority of our socks' carbon footprint comes from on-farm emissions associated with growing wool, so we have a huge opportunity to significantly reduce those emissions by drawing down carbon into the soil via regenerative agricultural practices."
Today, more than 60 percent of Smartwool's growers have joined ZQRX, its partner New Zealand merino wool's regenerative platform. "A lot of our farmers have been Smartwool partners for over 20 years, and it's great to be able to take this important step forward for the planet together," Chin continued.
Photos/Videos courtesy Smartwool