At the 2021 ICR Conference, officials at Zumiez Inc. expounded on the rollout of its innovative Zumiez Delivery program, which enables store associates to deliver directly to a customer's door in select markets around the U.S.
"I like to start with why are we doing Zumiez Delivery at all," said Rick Brooks, Zumiez's CEO, at the session, noting that his team is still hearing questions about the motivation behind the introduction.
"What we're trying to do is always localize our brand experience," said Brooks. "And with that, we're always trying to connect our customers and our employees because that is a fundamental part of our brand experience where our product and customers and employees connect to create amazing experiences."
Brooks said Zumiez had explored a Zumiez Delivery service for about ten years as it continues to look for ways to improve the brand experience across all consumer touchpoints. Zumiez started implementing a pilot phase about 18 months ago with tests in a couple of trade areas in the U.S. and felt it was ready for a larger rollout. Brooks also felt the rollout might be advantageous as shipping companies this holiday season placed restrictions on capacity to manage excessive online orders due to the pandemic.
One benefit of Zumiez Delivery is that it enables the retailer to consolidate orders in a trade area more efficiently than third-party delivery providers. The chain closed its fulfillment centers about four years ago and fulfills online orders from various locations. Brooks said the consolidation of orders supports efficiencies, and the customers also "prefer things in one package." Ultimately, Brooks also said Zumiez expects Zumiez Delivery to optimize delivery from a cost perspective.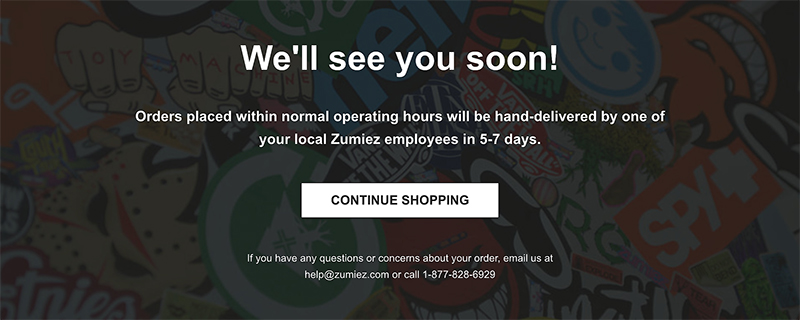 Extending The Brand Experience To Delivery
Overall, Brooks stressed that the overall goal was to bring Zumiez's "amazing salespeople" to the customer's front door "to create a new kind of brand experience."
He noted that Zumiez is intentionally targeting delivery for when customers are at home to support customer engagement.
As an example, Brooks noted that a Zumiez employee might one day deliver the first skateboard to a customer and help them to test the product. Brooks said," We're going to take her out to the driveway and show her how to do her first kickflip in the driveway. It's going to give us a whole new way to think about taking what's an amazing in-store experience and bring it right to the storefront."
In the future, Zumiez plans to explore showing products, providing advice and upselling and handling exchanges or returns – in front of a customer's front door. Brooks added, "It will be mobile POS that's going to be the heart of it to enable these steps to take place at the door front."
Chris Work, CFO, added, "What's so cool about it is it's an awesome thing for our customers. It's a surprise and delight in showing up and saying 'Thank you!' at the door."
Work also said the program reflects Zumiez's focus on providing a "one channel model" across touchpoints. He added, "We just looked at this and said that shipping experience for a digital order is one place where we outsource, and we would like to find ways where it makes sense that we can own more of that customer experience. We looked at those things, but at the end of the day, we wanted this to be Zumiez employees."
As part of the rollout, Zumiez had 159 of its 608 U.S. stores supporting Zumiez Delivery over November and December, focusing on trade areas with multiple stores to support the consolidation of orders. Overall, Zumiez Delivery delivered 42,000 packages to customers directly, or about 5 percent of its digital sales over the period.
He said the program is a "great thing" for Zumiez employees because it provides extra working hours. In some cases, it's enabling some part-time staff to quality for full-time employment and earning benefits.
Work added, "And it's a win for our shareholders. I think long term this is another area where we think we can differentiate ourselves."
As far as how it operates, Work said that for now, store associates are using their cars to make deliveries in what he likened to a "pizza delivery" model. He said that could change in the future and added, "There's lots of risk mitigation and insurance that we've put in place to support the process."
He went on to say that right now, Zumiez Delivery does not deliver products every weekday primarily due to the small volume size, but described the delivery turnaround as "pretty quick." He added, "There's a little bit of delay, but overall we're happy with the efficiency of it."
Work added the busy holiday period was an optimal time to test the roll out Zumiez Delivery, and the company found the "unit economics of it worked out well." Work added, "We have a lot to learn. We're going to continue to push this, and we'll learn more as we have it scale outside of the holiday peak. And we'll tweak and manage that, but I think this is something that's a good thing for us long term."
Asked whether Zumiez explored using third-party vendors to support local delivery, Brooks said he doesn't believe outside vendors can service customers to the degree Zumiez's employees can.
"No one can provide as good of a brand experience as our people do or take as much care about serving customers. That's something Postmates, Doordash and all those other guys can't do. They don't understand what we're trying to achieve, and they don't have the kind of salespeople we do."
Brooks added, "I tell you the feedback that we've received from customers has been amazing about this experience. Even to the point where we've received notes that say 'Hey, Bryce came to my door!.' This was so cool that they knew their local salesperson, and that is a brand experience I don't think can be replaced."
Comps Expand 1.7 Percent In Holiday Season
In advance of its presentation, Zumiez reported that comparable sales increased 1.7 percent for the 10-week period ended January 9. During the same period, total sales decreased 0.7 percent, impacted by required governmental closures and other restrictions associated with COVID-19.
From a regional perspective, quarter-to-date North American net sales increased 0.2 percent with the U.S. up slightly while store closures significantly impacted Canada. Other international net sales, which consist of Europe and Australia, decreased 6.7 percent, with Europe hardest hit by store closures and Australia performing exceptionally well during the holiday period. Excluding the impact of foreign currency translation, North American net sales increased 0.1 percent, and other international net sales decreased 14.2 percent quarter-to-date.
For the 10-week period, stores were open for approximately 95 percent of the potential operating days, with its most significant closures in Europe and Eastern Canada.
During the 10-week period, the Hardgoods category provided its largest comparable sales increase, followed by Accessories. Footwear was its largest negative comping category, followed by Women's and Men's.
Brooks said, "Similar to the trends we experienced around Black Friday in November, sales in the off-peak weeks in December were strong, while the usual peak weeks that are heavily reliant on in-store sales were challenged by less traffic and COVID-19 restrictions."
He added, "Given our momentum, solid financial position and relatively strong performance through these highly challenging times, we remain confident in our ability to continue to gain share and drive long-term shareholder value."
Photos courtesy Zumiez