By Thomas J. Ryan
While progress has been made within the last six months to bring youth sports back and to stay safe while at play, participants who attended two sessions at this year's SFIA "Back on Track: Insights and Strategies" virtual conference, expressed their frustrations.
Particularly vexing to some are the economic impacts being felt across communities, including the loss of registration fees, lighter community donations and local sponsorships that support youth sports programs.
Melisa Tatro Harper, co-founder and CEO of Good Sports, the Massachusetts-based nonprofit, said COVID-19 has been "particularly troubling" for the communities it supports because they have been hit hard by the financial and health impacts of the virus.
"We've seen programs that are struggling with increased costs to keep kids safe, as well as decreased revenue and registration fees that are normally collected for participation," said Tatro Harper as part of SFIA's roundtable discussion. "They're having families ask for refunds of those fees, or they're unable to collect fees because they can't offer a formal season. They're being hit hard financially."
The costs of added safety measures to prevent the rate of COVID-19 infection have raised fees for some of the traveling leagues and there are concerns that some local leagues may eventually need to raise their fees without a quick return to play.
In a "Birds of a Feather" informal discussion at the virtual event that drew a wide range of industry participants, the owner of a team dealer noted that schools continually face budget shortfalls and increasing "pay-to-play" fees were already pricing out some families from their kids playing sports pre-pandemic. He noted that most, if not all,  high school football coaches in his region had frowned at the implementation last year of instant replay solely because it meant their school could not afford to suit up as many players.
In managing COVID-19's impact, inconsistencies in safety protocols have been a challenge for sports organizers. The guidelines, including such basics as whether to wear a mask while playing, are largely determined by local jurisdiction based on CDC and state health official recommendations. In some cases, traveling teams crossing into another state to play a game have had to quarantine for two weeks prior to play.
Liabilities involved in tailoring PPE (personal protective equipment) for sports play, as well as towns and schools allowing access to playing fields, has also been a challenge.
For kids, wearing masks has been a burden because it impacts normal breathing patterns. One industry executive, who also officiates games, remarked in an informal group session, that he did not think he would be comfortable using an electronic whistle, which some leagues now require, after using a mouth-blown whistle for years.
Finally, a major frustration expressed by most has been the challenges of bringing sports back while recent studies show playing sports presents minimal risk of contracting COVID-19.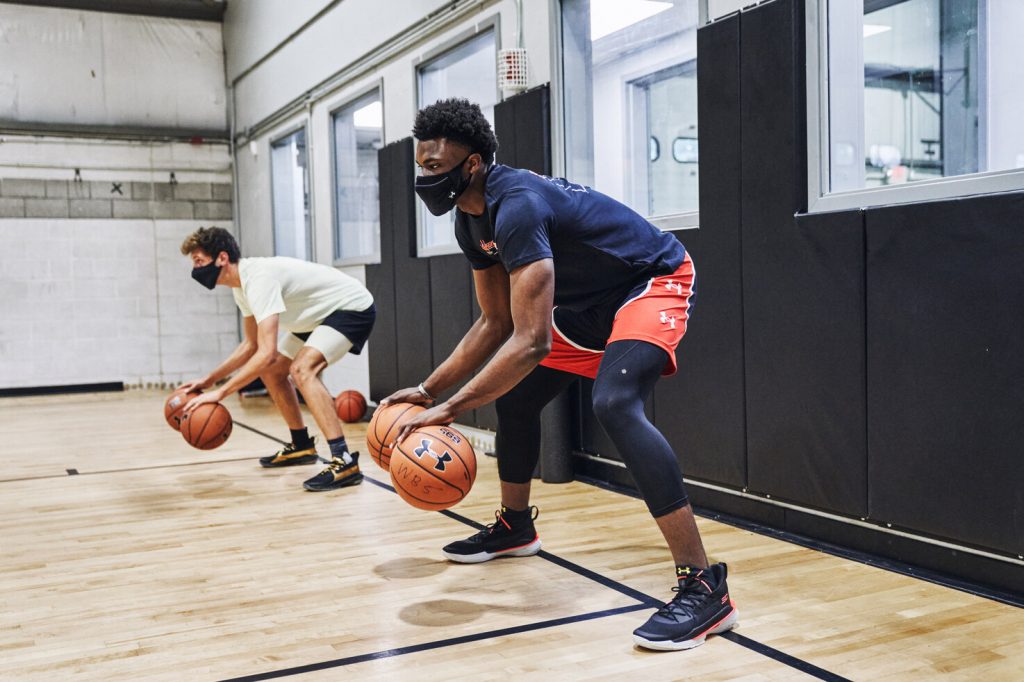 Studies Show Low COVID-19 Infection Rates From Sports Participation
A study conducted by the University of Wisconsin of more than 90,000 youth soccer athletes across 34 states, released in mid-September, found just 282 COVID-19 cases with only one case reportedly traced to the transmission while playing soccer.
An eight-week study by Today Surf Cup Sports also analyzed the safety of outdoor youth soccer in San Diego County, CA and found only 15 confirmed cases of COVID-19, representing a 0.01 percent rate, across 143,000 soccer sessions.
Karissa Niehoff, executive director for The National Federation of State High School Associations (NFSH), which sets the competition rules for most U.S. high school sports, said her organization likewise found only a relatively small number of football games that had to be canceled as of September 14 in the 17 states that played a high school football game at the time.
"That's really positive news because I think it reflects well on the education that's taken place with schools, coaches, student-athletes, and families," said Niehoff as part of the roundtable discussion. "The risk mitigation procedures, phased-in approaches, action plans in place for what to do should a COVID case can be realized, etc. And, I can tell you, in our current travels around our country, be it in person or virtually, our state associations are reporting that they have not heard of COVID contagion due to a team environment. So, no player-to-player. The student-athletes that are testing positive, on those rare occasions, tend to be traced back to outside-of-school activities."
NFSH has created a map that updates modifications to sports seasons by individual states. Encouragingly, Niehoff noted that Minnesota, Michigan, Colorado and Maryland are among the states that have recently brought back fall sports after initially shifting them to spring. She believes youth sports' return has benefited from taking time to better understand the risks of COVID-19.
"I think it took a realistic, hard response back in March," said Niehoff. "A lot of education took place, and preparation, as well as collaboration with governors' offices, education offices, health agencies. And a lot of plans are in place that are allowing our kids to come back to where people are ready and actually having a lot of success."
Mental Wellness Benefits Of Sports Play
A positive outcome from COVID-19 is the increased awareness of the physical and social benefits from youth sports, noted Derek Ernst, chief commercial officer at Augusta Sportswear Brands, who moderated both sessions. Ernst pointed to findings that show physically active children are one-tenth as likely as non-active kids to be obese as adults, 15 percent are more likely to go to college and more likely to have higher self-esteem throughout their lifetime.
The benefits were also noted in a nationwide survey of adolescent athletes from the University of Wisconsin, that found 40 percent of youth athletes reported symptoms of moderate to severe depression, and 37 percent reported symptoms of moderate to severe anxiety from COVID-19-related school and sports cancelations. Physical activity for participants in the study conducted during May dropped 50 percent.
Roman Oben, who was recently promoted to VP of football operations, NFL after serving as the league's VP Youth Strategy since 2015, agreed that the COVID-19 experience continues to demonstrate the value of physical activity. Oben said, "I love my video games and all the stuff that people play, but I think this period of time has given people another opportunity to rethink the value of playing outside, being on a team, getting some of that inner whatever out of you by being outside and being active."
Niehoff noted that although the "conversation gets politicized," the sports industry has to engage the sports medicine advisory committees at the state and national levels and work with local officials to ensure the social and mental wellness benefits of sports "are as much a part of decision making as is COVID metrics" in determining when, and how, to bring sports activities back.
Ernst said that, for the most part, individual sports, and those without contact and played outdoors, generally are deemed safer to play. Team sports are viewed as riskier as well as those sports involving contact and played indoors.
Concerns Over Fall/Winter Indoor Sports,
A major concern remains the start of indoor sports this fall. Oben hopes the success seen with sports played outdoors "creates a template" for fall sports and "hopefully by winter and spring we're in a much better place in terms of the COVID-19 virus." One participant in the informal session believes that seeing professional sports players taking precautions during play, such as wearing masks on sidelines or in dugouts, will provide a comfort level for younger athletes.
Oben noted that return to play only adds to the "fear and anxiety" being felt by families also dealing with work-from-home, virtual learning and other sudden pressures from the virus. Youth football supporters also don't have the infectious disease experts at their disposal that the NFL and many college programs have available to them.
Niehoff said the NFSH is working on an aerosol study, in partnership with the University of Colorado Boulder and the University of Maryland, to gain a better understanding of the spread of COVID-19 in enclosed spaces. She said better understanding air circulation and filtration may offer a tool to ensure safety during play in gymnasiums as well as learning inside classrooms., She noted that CO2 sensors offer an affordable way to monitor the level of CO2.
Good Sports' Tatro Harper believes schools and youth organizations may have to "think differently" about fall sports, whether that means smaller teams, additional safety gear or different settings. She said, "I think this is an opportunity for us to think of movement more broadly. Sports can be played in the classrooms, or it played in the gyms. Sports can be played in hallways, right? And it can all be related to the sports that we know and love if we're willing to be creative about how we keep kids moving."
Photos courtesy Seattle Times/Under Armour