By Jahla Seppanen
More than ever before, women are entering the running world by way of destination races. These events, whether 5k, 10k, half marathon, full marathon or fun runs, are responding with special programming and perks that cater to the 'girls' weekend.' (i.e. Nike's Women's Running events that include Tiffany & Co. swag for finishers.)
"For Newton Running and our entire industry, in the last few years we've been trying to get more women to events," said Johannes Schmidt, director of events for Newton Running.
Despite its initial launch in the tri-world (a largely male-dominated sport), Newton has been ramping its events with women, including sponsoring destination races, wine-country marathons and more. In fact, a lot of companies are going femme.
Schmidt added, "I see less guys going away for the weekend to run a race. Destination races have a social feeling which the female tribe is driving." He added that destination running has the dual benefit of being a great bonding event for women — whether besties, mother and daughter or work colleagues.
Oiselle Founder Sally Bergesen verified, "women want to get together in more interesting places to run. The industry by and large has an old model of go to a run specialty store for a group run, get your free t-shirt and go home. This has grown and hinged a lot on the increased presence of women in the sport … we have a higher standard for personal meet-ups and the race experience."
Leaders in the women's running industry are tapping this social tendency. "Women are so much more uniquely social," Bergesen continued. "From meals, travel, hanging out, I do think there's a split between the genders."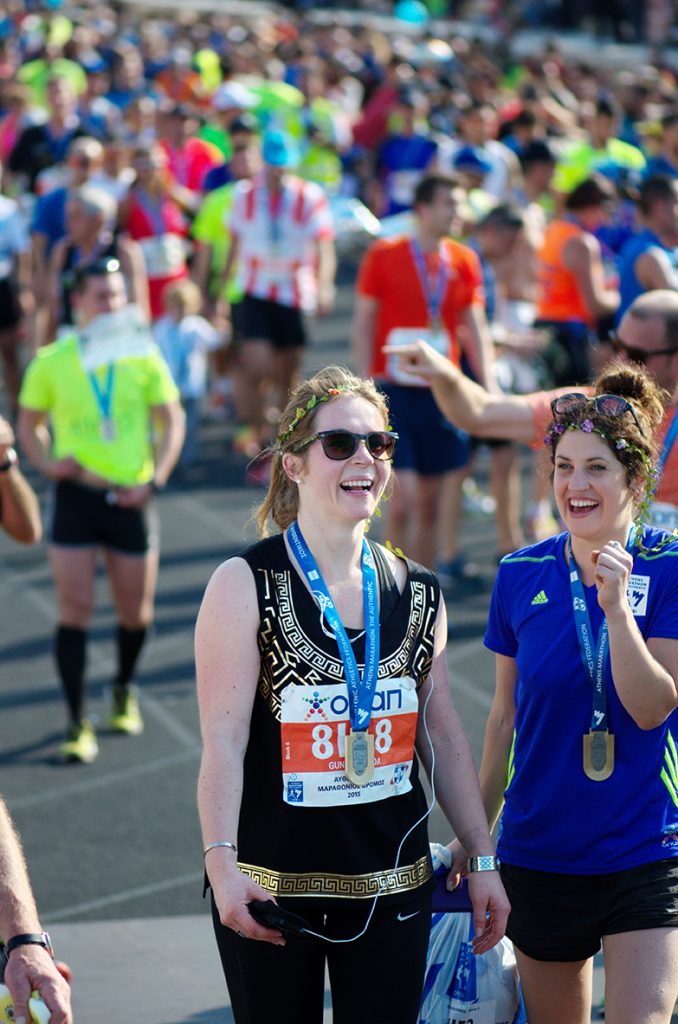 For many female consumers, once they depart college/schooling there is no obvious place to be connected to a team. According to Oiselle, this is also around the time women's sports participation drops off. A career, serious relationship, pet; these further the disengagement.
The brains behind The North Face's Mountain Athletics running & training department, Michelle Ave, pinned social and digital trends from color runs to destination events as a way for women to get together and share their love of running. "It's not an individual pursuit," she said. "The future is absolutely in social."
So, does it all mean a boost for the industry and running footwear? Well…one concern of late has been downward price pressures playing into the woman's 5k and 10k outfitting experience. It used to be that women got the proper gear and advice from a run specialty store.
Today, the popularity of women's running in fashion brings her the availability to browse the aisles of footwear discount stores — finding $50 shoes that look $100 and can withstand shorter 5k to 10k distances. The tendency to purchase a cheaper running shoe that will in essence, 'do the job,' is pivotal, and only heightened by the trend of fast fashion. If a woman can find a style-driven running shoe for half the price, she feels like she has already won.
Product education seminars might be a nice addition to the weekend getaways.
Despite those shifts, an increase in female runners is something everyone can rally behind. Destination races have become more than a "to-do" for women to check off their list. The enhanced aesthetic and positive mood around these events have proven to be a powerful gateway to recreational running. And that's when cheap alternatives just won't stand – no matter how cute.
If you are looking for a women's-specific running event to escape to next year, take a look at four essential women's run events:
Napa to Sonoma Wine Country Half Marathon
Napa, Sonoma, CA
destinationraces.com/runn2s/
Bridge of the Goddess Half Marathon and 10k
Cascade Locks, OR
runwithpaula.com/bridge-of-the-goddess-half-marathon-10k/
The Mermaid Series
San Diego, East Bay and San Francisco, CA
mermaidseries.com
Cocoa Women's Half Marathon
San Antonio, TX
cocoahalf.com