The transformative power of today's women's running apparel, and how the industry is working against "body shamers."
 By Jahla Seppanen
Historically, the female body has been a battleground. It has been exploited, shamed, ridiculed and objectified. Everyone from politicians to brands, magazines and people on the street have something to say about how it should be presented.
Looking back to old ways of outfitting women, we see a garish array of apparel created to confine and remold the feminine body. Corsets, hoop-skirts, foot binding, push-up bras and stilettos each draw from culturally ordained concepts of 'looking correct,' having little to do with the woman being strapped in.
It's no wonder it took so long for the first woman to don a pair of shorts and run the marathon. Clothing has been proven to influence our self-perceptions, and these perceptions (I'm old, fat, unattractive) in turn produce the behaviors we undertake to modify ourselves.
After centuries of being told that the outside is all that counts, women today, especially those who run or are beginning to run, have overturned the status quo with help from members of the running industry who innovate with intention toward comfort and power. Their creed: Look good, feel good.
"One of the most valuable roles apparel can play is in transforming the mind," said Oiselle Founder Sally Bergesen. "In the past, women wore clothes that worked against their conscious, physically making them off balance and feeling bad."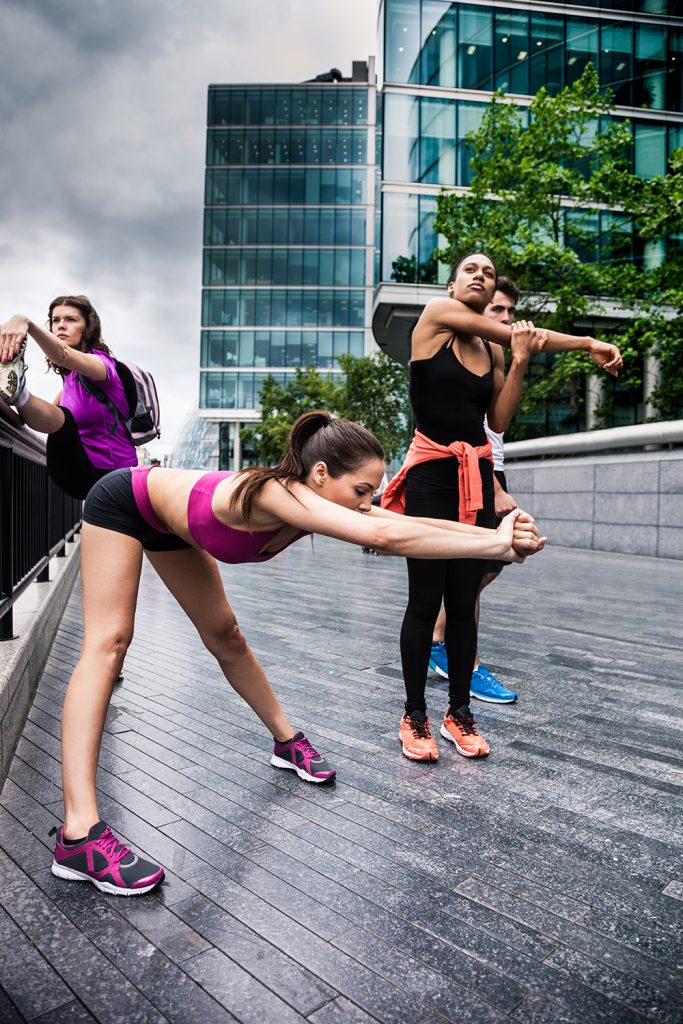 Look Good, Feel Good Psychology
Bergesen, who personally grew one of the most influential women's running brands in the industry, has been thinking of the relationship between mind and body as it shifts with apparel for some time (she's even working on a TED Talk on the subject). "If anything, I want in 2017 for more women to understand the role athletic lifestyle apparel has on their minds. With the growth of athletic apparel, we have the opportunity to marry those things — 'I look good, therefore I feel good.' That would be the holy grail of where I see athleisure going."
Before starting Oiselle, Bergesen was a consultant in brand strategy working for giants like Microsoft and Starbucks. "I would always advise them to stand for something bigger," she said. Carrying this mantra to Oiselle, women across the country have responded to its women's-crafted apparel and inclusive messaging (which refers to its wearers as members of "the flock,"). The moral of the story? Nobody puts baby in the corner. By women, for women brands have become a trend (i.e. Lucy, Athleta, Fabletics). "There's a trust that comes with being a by-and-for-women company," said Outdoor Industries Women's Coalition (OIWC) Executive Director Deanne Buck. "And the trust is natural and initial."
Women have grabbed the running industry by the horns and carved a category out of personalized and fashionable apparel and footwear — previously shrunk down copycats of men's clothing, with a little extra fuchsia.
"When you're a woman who goes out and makes time to run, you're making a commitment. It's transformative," said Michelle Ave, The North Face's director of Mountain Athletics for running and training. "There's a very strong relationship between feeling good and comfort, which is a word we wrestle with in apparel. The misconception is that comfort is frumpy, but really it's a state where you can just enjoy and think about the run."
The North Face has made a tremendous push within its women's running category, focusing on textiles and the latest constructions to contrast the what-was and what-is of women's run apparel. Fellow brand Dynafit races alongside, honing in on comfort through no-disturbing seams, use of different fibers/fabrics in body mapping, and the employment of natural/synthetic material blends. The brand's European Product Manager, Sibylle Egele, said they would also be using more fashion/sportswear-derived patterns applied on performance apparel — a trend we're seeing across the big players in the category. It's no exaggeration to say that the women's running category has given birth to a new generation of fabrics with a higher level of comfort and performance.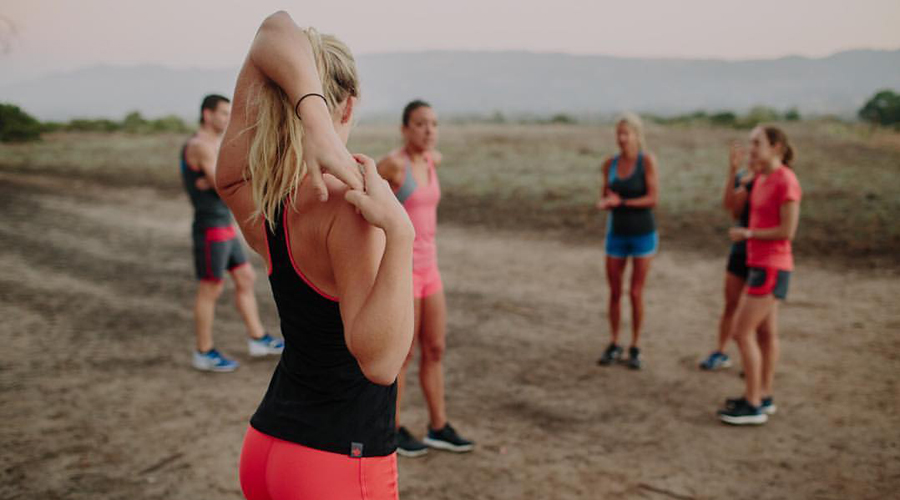 Your Suit Of Armor
With apparel made to fit the woman's body, and not the other way around, we see more female athletes rocking their coat of arms with faster PRs and killer distances. "It's your uniform, your suit of armor," said elite runner Stephanie Rothstein. "Running clothes isn't just a sports bra and shirt. Putting on an article of clothing can empower you. It's amazing what the right shirt can do for your self image."
For both the average and elite female runner, self-image continues to hold a powerful sway over wellbeing. In 2014, Rothstein went from being an elite runner to a mom. "A lot of the time the elite world doesn't connect well for the masses," she said. "We're seen as super-human. But it sparked my interest how we can connect the women's running community."
She started sharing her post partum experience with blog readers and Instagram followers, only to become pregnant a second time in the midst of preparation for the 2016 Olympic marathon trials. "I started openly and honestly talking about what I was going through. Being an elite athlete, I had help and support, and realized a lot of women don't. They don't have time to take care of their bodies. And even as a pro athlete going through these changes, getting back to the highest level of my performance and job, at the most basic level I'm still a woman."
Rothstein became the Joan of Arc for women everywhere after posting an Instagram photo that lit the web ablaze, landing her articles and interviews from the biggest names in news. The post: a photo of her post partum stomach. No photo shopping; stretch marks included. "I had just finished a workout and was looking at my spikes. I felt so good and looked down to see my stretch marks and didn't even care," she told SGB. "It made me think how many other women look down on themselves and see flaws instead of strong points."
The post prompted dozens of women to applaud Rothstein, posting the hashtags #sotrue #sobold #lifehappens and flooding the feed with stories of their own post partum bodies. Sure, women have evolved to feel more confident in their skin, but it's still very much an issue. Rothstein believes the remedy is opening the conversation and stripping the taboo. The next big topic on her horizon is exploring the huge influence a woman's menstrual cycle has on running performance, which she explains can affect joint alignment and event loosen ligaments, making a woman more prone to injury at certain times.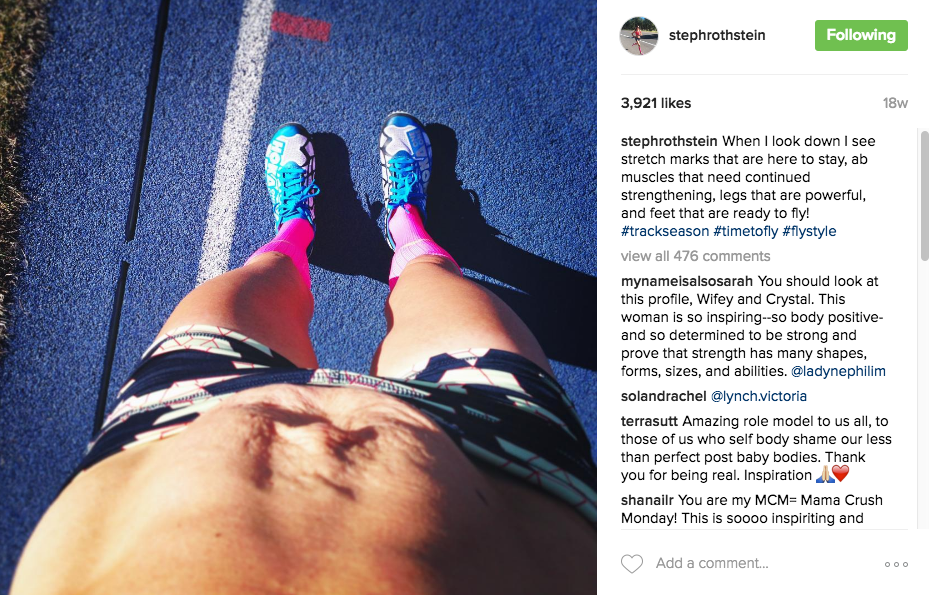 Designs That Win
Simply built performance pieces that play upon an emotional connection will prevail over the rest, as we look forward to the 2017 spring/summer seasons. A stylish, low-quality short might mirage the consumer on the rack, but if it doesn't convince on the road she'll go elsewhere.
"Brands will win by executing on a premium strategy," said Ave with The North Face. She said that some consumers are initially allured by low prices, and reason, 'why buy one high quality piece when I can buy two of medium quality for the same price?' Her response to this logic is, "well you better grab two, because you're gonna need them."
Smaller running brand Tracksmith has done an excellent job in the area of quality. This varsity-inspired brand offers clean and curated pieces that market an even 50/50 to women and men, with hardly any pink in sight (and for that, we thank you).
Nathan Sports Product Designer and Developer Faith Piotrowski added "a fun new development in color is that gender lines are blurring in both directions. We've seen more than a few guys rocking what we would typically consider feminine color options, while some women gravitate to more masculine colorways."
Piotrowski also verified that the days of women sacrificing performance for fashion are gone, primarily due to more brands diligently creating and testing women-specific products. Or better yet, more women creating brands of their own, like the rising made-in-Cali running brand Rabbit — formed by Monica DeVreese, a former Adidas and Deckers product manager turned specialty-retail owner, and Jill Deering, an elite track star turned attorney. Having sent out their first orders in spring 2016, Rabbit has already wowed female runners with its soft, simple and smart outfits. And since Monica and Jill practice what they preach (the two met on a Santa Barbara group run and have been thinking of designs to change the women's running apparel industry since then), we don't expect this newbie brand to be washed out by big-box or fast fashion. "Our goal is to be the number one apparel brand in the running specialty channel," said Devreese. "It's pretty simple."
This isn't a single-gender mission. More established brands like Brooks Running and Smartwool — run by men — are also doing their part to advance women in the industry. Buck at the OIWC called out Brooks CEO Jim Weber as a leader to note, vetting a CEO Pledge through the entire company to actively bring more women into decision-making positions. Buck added that this attitude from the top is the only way to see real change, saying "Research shows that until the CEO comes out and says its important, any internal initiative will not be successful. Smartwool President Mark Satkiewicz was another name Buck highlighted. "He has been committed to hiring the best talent and found a lot of it were women. And since his time at the helm, the company has been incredibly successful," Buck added.
It takes effort to look at biases that work against women, especially within the hiring process. Understanding there are many talented women out there who are qualified but may not have industry experience is the first step. "Looking at our lens in which we evaluate candidates, we need to validate a love for running as equal to experience," Buck said. "The running industry is at a great intersection of passion and profession, situated to attract and retain talented women."
And for female consumers who resonate with brands that internally promote their own, don't be fooled by marketing campaigns. A brand may come out with a new women's-specific line, but that doesn't always mean the infrastructure or executive leadership of the company is concerned with promoting women in the industry. And while more brands enter the women's apparel space, it's worth noting who is there for the right reasons.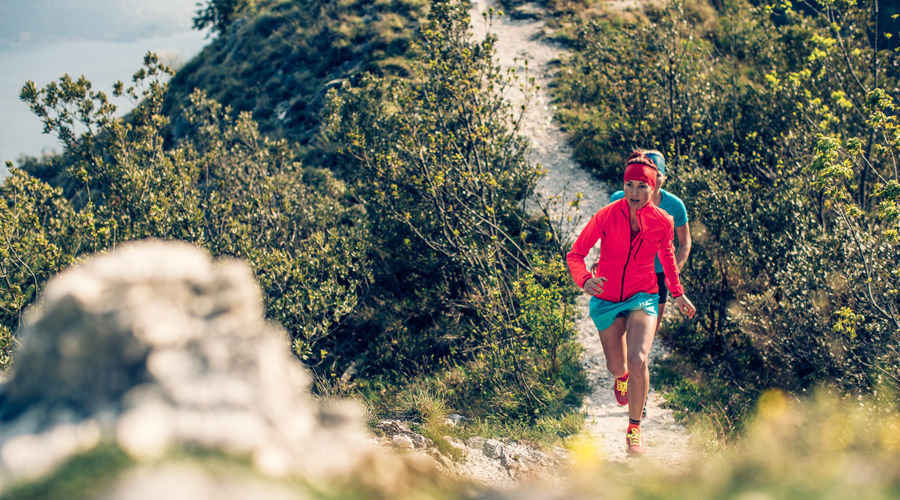 When Dressing Up is Condemned
Yes, the options for women runners today are becoming almost endless, which means it's time to shop. While women flip through style magazines to find inspiration from celebrities wearing their sports bras and leggings from the gym to the smoothie shop, they mirror apparel trends by dressing up for fitness. According to our female category leaders, this is great. Why not make fitness fun? The same argument has been made to make-up shamers, who mock women that wear blush or mascara to the gym. If it makes them feel better, why should anyone else care?
In the pursuit of looking good to feeling good, and in turn having a better workout, there remains a disharmony between what is deemed acceptable once the consumer exits the shop and enters the gym. Within the past several years, average female gym-goers have reported a rash of body shaming incidents involving gym owners and employees. The majority involves claims that these women were kicked out due to "revealing" apparel.
Within the past year alone, an Ottawa woman working out with her husband was told by gym staff that her chest was "too large" for her tank top, making her feel "degraded" and embarrassed by her body to the point of leaving the gym; a student was kicked out of an athletic facility by a male director for wearing a Lululemon top that was "cut too low," in the back; another university student was thrown out of the school gym for donning a muscle tank; two women were asked to leave a university fitness center for wearing sports bras; a pregnant woman was told her belly was too visible in her "tight clothing," and must cover herself or be forced to leave; and another woman sporting a matching pink legging/tank outfit headed to the gym after recovering from a car accident to be told by staff, "you're intimidating people with your toned body. Could you please put a shirt on?"
It could be assumed that the issue we have regarding women's running and fitness apparel, and the way it looks on the body, is one of overexposure, but other incidents have been reported where an Orthodox woman in New York was threatened to be arrested at her gym for wearing a long skirt while working out, and an older Muslim woman was kicked out of a Planet Fitness for wearing a head scarf.
Thank You, Stomach
Women are constantly being told what is and is not acceptable for them to wear, but the industry, its brands, leaders, athletes and consumers, aren't backing down and allowing the shamers any more say-so.
So support your customers in their style choices, wear a crop top on the treadmill, opt for the dark blue color over the cotton candy, say thank you to your stomach, talk about challenges with embarrassment and suit up in whatever makes you feel powerful, strong and beautiful.
Photos courtesy Rabbit, Stephanie Rothstein and Dynafit