On March 13, Jim Zwiers became president of Wolverine World Wide's Outdoor Group. Scott Sible, the former president, was named president of Merrell, its powerhouse brand. Besides providing a broader platform to develop Patagonia footwear and its recently-acquired Chaco businesses, the new management structure is designed to help Merrell reach its goal of becoming Wolverine's first billion-dollar brand.


"It's really a three-part process," said Zwiers in an exclusive interview with Sports Executive Weekly. "First, it's a focus on Merrell and being able to focus Scott, who's a key architect of the Merrell brand, entirely on the Merrell opportunity. Although big, Merrell is still one of our most significant continuing opportunities going forward. The second part of that is to really continue to develop the other significant portfolio opportunities. Over the past several years, we've added Patagonia footwear and now Chaco. We want to make sure we're spending time developing those opportunities. And then the third one is to really emphasize that consumer. And not just retail – just to bring that consumer to the center of all we're doing as a group."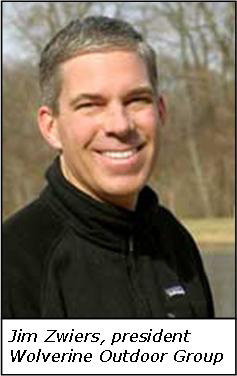 Part of that increased consumer emphasis involved intentionally aligning Wolverine's Retail Group closer to the Outdoor Group. An 11-year Wolverine veteran, Zwiers most recently served as SVP with responsibility for retail, business development and other areas. He remains SVP with responsibility for the Retail Group.

As a company, retail currently represents 5% of total revenues and Zwiers expects to ramp that up to around 15% over time.

"We really view retail as a brand accelerator in that it allows us to provide great brand experiences," said Zwiers. "It allows us to really connect with that consumer and really convey all the attributes of Merrell retail." He continued, "For example, we have a Merrell store in Whistler, Canada. With the Olympics coming up, that will be an awesome place to do exactly what we're talking about, to really create a brand experience. It's gong to create amazing awareness for the Merrell brand in what's going to be the epicenter of sports activity in 2010."

The enhanced consumer push also supports the growth of more than 50 stores operated by global partners. Beyond its own stores and at wholesale accounts through in-store shops, the goal is to form deeper connections with consumers across all platforms, including the web, grassroots events, and across marketing.

"We take a really holistic approach on the consumer and we really want to emphasize that in the new structure," said Zwiers. "It's really telling our story. More and more today, consumers expect a real brand connection with the brands that they love and we're fortunate enough that Merrell is one of those brands and Chaco is another. Consumers have intense loyalty and intense connections with these brands. They want to talk to us and want us to participate with them as we push our message to "Get Outside" and embrace outdoor participation. They love it!"

Sible also said the move will enable him to completely focus on the Merrell opportunity.

"There's just a lot to do," said Sible of his former job. "It's just a very, very complex business. We do business in 160 countries. Our design and development for both footwear and apparel are offsite. So it's not a part-time job. I have a phenomenal team and we've been able to hold things together very well. But this is Wolverine's first billion opportunity and running a $500 million brand isn't a part-time job and getting to a billion isn't either. As head of a group in Wolverine's structure, there's just a lot of other stuff that is non-revenue producing that takes place. I'm better suited for where I am right now."

Merrell had a rare decline in the fourth quarter – down mid-single-digits – due to the impact of foreign exchange rates on its international results and efforts to clean up distribution.

"We're in a rebuild mode in Europe. There was a lot of shaky distribution and we closed that up," said Sible. "We also did some U.S. cleanup and we'll continue to make sure we're in the right retailers."
Sible also said Merrell's U.S. business is not immune to the economy, but is gaining market share.

"Certainly the overall biz is tough for everybody," said Sible. "But really right now we're looking at market share and from every indication we have, we are gaining share. In this type of environment, that's all you can hope for. We're doing very well."

Said Zwiers, "In this environment people rely on the brands that have delivered again and again for them and Merrell in this environment is a brand from a retailer standpoint has been an amazing property and opportunity for them."

On the footwear side, the Outventure outdoor performance collection is showing particular strength of late.

Sible said this reflects a strong trend toward multi-sport activities as "people continue to get outside in these times."

Sible admits that Merrell's Fusion collection has "been better" and is being impacted by changes in fashion cycles. "We had a huge Fusion product line in Europe that we need to revamp and we're working on that and gaining share back there," said Sible.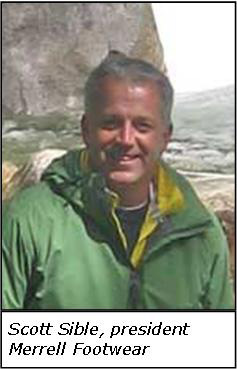 Meanwhile, Sible said the brand is "making strides" in running, launched last year. "When we launched it, we wanted to come out very focused and tight not only with the product but with the retail set we went after," he said. "So we really went after the core running group and we have learned a lot and we'll continue to grow. We look at it as a $50 million opportunity for Merrell."

Merrell apparel will now be overseen Zwiers. But Sible said he was disappointed with the launch last year "primarily because of the way we set it up and our thought process behind it. It didn't have the Merrell DNA." A retooled line with a new team launched in Fall 2008 generated 30% sell-through rates at the opening of the San Francisco Merrell store in its first two weeks.

"So before the wheels fell off for everybody, we were selling very well across every channel and the first full year of operations we did a couple million more than we thought was possible," said Sible. "So it's not an easy business, but we feel we have a good plan.
Patagonia footwear, just closing its second full year, delivered double-digit gains last year. Zwiers said the success of the line is a testament to the power of the Patagonia brand.

"Even in this market, Patagonia continues to win – they're winning at retail, they're winning with their consumer and our product is being taken right along with that as we continue to match well to that brand," said Zwiers. "That message — best performance with the least possible harm – right now really delivers. It's a really great message for the times that we're in. So we're really very happy with the partnership and the progress we're making in a pretty tough market."

Patagonia footwear recently moved into trail running and continues to look into their categories. Zwiers said the company has remained careful to align its footwear efforts with Patagonia's.

"Patagonia owns a very strong connection with their consumer and we want to make sure we're respecting that and we're playing off of that," said Zwiers. "So they have very good relationships with their catalogs, in their stores and we're partnering as close as ever on that to make sure we're meshing the footwear with their direct to consumer initiatives."

Helping to enhance its partnership with Patagonia was the hiring of Bill Dodge last year to head up the Patagonia footwear initiative.
"We now have a good working place with them on what they would like to see out of the footwear line," said Zwiers. "Bill is really working well in adopting some of the things that they've mentioned. One of those things is focusing on getting a little bit younger perhaps in their consumer. The other is women's-specific. So in the future, you'll see big efforts there."

Regarding Chaco, Zwiers said the brand will quickly benefit from Wolverine's back-end sourcing, support and delivery mechanisms to fully exploit its rapid following with customers.

"Chaco has what's very difficult to attain in our industry, which is an amazing core," said Zwiers. "They've got a core product and they have very, very loyal consumers. It's an awesome base to build off of. We see dramatic growth opportunities just in being better in the channels that they're in. Building on what they've built already, and frankly, doing it a little bit better on the operational and execution side."
Adds Sible, "Some of the big things are just blocking and tackling when you look at the Chaco opportunity. If you talk to a Chaco retailer, the three things that keep coming up are poor deliveries, lack of innovation, and sometimes-poor quality. When you plug that product into our sourcing group, right away it's a big win."

The pair sees obvious growth internationally, where Chaco has a small presence. In the U.S., the primary focus will be resolving those service issues to fully exploit growth at core outdoor specialty accounts before exploring growth at more mainstream retailers.

"We have expanded our distribution of Merrell to get to where we are but it's always been a logical step and it's always been something that's heavily pondered," said Sible. "And if you look at what Chaco has as a brand right now, it's primarily the Z/1 sandal and things like that. That is really a sit-and-fit opportunity. To get people to buy a $95 web sandal, you need to explain the technology. You need to get it on people's feet and the best way to do that is not always in a big box store."

Regarding acquisitions, Zwiers said Wolverine will be focused on smoothly integrating the acquisitions of Chaco as well as the Cushe fashion footwear brand into the organization. But he said management will explore opportunities as they become available in the downturn.
While brand opportunities arise in tough economies, Sible also expects some fallout with outdoor specialty retailers, noting that some retailers are "hanging in there" and others are struggling.

"The outdoor business typically has weathered downtimes extremely well, but I certainly haven't seen a period like this in my lifetime," said Sible. "Having said that, there's all types of opportunities out there and our goal as a company is to come out of this climate in a better economic condition than we went into it."