Two decades after an era of consolidation in the paddlesports category, Laval, Quebec's Pelican International, resurrected the trend, creating a new powerhouse in the space. 
Just 18 months after its December 2019 acquisition of Confluence Outdoors, whose brands include Dagger, Perception, Wilderness Systems, Wave Sport, Mad River Canoe, Harmony Gear, and Boardworks, Pelican purchased Advanced Elements in June. Pelican, a 50-year veteran of the recreational paddlecraft industry, is a key player in everything from hardshell sea, whitewater, rec and fishing kayaks to canoes, paddles, SUPs, apparel, and inflatables.
"It provides us with another well-respected and recognizable brand to offer our extensive distribution network to meet the fast-growing demand for inflatable kayaks and SUPs," said Pelican senior vice-president of global sales and marketing Frederic Guay. "We're looking forward to this next chapter in our growth strategy."
The company now has 935 employees, said Guay, with 700 at Pelican, 210 at Confluence and 25 at Advanced Elements. And it's riding a strong growth cycle. In this fiscal year, ending October 1, Pelican has seen "30 percent more sales than in 2020, which was a record year as it was," said Guay. And Confluence, he added, is up 15 percent to 20 percent more than last year.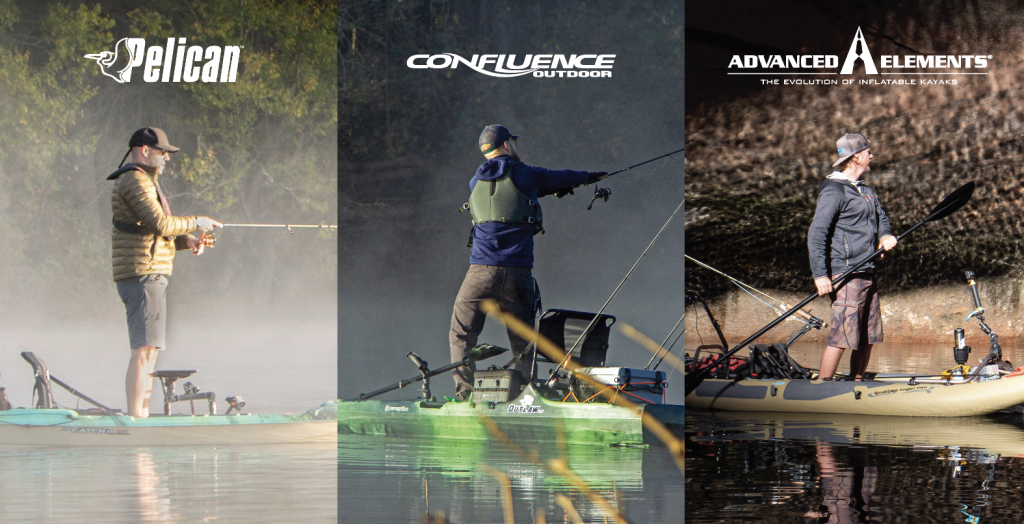 As for its earlier acquisition of Confluence, Guay said it, too, was a perfect fit. "We were already thermoforming, so it made sense to add rotomolding to our product line," he added. "And we now have blow molding capabilities and a strong sourcing and distribution network. We can do great things with all these brands."
While there is admittedly some crossover between the brands, especially when it comes to rec models and fish kayaks, Guay feels the synergies outweigh them. "There's minimal overlap," he said. "Perception and Pelican might have a few similar rec models, but each brand has its niche and persona.
"At some point, we might remove certain boats, but we want to make it simple for the end consumer, and we have to be cognizant of that," he continued, adding the company plans to give it a two- to three-year transition. "Wilderness Systems, Perception and Pelican all do fishing, so at some point, you have to differentiate them. It's something we'll be starting to work on so we can be as efficient as possible."
The company might also have to do the same with its SUPS, made under the Boardworks, Pelican and Advanced Elements brands. But they, too, each have their following, said Guay.
The company's June acquisition of Advanced Elements dovetails on its December 2019 purchase of Confluence Outdoors. This conglomerate kicked off the industry's merger-mania by purchasing Dagger, Perception, Wave Sports, Mad River, Harmony, Wilderness Systems, Bomber Gear and others in the late 1990s and early 2000s. Similar companies did the same, with Johnson Outdoors, the longtime owner of Old Town Canoe, purchasing Ocean Kayak, Necky Kayaks and Carlisle Oars; and LiquidLogic joining forces with rec kayak maker Native Watercraft and, later, sea kayak manufacturer Hurricane.
But such consolidations have been relatively quiet until Pelican's recent move. Its timing picking up Advanced Elements was perfect with the company riding the success of its AirVolution drop-stitch kayak, bringing the drop-stitch construction of the SUP market to a high-performance inflatable kayak.
Guay said the company had been in touch with Advanced Elements executives for a long time, first looking at the company about five years ago. The COVID-19 outbreak delayed discussions, but they picked them up again late last year. And they're in it for the long haul. "It's not a 'flavor of the month," but something we see as lasting a long time," Guay said. "It's a great complement to our offerings. Some of our customers said their mix was already 50/50 between rigid boats and inflatables."
It's also a good fit because the markets are different, Guay added. "People buying a rigid kayak are different from those buying an inflatable one," said Guay. "It's a different end consumer."
From Advanced Elements' perspective, it's also a win, giving them access to Pelican's manufacturing efficiencies and vast distribution network. 
"We've sought and envisioned this partnership for a long time," said Advanced Elements President Clay Haller. "We wanted a business collaboration that would bring us to the next level and leverage our know-how and leadership position in the inflatable and SUP markets. We couldn't hope for a better partner."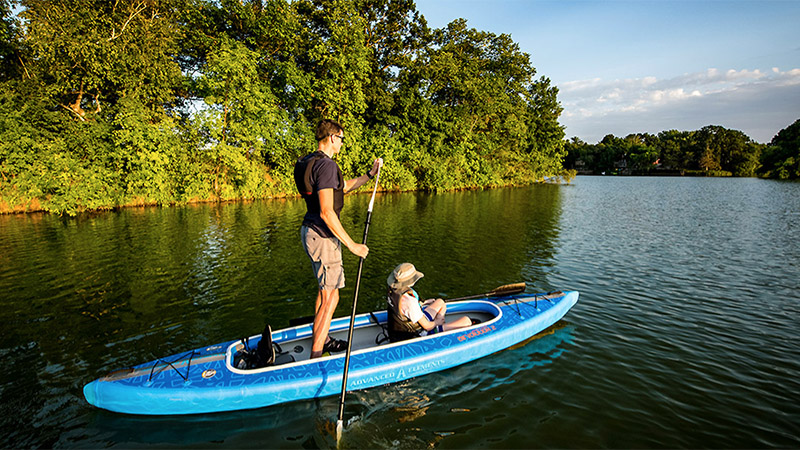 Advanced Elements was founded in San Francisco, CA, in 2001 by Haller and Charlie Hall, the inventor of the waterbed. Hall, fresh off his run with the waterbed and Sun Shower invention, was instrumental in the product's development, said Haller, adding their first kayak "performed more like a hard-shell kayak than anything ever seen."
The company's line now includes a full range of IKs, SUPs and accessories, from the 4-lb PackLite to the AirFusion Evo kayak, Attack whitewater kayak and Airvolution. "When we started, we had simple goals around just a few products," said Haller. "Now, we have a pretty complete line-up, and we're looking forward to this new partnership."
Guay said the European market is one area it plans to target. "Inflatables are huge there and not well represented," he said. And the company isn't above picking up the one thing not in its quiver – a raft manufacturer. "Never say never," he said. "We're looking at a couple of opportunities, but it has to make sense as to where we distribute and make them."
Meanwhile, the company is hardly resting on its laurels. Despite a "tough 18 months, where labor and supply-side disruptions were an enormous challenge," Guay said it is looking forward to "going out in the first quarter of 2022 with some new, exciting technologies and serious advancements." The company also has plans to release five-to-six new boats between Wilderness Systems, Perception and Pelican.
Guay admitted that the paddlesports market does have a potential glass ceiling. "The kayak market has some limitations as far as dollars, so we're looking at other opportunities in the outdoors, things that make sense beyond paddlesports with our manufacturing capabilities," he said. "We want to double or triple our business in the next three years."
He also admitted that the market is crowded. "There are still a lot of players in this pool," he said. "I think we'll continue to see more consolidation. Two years ago, the market was stagnant, with people questioning themselves and private equity owners thinking they would be better off selling. Now, these companies are making money, so it's also a good time to sell."
Still, the company remains bullish on boats, predicting as good of a year in 2022 it's enjoying in 2021. The only thing that might affect it, Guay said, is aftermarket sales. "The question is, will people sell the boats they bought? He continued, "People might say, 'Well, that was fun, but I'm done.' Still, everyone is always bullish when you're going through a great year. So we're taking our forecasts with a grain of salt, but we think 2022 will be strong again before the market starts maturing. We could have a couple more years of strong growth."
Photos courtesy Confluence Watersports