Will Boots Ever Bow?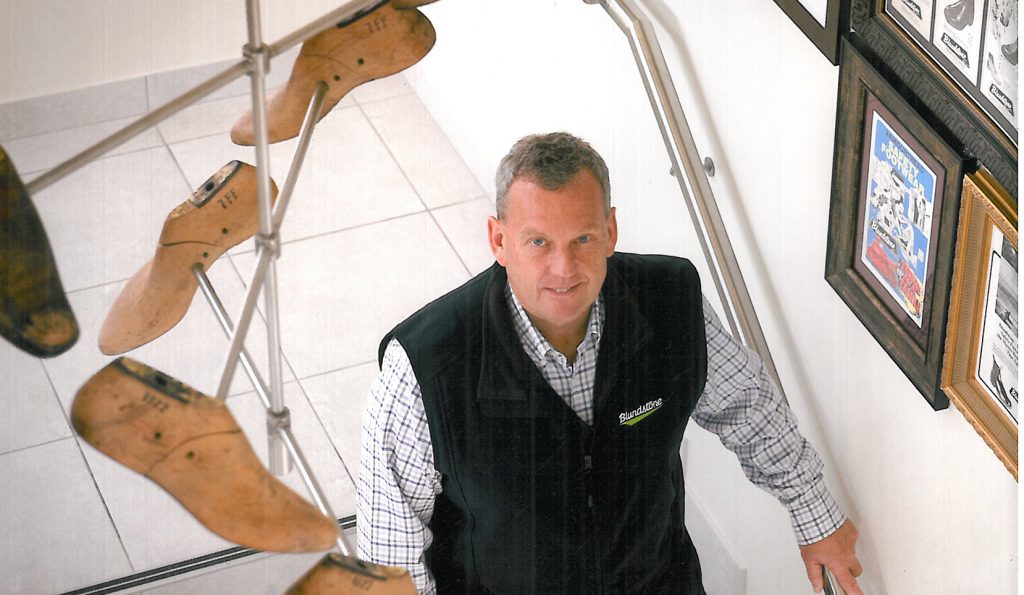 Steve Gunn, CEO, Blundstone
Initially designed for utilitarian functionality, boots have sealed their footprint in the style archives. But will sales turn?
In the footwear family, boots are somewhat of an enigma.
From a basic product standpoint, they have remained the same as what was sold decades ago. Fast forward 40 to 50 years and there are improved colors, materials and performance features, but the designs haven't changed much. And despite warmer temperatures last winter, the look is still in style. We challenge you to conduct our unscientific "Airport Test" this fall/winter and chart what footwear women are wearing — you'll see a lot of boots.
"We think it's a trend that's here to stay," Blundstone CEO and Managing Director, Steve Gunn said confidently. "Not just a quirk of last year's weather, or some sort of fashion fad. It's driven by consumer demand."
The Tasmanian-based brand Blundstone has been in the boot business since 1870, and Gunn, who has been CEO and managing director for more than 22 years, has a keen insight on why boots have blossomed, where the next big opportunity is for the category and what won't work for the consumers of tomorrow.
Multi-Purpose, Multi-Weather, Multi-Sex
"To start, there's an element of people wanting to buy footwear that's good for multiple purposes," Gunn said.
In today's climate of fluctuating weather patterns and more torn-up, laid-back infusions entering vogue fashion, boots hover in the perfect plane of being utilitarian without being overly performance-packed and cool without being overstated. Think about it, consumers wear boots with yoga leggings, with pressed jeans, nice slacks, summer shorts and even dresses. And herein lies a big shift that helped lead to the success of boots; women started wearing them. Gunn recalls when a big swing of female buyers began flocking to the footwear category.
"We've always had unisex products, since it was mainly a purchase by men who were looking for a utilitarian product," Gunn said. "I suspect less than 10 percent of purchasers were female. Now it's close to a 50/50 split."
Widening the consumer pool, boots also began appealing to a variety of ages, and this bubbling buyer group translated directly to improved sales, even with warmer weather.
SSI Data* shows that both Comfort Casual Boots and Fashion/Dress Boots are up 3.5 percent in dollars over the trailing 52-weeks period, through November 4. There's an even higher increase in units sold, which hovers around a mid-20 percent ramp.
As for the timing of those purchases, SSI Data tells us that nearly all boot categories follow a similar seasonal trend line, with sales increasing through the back-to-school season, peaking before Christmas, then trailing off until hitting a low point in March, where it remains throughout the summer. However, more sub-categories like Rubber Casual/Urban Boots, Fashion Rubber/PVC, Comfort Casual and Fashion/Dress maintain significant sales throughout the spring and summer selling seasons despite following the same trend line.
Boots Galore
Much like the athleisure category in the past five years, boot selections have exploded with more competition entering the market. Gunn's reaction at Blundstone? Good!
"Competition is really healthy right now, and it means shelves have more product on them," he said. "Sure, it may mean we lose business to our competitors, but we see the growth as part of a much bigger story. Having competitors makes us better, and it makes the whole category bigger. We don't see that as a negative." That being said, overpopulation in the category could be pressuring average selling prices as unit growth is outpacing price growth, according to SSI Data.
From Gunn's almost quarter-century tenure in the category, experience tells him that although some consumers will go for cheaper options, this is not an area where people are looking for bargains. "There's an authenticity attached to the purchase that people aren't willing to compromise on," Gunn added.
The Next Horizon
So where can boots go from here to sustain success? The footwear business is an industry of cycles, and in light of boots hitting decent performance numbers, we can't help but wonder whether they'll soon fall to a newer, better option.
From a technical point of view, more new-age materials are being developed and included into boot designs, which indicates there's a plethora of evolutionary potential over the next few years (especially in terms of weather-resistance and unique rubber formulas). As for style, Gunn believes this is the most accessible platform from which the business will grow. Gunn said, "I see a real opportunity for greater fashion sense in the sector, and for brands to have some fun with the category. But that being said, designers trying to kick the category up too much might not be successful. A boot still needs to have basic functionality. It cannot lose that. So while I think the fashion element will come in, I don't think boots will cut their roots."
Photos courtesy Blundstone
---
*SSI Data, powered by SportsOneSource, collects and analyzes POS data from more than 15,000 retail doors across nine channels of distribution. To learn more, call 303.997.7302 or email Solutions@SportsOneSource.com