The Running and Fitness Event for Women took camp in the Windy City on June 9-10, 2016 for a short-n-sweet show that reiterated the famous Beyoncé chant, "Who runs the world? Girls."
Just fewer than 100 brands – some new to the category of women's activewear, like BodyGlove who's better known for wet suits and life vests, and other female favorites like Lucy and Kari Traa – presented their femme-driven designs to women decision makers at specialty run retail, boutique athleisure shops and fitness clubs.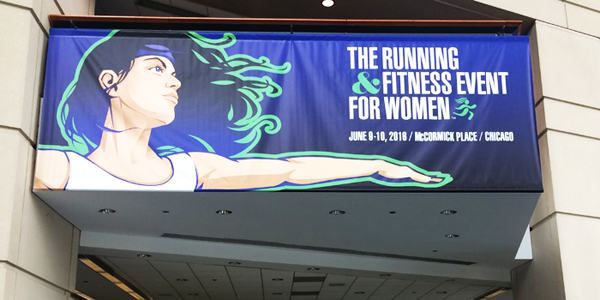 The retailers were treated to sessions from Equinox Vice President of Operations Griff Long, CorePower Yoga Chief Marketing Officer Tess Roering and former Vice President of Trend at Target Robyn Waters (credited with turning the slumping regional discounter into the "Tar-zhey" we know today).
Data On Women Shows They're Badass
The evidence pointing to women taking a larger presence in running and fitness is unavoidable. Equinox's Griff Long helped quantify that growth by saying membership in its newest club was split 57 percent women, 43 percent men. Of those women, the 25 to 34-year-old segment dominated at 62 percent female, 38 percent male. Long also shared that most women are working out 5pm to 8pm, with preference toward group fitness classes that are marketed heavily and have a unique spin (i.e., the club's new "Headstrong" class using aromatherapy and mood lights to boost pain tolerance and brain health).
Equinox uses consumer data to drive programming and categorize the females entering their club. "When you know your audience you can cater to them," Long said. And it wasn't a coincidence that the next day, retailers on the floor were brainstorming ways to collect data on their consumers – whether via event check-ins or product favorites to feature on social media.
Equinox's Long also said what women have been sensing for some time, but perhaps been too shy to say – "They are focused, determined and completely badass."
On The Show Floor
The emergence of strong women in every role of the active lifestyle industry from consumer, rep, retailer, instructor, athlete and executive has allowed the crumbling of formerly taboo or giggle-provoking conversations like sports bra fittings: a notable topic on the show floor.
Brooks Running Company used their space as a fitting room to measure and recommend sports bras the company has designed to style match with pants, shorts, tops and even footwear. Their bras also range from A-G cup, which doesn't even occur in most big-box collections (traditionally A-D cup). Falke, a high-end German brand sold in Neiman Marcus, Sax Fifth and Bergdorfs, also displayed its range of sports bras and chatted with SGB about sizing, comfort, support and just how important it is for women to have a correctly fitting sports bra. (It's more important that you think, guys.) Falke's oldest bra model is still a top-seller at Equinox. Other brands killing the active bra game include Tasc, BodyGlove and Knixwear.
Along with underwear and bras, we saw a lot of style/performance gym bags, recovery rollers, tapes and braces, socks, sandals and other accessories that are buffing out women's offerings into a truly lifestyle array. Another big trend was athleisure footwear, or the pairing of running shoes with a dark denim jeans and workwear tops.
"As a woman, I think it's a feast for the eyes," said Tanya Pictor, VP of Sales and Marketing at Falke USA and VP of Marketing Specialty Retail at Implus LLC. "The challenge is getting people here."
Building Buzz
Attendance was a big talking point amid the trade, who all agreed it was important to be at the show, but expressed an inkling of disappointment with the way some brands showed up. One rep said, "We all know the women's market is huge, so they're doing specialized shows, but it feels like they're not putting out their best effort. It's an afterthought and feels more like an expo or regional show." She concluded, "You can make it little and still give it attention."
In its third year, many exhibiting brands were here for the first time. The show was constantly being referred to as being in its infancy, which isn't bad – if anything, it means it's at the forefront. (Reminder: this event wasn't female-focused until its second year).
"In the first year, we hoped for a second. In the second, we hoped for a third, and now we've figured out the market," said Mark Sullivan, CEO of the event. "We're finding that the opportunity is bigger and broader than previously expected," explaining the category in itself has been too limited in "running and fitness," not realizing trends like yoga, barre, climbing, etc as an integral part of the big picture.
For an event that brands itself "Running and Fitness," this seems like an issue… but they plan to tackle that next year by including all the fitness trends on the fringe.
In 2017, the event will be renamed "Sportstyle," moving south to Fort Lauderdale, FL to be held June 14-15. It will continue to hold its IRRA Summit the day before the show while tacking on an extra Consumer Expo that ties in local south Florida retailers.
How the industry will react to a departure from core women's running? We'll have to see. But it seems the female consumer is asking for this diversification. Lifestyle has secured its place on the retail rack and the event wants to include everything "athleisure" has to offer.
Photos courtesy Jahla Seppanen