While VF Corp.'s decision to shutter travel luggage brand Eagle Creek this fall came as a blow to its employees and its founders for the adventure travel category, it's hardly a death knell for the category or the adventure travel market. 
Instead, it begs the question: Who benefits from the loss of the brand, and what does it say about the future of adventure travel and the travel products category post-pandemic?
SGB Executive spoke with Eagle Creek Co-Founder Steve Barker and experts in the adventure travel market and industry analysts, to dive deeper into the conversation.
VF, which also owns JanSport and Eastpak in the travel category and whose flagship brands include The North Face, Vans, Timberland, Dickies, and Smartwool, is likely about size. 
The company acquired Eagle Creek in 2007 from Co-Founders Steve and Nona Barker. It weathered the recession, enjoyed a travel boom and tightened its belt during the pandemic. 
VF corporate affairs VP Craig Hodges said in a statement that "VF has determined that it no longer makes strategic or financial sense for us to continue operating the brand."
Barker understands the reasoning but feels the gut check it created doesn't match up with the future of gate checks. "I guess that it's a combination of things," he said. "It was a size mismatch from the beginning between VF and Eagle Creek." He said Eagle Creek is a $30-to-$50 million business and that VF is a machine designed to support half-billion-dollar companies, which is what works for their shareholders, not necessarily smaller companies that are more entrepreneurial. "A short-sighted decision, but understandable," he said. "Eagle Creek might not be the best match for VF, but it still has a significant following and reputation in a solid niche."
Reports show that the travel niche is relatively tenacious.

There's no doubt that the pandemic impacted the global travel industry. Euromonitor's Travel Forecast Model reported that global spending on travel declined by 75 percent in 2020. And the NPD Group said that with "consumer travel spending coming to a screeching halt in 2020, the travel accessories market in the U.S. lost $1.8 billion."
But following the mass rollout of vaccinations, rising consumer interest in travel has led to an increase in luggage sales, which continues to climb back to 2019 levels."
NPD also reported that beginning in January 2021, travel spending was trending upward, with spending on airlines, lodging and online travel agencies growing 53 percent in March 2021 versus March 2020, and the spending was almost 90 percent higher than in February 2021. In March and April 2021, its study found luggage sales returned to 80 percent of their 2019 levels.
In May, an NPD consumer survey also found that one-third of respondents expected to return to their pre-pandemic leisure and business-travel behavior in the next three months and another quarter of respondents expected to do so within four to six months.
"While luggage sales in the U.S. have not yet fully recovered to pre-pandemic levels, the market is moving in the right direction," said Beth Goldstein, NPD accessories and footwear analyst. "There is pent-up demand driving consumer travel aspirations. Travel accessories that are both functional and innovative will be the hot ticket items as consumers prepare for upcoming trips."
While challenges remain in 2021, vaccination rates are fueling a slow recovery in some markets.
"Adventure travel is going to roar back and be strong and one of the earliest sectors in travel to recover," said Shannon Stowell, CEO, Adventure Travel Trade Association. "I think the sector will be stronger than ever in the long run because of being forced to be better, more resilient and to innovate. And some of the weaker businesses will disappear, leaving the field for the stronger and new companies that are already popping up."
Barker agreed. "Not to underestimate the challenge of COVID to the adventure travel market, but I'm confident that coming out of the pandemic, we will see incredible demand for travel," he said. "I think there is a lot of interest. People have been pent up and unable to do things, and their values have changed. Also, they want more balance in life."
He said this is also affecting businesses. "Businesses are having a hard time getting people back to the office," he said. "In 2008, the employer was king, and employees put their noses to the grindstone to keep their jobs. This turns that on its head. Employers will need to offer more benefits, including more vacation. Americans are notorious for not using their vacation time, and they don't get much, so imagine what would happen if people just took the leisure time they have coming?"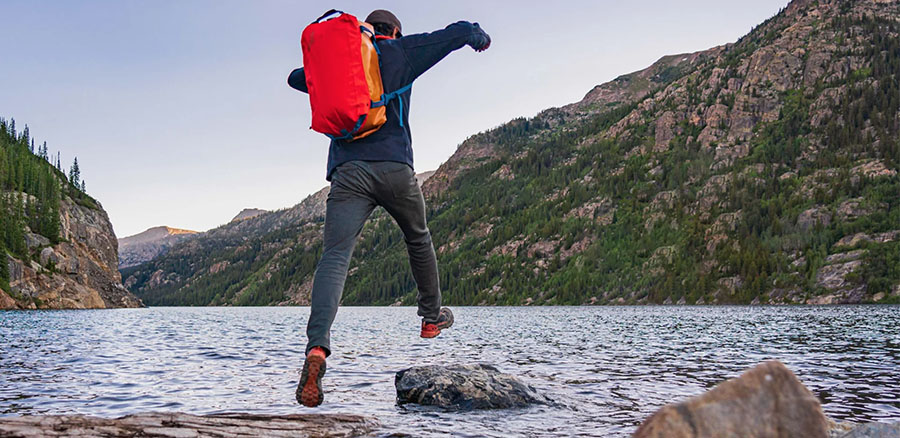 Another indicator of recovery, he added, is passports. "While it's not even close to the level in other countries, passport ownership in the U.S. has also gone up tremendously," he said.
Because of all this, he feels that companies like Eagle Creek, which serve the travel sector, are still on solid footing. "For the outdoor industry, travel is a good place to be," he said, equating outfitting for travel as being similar to outfitting for backpacking. "Almost everything sold in an outdoor store has some connection to travel; it's the hub that connects skiing to biking to surfing to backpacking."
From a retail perspective, stores selling travel items also play a vital role. "Outdoor stores are all about selling the experience. They're in a much better place to sell that experience than a traditional luggage store. Luggage and travel goods take on a personality of their own. There's a lot of sentimental value for people in those products," he continued.
All this points to a sector going nowhere but up, paving the way for companies like Eagle Creek to succeed. "Coming out of COVID, things are converging to grow the category, from people retiring to millennials spreading their wings," he said. "It's going to be a lift for the next couple of years, but I see it as a great opportunity. If you're Eagle Creek, it's going to be a slog for the next 18 months, but opportunity is still there."
While Eagle Creek was one of the few brands that focused entirely on travel, many others carry it as part of their offerings, and more are beginning to add travel items to their lineup of SKUs. As well as a growing business selling adventure luggage from other brands, brands like LL Bean, with travel pieces like its Approach Rolling Gear Bag and Carryall Spinner Pullman, and REI, with its Roadtripper Duffel and Big Haul Recycled Roller, also market their branded luggage lines, with indicators pointing to rising sales. "The Co-Op has seen an increase in demand for luggage as consumers begin traveling again," confirmed Rebecca Randall-Lally, REI category merchandising manager.
Gregory is releasing its adventure travel line in the fall, and Yeti is also jumping on board, capitalizing on its brand recognition in the cooler space to introduce a product line catering to the traveler. Thule, which has had a luggage line for nearly a decade, is also upping its travel offerings.
"Over the years, our travel luggage and bags have become one of our most important and fastest-growing categories," said Hilary Hartley, president, Thule Region Americas. "Eagle Creek was certainly a pioneer in adventure travel, but there's plenty of competition in the space. As the world begins to open back up post-pandemic, we think the pent-up demand for travel will create a boom for the industry, and we feel that we're ideally positioned to pick up some of the void Eagle Creek will leave."
Barker is also aboard with the theory that "Yeti is all about selling travel," he said. "It's people in motion. It's not that much of a stretch for them to include travel products. Thule has been in the travel segment also. Right now, there's a lot of product on the market because demand has slowed, but companies that ride this out will see a significant bump."
Photos courtesy Eagle Creek