Continuing its ambition to bring more diversity to the outdoor industry, Moosejaw, in collaboration with Walmart, last week introduced two gear and apparel lines, Lithic and Allforth.
The Lithic backpacking and hiking range includes tents, sleeping bags, packs and cookware. Lithic will available on Moosejaw.com and Walmart.com, in Moosejaw stores and in a pilot of 50 Walmart stores. The Allforth apparel line of hiking shirts, pants and shorts will initially only be available on Walmart.com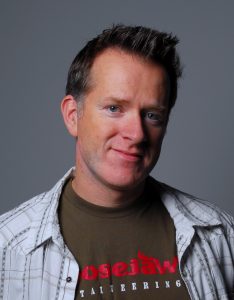 In a LinkedIn letter to the outdoor industry, Eoin Comerford, GM of Outdoor at Walmart e-commerce and CEO of Moosejaw, (to the right) said the lines address the three barriers that stand in the way of more inclusive backpacking participation: price, intimidation and exposure.
"First, price is an issue because of the huge gulf that exists between mass market gear and specialty gear," wrote Comerford. "For example, the average sleeping bag sold on Walmart.com is $23. On Moosejaw.com it's $181. That's a pretty big step for people to take – especially those new to the outdoors. Second, many car campers are intimidated by the idea of going out into the outdoors far from a store or potential help. Also, prospective backpackers may be intimidated by the technical jargon frequently associated with backpacking gear or even walking into a backpacking store.  Third, car campers are typically not exposed to backpacking where they typically buy their gear – big box sporting goods stores or mass merchants like Walmart.  In fact, Walmart is the country's largest retailer of tents, sleeping bags and coolers."
In an interview with SGB Executive, Comerford said the launch of Lithic and Allforth marks a shift in strategy from the October 2018 launch of Walmart's Premium Outdoor Store that he said "wasn't consistent with the inclusive approach we want to take."
The Walmart Premium Outdoor Store microsite launched with nearly 50 well-known outdoor brands, but several brands quickly pulled their product from the site due to the site's association with Walmart. Some brands were reportedly threatened with boycotts from independent outdoor stores had they continued to sell on the site.
Instead, Comerford said the Lithic and Allforth launches mark a focus on activity-based destinations and how consumers shop for backpacking, hiking and climbing items. Yet Walmart and Moosejaw's initial goal remains the same: growing the outdoor pie.
Comerford contends that beginning backpackers, hikers and climbers who find their initial outdoor equipment at Walmart will graduate to more premium products as their passion for the outdoors grows. Wrote Comerford, "Our industry will not grow without attracting a more diverse customer base, and diversity will not happen without inclusivity."
Here, Comerford talks about the strategy behind the launch of Lithic and Allforth and Walmart's evolving outdoor approach.
…
What inspired the two lines? Working on the Walmart Outdoor business gave us a much broader perspective than the specialty focus of Moosejaw. This broadened perspective allowed us to see the huge "white space" that exists between mass market outdoor products and specialty. We realized this white space represented a huge potential untapped market and an opportunity to bridge the gulf between mass and specialty to bring more people into the market.
Can you talk about the development of the brands? What did the teams from Moosejaw and Walmart bring to the table? We leveraged Walmart's supply-chain expertise and incredible factory partners to drive the process and Moosejaw's product expertise to develop enthusiast-grade products. The overall development process took about 18-months with multiple rounds of samples and testing to deliver high-quality, high-performance products rich in the features that backpackers need.
Lithic is available on Moosejaw.com and Walmart.com, in Moosejaw stores and a pilot of 50 Walmart stores while Allforth is only available on Walmart.com? What's behind the strategy? Allforth is being launched on Walmart.com because the need is greater given the dearth of hiking apparel brands available on Walmart versus Moosejaw, which has a very wide variety of apparel brands. Lithic is being launched across platforms because it fits a specific need for both Walmart and Moosejaw.
How does this impact Moosejaw's existing private-label offerings or overall merchandising approach? The brands are complementary to Moosejaw's existing private label which focuses on performance outerwear and casual clothing whereas Allforth is all about hiking basics and Lithic focuses on backpacking gear.  Moosejaw private label is a top five brand for us and a key differentiator.
How does this impact Walmart's outdoor approach? Lithic and Allforth show an evolution of Walmart's outdoor strategy to reach out to a broader audience that includes current and aspiring backpackers. The lines will get prominent placement on Walmart.com. Based on the success of our 50 store pilot, we may see Lithic rolled out to more Walmart stores in the future. In store, Lithic is being presented as a brand collection so that consumers can see the full breadth of the offer in one spot.
Moosejaw and Walmart's big push for making the outdoors more inclusive began with launch of Premium Outdoor Store. Does Lithic and Allforth build on that effort or does it represent a change in strategy? We're always testing and learning, and we've realized that the Premium Outdoor Store concept wasn't consistent with the inclusive approach we want to take. Instead, we are transitioning to activity-based destinations around backpacking, hiking and climbing based on how we've learned that customers shop for these items.
 Can you provide us an update on Moosejaw? How's the business doing? Has the Premium Outdoor Store introduction impacted Moosejaw? Moosejaw continues to thrive and is expanding more deeply into categories like Bike and Snow. In fact we opened our first dedicated Bike & Snow doors last year and will be opening another store this year. The Premium Outdoor Store has not affected Moosejaw in any way. We continue to have great relationships with all of our brand partners and are adding new brands all the time.
Can you share any lessons learned around the Premium Outdoor Store launch or maybe from conversations since regarding the hurdles of making the outdoors more inclusive? We learned that the industry's largest retailers are most interested in protecting the status quo, so we need to be proactive to drive true change in the level of inclusivity and diversity in the outdoors.
Can you address the concerns from industry players specifically about Walmart? Why should Walmart be seen as an opportunity for the outdoor industry rather than a threat? Walmart offers the opportunity to address the huge untapped audience of outdoor-aspiring people who will never visit a gear shop or online retailer. As I've said, we are about growing the pie for everyone, not taking a sliver of the existing outdoor industry pie.
Photo courtesy Walmart