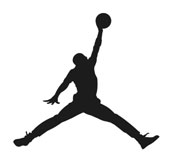 Jordan Brand, a division of Nike, Inc., has signed Dwyane Wade to its roster of Team Jordan athletes. Wade joins an illustrious line-up which includes fellow All Stars Derek Jeter, Chris Paul and Carmelo Anthony and others. Wade had been the lead endorser for the company's Converse brand, but the NBA All Star guard and Olympic champion has apparently been pushing for a switch since before the Bejing Olympics and wasn't even wearing his latest shoe on court.
Wade's shift to Jordan Brand fulfills a lifelong dream that started in the early days of his basketball career on the playgrounds of the Windy City. A winner at all levels of his career; Wade set multiple basketball records while playing at Harold L. Richards High School in Oaklawn, Illinois. He later went on to become an All-American at Marquette University and was the 5th pick in the 2003 draft which included current Team Jordan athlete Carmelo Anthony. As a pro basketball scoring leader, he's accumulated many accolades including a gold medal as part of the U.S. Men's Basketball Team at the 2008 Summer Olympics, five-time All Star, named the finals MVP in 2006 and led his team to a world championship in the same year.
"For me, the move to Jordan Brand is a dream come true," said Dwyane Wade. "As a kid, I grew up on the south side of Chicago idolizing Michael Jordan and have worked hard to achieve the same success that he's had on the court. I have enormous respect for this brand and all that it stands for. I'm humbled to be a part of the Team Jordan family and I'm looking forward to a great future."
Team Jordan athletes embody the principles that have defined Michael Jordan's athletic and professional career – dedication, excellence, innovation, and achievement. An elite group of athletes hand-picked by Michael Jordan, they individually excel both as athletes within their respective sports and as members of their communities.
"I'm thrilled to have Dwyane Wade join the Team Jordan family," said Michael Jordan. "In his short time in the league, Dwyane has transformed himself into one of the game's best and is the embodiment of leadership both on and off the court, a signature trait of our athletes. As the Jordan franchise approaches its silver anniversary, Dwyane will become a pinnacle member of the Jordan roster poised to help lead the Brand for years to come."