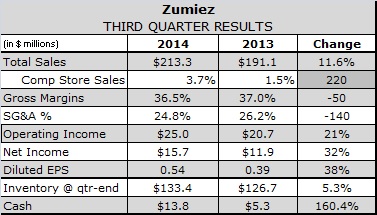 Zumiez Inc reported higher transaction volume at stores in its comp base and lower margins in the third quarter ended Nov. 1, distinguishing itself from its two major competitors at the mall.
The growth in transactions diverged from those posted by rivals Pacific Sunwear of California Inc. and Tilly's Inc (see related stories), which reported fewer transactions at stores opened at least a year. The growth appeared to come at a cost for ZUMZ, which was the only of the three retailers to report gross and merchandize margins declined compared with the third quarter of 2013. Executives at all three teen retailers, which operate primarily from malls, reported higher dollars per transaction and said they had not significantly increased their holiday promotions.
At ZUMZ, which has opened 56 new stores since the beginning of the fiscal year, net sales increased 11.6 percent to $213.3 million during the period compared with the corresponding period in 2013. Sales increased 9.7 percent in North America, and 45.7 percent in Europe, where the company's Blue Tomato banner continued to comp positively and has gone from 12 to 18 stores since the beginning of the fiscal year.
The better-than-expected sales were primarily a result of a comparable sales increase of 3.7 percent – including e-commerce sales – driven by a solid back-to-school season in the United States and a good start to the fall and winter season.
Cold weather pushed up comps store sales growth to 6.3 percent during the four weeks ended Nov. 29, including a 7.3 percent comp rate over the four day Thanksgiving holiday. Net sales grew 12.6 percent to $70.3 million during fiscal November. Sales of men's juniors, accessories and hard goods all comped positively from Thanksgiving through Sunday. while footwear and boys comped negatively.
While outerwear sales in November were "very successful," the growth in hardgoods came primarily from skate rather than snow boards, where market conditions remain challenging in both the United States and Europe.
Both transaction volume and dollars per transaction increased during the quarter thanks to both higher average sales price per unit and a higher number of units per transaction. Hard goods, juniors, men's and accessories posted positive comps, while footwear and boys posted negative comps.
"You see from various sources that traffic in malls is down," said CEO Rick Brooks. "So when we talk about transaction gains for us, I think that what youre seeing is the effectiveness of what were doing in terms of our omni-channel efforts, in terms of the quality of our sales team in our stores. It's a reflection, again, of I think those things that make the Zumiez experience and the Zumiez brand experience a special kind of experience and that positions us very uniquely in the marketplace."
Men and women's footwear comped negatively for the fifth quarter in a row as basketball silhouettes continued to drive men's footwear sales and nothing emerged on the women's side to replace waning Tom's sales.
Gross profit grew 10 percent to 36.5 percent of net sales, down 50 basis points from the year earlier quarter due to lower product margins, which peaked in fiscal 2013.
SG&A expense declined to 24.8 percent of net sales from 26.2 percent a year earlier as amortization charges related to the acquisition of Blue Tomato declined sharply and the company anniversaried a $1.3 million conditional settlement of a class-action wage-and-hour settlement in California. Operating margins grew to 11.7 percent from 10.8 percent a year earlier. Net income increased 32.6 percent to $15.7 million, or 54 cents per diluted share, compared to net income of $11.9 million, or 39 cents per diluted share, in the third quarter of the prior fiscal year.
The retailer ended the quarter with cash and marketable securities of $108.7 million, up 15.4 percent from a year earlier. Inventory was up 5.3 percent, but down slightly per square foot of retail space.
ZUMZ introduced guidance for fourth quarter ending Jan. 31, 2015 that calls for net sales to increase 10.2-10.6 percent, comparable stores sales to increase 3-4 percent range and gross margins to decline 200-250 bps due primarily to an accounting benefit realized in the fourth quarter of 2013. Operating margins are expected to be 12.5-13 percent, compared with 17.7 percent in the fourth quarter of 2013.
Brooks said ZUMZ will "make out first initial stabs" at personalizing marketing messages to the 2.6 million people enrolled in its Stash loyalty program during the current quarter. Still, he expects sales to drop off in coming weeks as they have in previous years as holiday spending clusters around fewer, highly promotional days.
"From a competitive point of view, I expect it's going to be brutal," he said of the current quarter. "I expect that it's going to be a really challenging quarter for most of specialty retail. On a longer-term view, though, I think our view is one of caution. The recovery has been slow and painful. And I think from a planning perspective… were going to continue face kind of a slow, bumpy, volatile recovery for a period of years yet."