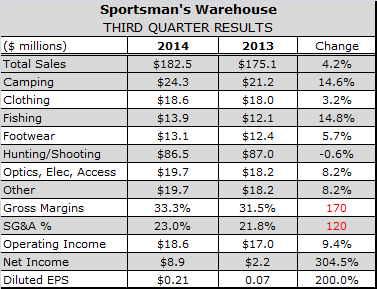 Mid-teens growth at its Camping and Fishing departments, sales from new stores and price cuts by gun manufacturers helped Utah-based Sportsman's Warehouse Holdings Inc. increase its gross margins and beat its earnings guidance in the third quarter ended Nov. 1.
The Utah-based retailer reported net sales grew by $7.4 million, or 4.2 percent, as $18.1 million in sales from new stores helped offset a 6.2 percent decline in same-store sales. While traffic on a same-store basis, or more specifically, customer frequency, remained negative, it improved from the second quarter and conversion and average order size both improved year over year.
Net sales in Hunting and Shooting fell by $500,000 despite increases in unit sales of firearms and ammo of 3.1 and 5 percent respectively. The numbers suggest SPWH picked up market share, which helped soften the decline in store traffic and aided the retailer's five other departments, which all generated higher sales compared to the third quarter of 2013. Indeed sales grew in the mid-teens in Fishing and Camping during the quarter as shown in the accompanying chart.
Firearms and ammunition accounted for 48 percent, or 300 basis points (bps) of the 6.2 percent decline in same store sales. Same-store sales of clothing and footwear declined 5.9 and 3.9 percent respectively, although that was against year earlier sales that were inflated by liquidation of inventory from 10 stores SPWH acquired in March, 2013. Same store sales of Camping and Fishing departments grew 3.7 and 1.3 percent respectively.
Gross profit increased by $5.4 million, or 9.8 percent, to $60.7 million, or 33.2 percent of net sales. That marked an increase of 170 bps from the third quarter of 2013, when the liquidation sales dragged down gross margin. The improvement reflects a higher mix of sales by the Camping, Clothing, Fishing, Footwear and Optics, Electronics and Accessories departments, which generated 28.1 percent of net sales in the 39 weeks ended Nov. 1, up 240 basis points from the same period in 2013. Margin improvement also reflected the fact that gun manufacturers lowered wholesale prices on many firearms to keep their factories running and enable dealers to build traffic while maintaining margin.
"I have yet to see, at least on an anecdotal basis, any national players really giving up a whole lot of margin," said Sportsman's Warehouse President and CEO John Schaefer. "It's more an effort on all of our parts to continue the beginnings of a trend of increased traffic to all of our stores. And I think that's really the case as we go into Q4."
SG&A expenses increased 9.9 percent, or 23 percent of net sales, compared with 21.8 percent a year earlier, due primarily to store expansion. Interest expense, however, fell 69.0 percent to $4.1 million, reflecting SPWH decision to pay down term loans by $73.3 million this spring with proceeds from its initial public offering. That enabled the retailer to improve operating income by 9.4 percent to $18.6 million, or 10.1 percent of net sales, up 40 bps from a year earlier. The same day SPWH announced its earnings, it announced it had reduced its annual amortization and interest payments on a $235 million senior secured term loan by another $2.8 million annually.
SPWH ended the quarter with long-term debt of $154.6 million, down 32.5 percent from a year earlier.
Net income increased more than four-fold to $8.9 million compared with the third quarter of fiscal 2013. Diluted earnings per share tripled to 21 cents, while adjusted diluted earnings per share increased 35.3 percent. Adjusted EBITDA increased 13.5 percent to $21.8 million.
The company ended the quarter with 55 stores in 18 states, including one opened in the third quarter. Inventory levels were flat, but declined 5.5 percent on a per-store basis.
SPWH expects same-store sales to decline 3-6 percent the fiscal fourth quarter and narrowed its guidance for adjusted net income downward to 20-22 cents per share on the expectation that the gun and ammo markets will remain highly promotional. The company expects a broader offering of private label apparel will enhance margins in the fiscal fourth quarter.