By Eric Smith
When the news wires started buzzing Thursday afternoon that progress had been made in the ongoing and economically crippling trade war between the U.S. and China, businesses around the country rejoiced.
Would Christmas come early this year?
Sure enough, the news was confirmed Friday morning that the two countries had agreed on a phase one trade deal that provides some tariff relief for U.S. businesses that import from China and also helps the American agricultural industry.
The agreement will scrap the tranche of tariffs (List 4B) that was set to be imposed Sunday and cut in half—to 7.5 percent from 15 percent —the List 4A tariffs that had been enacted in September.
President Trump tweeted the news Friday, adding that 25 percent tariffs on $250 billion in imports already in place would remain, specifically the List 1-3 tariffs that went into place over the last 18 months or so.
But he also mentioned the reduction on the List 4A tranche and added that the White House would not wait until after the 2020 presidential election to work out a more comprehensive trade deal with China—something he has threatened only a few days ago.
Here's what Trump sent to the Twitterverse: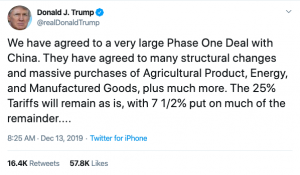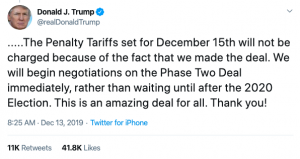 Organizations and associations across the active lifestyle space—specifically the outdoor, snow sports, sporting goods, footwear and apparel industries—were mostly upbeat about the development, but some concerns remain.
After all, a president that has basically issued trade policy via Twitter could just as soon come back and tweet a contradictory statement, effectively beginning the trade war anew and with greater ferocity.
And even if a complete cease-fire is reached, much of the damage that's been done in the last 18 months or so is irreversible. In fact, outdoor businesses alone paid an estimated $2.6 billion more in tariffs than the previous year, according to the Boulder, CO-based Outdoor Industry Association (OIA).
OIA noted in a release sent Friday morning that despite the good news of any form of tariff reduction, "the 25 percent punitive tariff on $250 billion worth of products—including List 3 items such as backpacks, sports bags, camp chairs, bikes and leather ski gloves—will be remain in place and be the subject of the phase two negotiations."
"The cancellation of some tariffs and reduction of others for products like outdoor apparel, footwear and equipment is welcome holiday season news to the outdoor industry and consumers, but more needs to be done—and done soon—to provide a stable economic environment so our outdoor businesses can innovate and plan ahead," said Patricia Rojas-Ungar, vice president of government affairs for OIA.
"Outdoor companies large and small have already paid $2.6 billion more in tariffs than last year on affected products and are doing everything they can to absorb these costs and avoid price increases. While the news of a phase one deal is a good step, now is the time to conclude a comprehensive deal to remove all punitive tariffs so outdoor companies can get back to doing what they do best: creating new and innovative outdoor products to enhance the outdoor experience."
Nick Sargent, president of Snowsports Industries America (SIA), echoed the comments about Friday's news being good—but not good enough. More work is needed to help U.S. businesses compete globally, something many snow sports brands are focused on as winter sports grow in popularity in places like China.
"Today's decision to cut some of the tariffs is a step forward, but unfortunately, it doesn't ease the entire burden currently being placed upon snow sports manufacturers, retailers, and our consumers," he said. "We urge the administration to continue this momentum by working with China to remove all of the tariffs still impacting our industry."
Tom Cove, president and CEO of the Sports & Fitness Industry Association, also contributed a comment on how the potential for a small victory (the elimination of tariffs on List 4B) could lead to a larger one (a complete end to the trade war).
"While, so far, nothing official has been published, these reports indicate very good news," Cove said. "If List 4B China tariffs do not go into effect on Sunday, American consumers, young athletes and active individuals across the country will greatly benefit. These tariffs have negatively impacted the sport and health industry, and we are hopeful that this trade agreement comes to fruition."
Looking more broadly, the National Retail Federation cited a letter signed by members of Americans for Free Trade—hundreds of associations and organizations including the ones quoted in this report—and sent to the president on Wednesday that pleaded for tariff relief.
"For the first time in months, the United States and China are moving in the right direction on tariffs, and we congratulate negotiators from both sides for the progress they have made," NRF Senior Vice President for Government Relations David French said. "Tariffs create uncertainty and costs for American retail supply chains, and the trade war won't be over until they are eliminated completely. We agree that we need to realign our relationship with China, but tariffs that harm American businesses, workers and consumers are not the answer and cannot be allowed to continue."
As always with tariff news, this is a developing story. SGB will update the report as information becomes available.