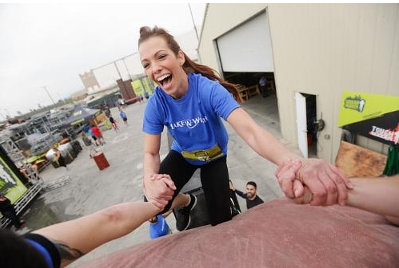 Tough Mudder Inc. is launching Urban Mudder, a new event format that will bring the thrill of its popular obstacle course experience close to home for city dwellers. The 5-mile music-filled course, featuring 12-15 custom-designed obstacles, will test participants' physical strength, mental grit, and teamwork. A day-long festival featuring a DJ, street performers, food trucks and a beer garden will enhance the experience and provide participants with the opportunity to unwind and celebrate their accomplishments with their teammates.
A new addition to the Tough Mudder Inc. family of brands, Urban Mudder joins Tough Mudder, a 10-12 mile military-style obstacle course; Mudderella, a 5-7 mile obstacle course experience designed for women, by women; Fruit Shoot Mini Mudder, a custom event for children ages 7-12; and World's Toughest Mudder, a grueling 24-hour endurance competition. The first Urban Mudder event will be hosted in Manhattan on Randall's Island on July 25.
Urban Mudder will feature an entirely new set of obstacles; to stay true to its urban setting and to make the course more widely accessible, the obstacles will not involve mud, electricity or swimming. Highlights include:
6 Feet Over: take a running leap to grab your teammates' outstretched hands
Rooftop Series: scale the side of a brick wall, hurdle from platform to platform, and make your escape by leaping off onto a giant airbag below
Laser Minefield: contort yourself through a field of lasers without breaking the beam
Circus Training: channel your inner acrobat as you swing on a trapeze bar and aim for a target
As with Tough Mudder, Mudderella and Fruit Shoot Mini Mudder events, Urban Mudder courses will be untimed, encouraging participants to focus on teamwork and fun over competition. All Urban Mudder events will be held within major cities at easily-accessible venues. The Randall's Island event will be accessible by public transportation, shuttle bus and Uber, Urban Mudder's exclusive on-demand transportation network provider.
"With nearly 2 million Tough Mudder participants over the past five years, it's clear that there's a huge demand for fun, team-oriented challenges," said Will Dean, Chief Executive Officer and Founder of Tough Mudder Inc. "Urban Mudder will bring what people love about Tough Mudder — the camaraderie, the truly impressive obstacles and the sense of pride that comes from pushing your limits — to an even wider audience. This is something we've heard our community asking for, and we are incredibly excited to put our event production expertise to use in bringing the first Urban Mudder event to New York City this summer."
Urban Mudder is a Proud Supporter of Make-A-Wish, the non-profit that grants wishes of children with life-threatening medical conditions. Through custom fundraising pages hosted by online fundraising platform Crowdrise, Urban Mudder participants will be empowered to raise funds for the cause. High fundraisers will enjoy perks to enhance their Urban Mudder experience, including dual-branded merchandise and access to an exclusive "wish zone" area on site.
"Make-A-Wish and Urban Mudder have similar missions – to create life-changing experiences and lasting memories for local community members, each in their own way," said Pat Clemency, President and CEO of Make-A-Wish Metro New York and Western New York. "We're honored to work closely with Urban Mudder – through their events and participants' fundraising efforts, we'll be able to grant wishes that change local kids' lives, helping leave a lasting legacy in the cities that host an Urban Mudder event."
The launch of Urban Mudder comes on the heels of several other major announcements by Tough Mudder Inc., including the introduction of the Fruit Shoot Mini Mudder series and the unveiling of "Tough Mudder Redefined," a collection of upgrades for the founding event series including all-new obstacles, new corporate partnerships and international expansion plans. "In the past five years, Tough Mudder has established itself as the industry leader, known worldwide for top-quality obstacles and constant innovation," said Dean. "As we continue to grow our family of offerings, each new venture reflects our dedication to bringing exciting shared experiences to all those who share our values."