By Thomas J. Ryan
TJX Cos.'s second-quarter results missed Wall Street's targets as the off-pricer's sales slowed toward the quarter's end after witnessing a strong response to store reopenings. Below-plan, in-store inventories also impacted sales. Sales have continued to trend down double-digits so far in the third quarter, and inventories are expected to remain below plan for much of the second half.
Overall, inventories at the quarter's end were down 27.5 percent to $3.7 billion, compared with $5.1 billion at the end of the second quarter last year.
For the third quarter, TJX expects open-only comp-store sales to decrease in the range of 10 percent to 20 percent in the third quarter, in line with sales trends seen since the middle of July and through August month-to-date.
That marks a sharp deceleration from the decline of 3 percent in open-only comps in the second quarter.
TJX isn't reporting traditional comp stores due to the store closures caused by COVID-19. Open-only comps cover the sales increase or decrease of stores for the days the stores were open in the current period against sales for the same days in the prior year.
On an open-only comp basis, sales in the quarter were down 6 percent at Marmaxx (U.S.), rose 20 percent at HomeGoods, were off 18 percent at TJX Canada, and down 1 percent at TJX International (Europe and Australia.). The Marmaxx segment includes T.J. Maxx, Marshalls and Sierra Trading. The HomeGoods segment includes the HomeGoods chain and HomeSense in the U.S.
Net sales in the second quarter ended August 1 fell 31.8 percent to $6.67 billion, reflecting stores only being open little more than two-thirds of the quarter. Wall Street's consensus estimate had been $6.82 billion.
The net loss came to $214.2 million, or 18 cents a share, against earnings of $759.0 million, or 62 cents, a year ago. The consensus loss was expected to be 9 cents. The net loss per share included tax expense, which was primarily driven by a tax-loss carryback benefit recorded in the first quarter and reversed in the second quarter due to better than expected results.
Gross margins eroded to 22.4 percent from 28.2 percent. SG&A expenses were reduced 11.8 percent to $1.53 million but grew to 22.9 percent of sales from 17.7 percent a year ago due to sales deleverage.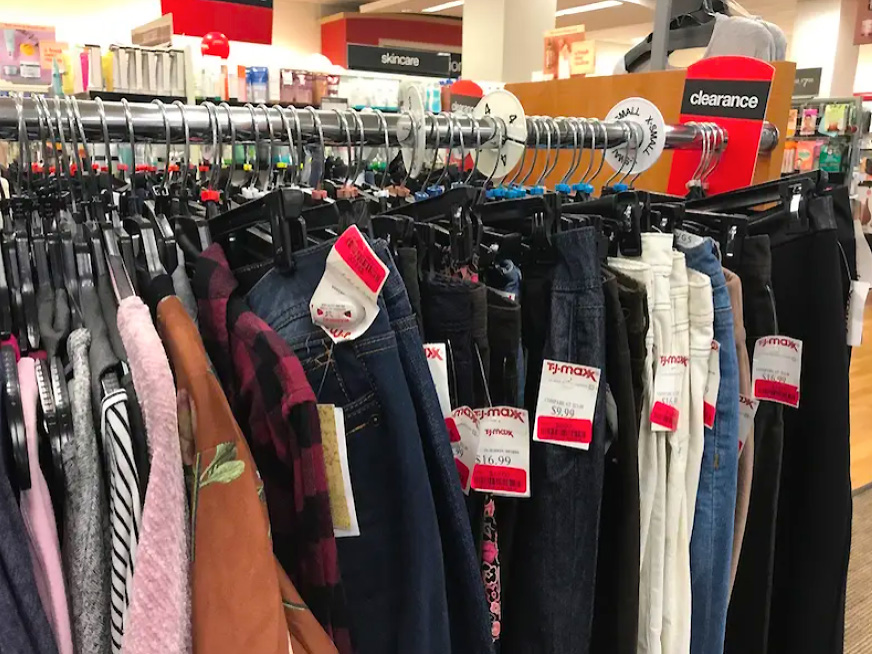 Q2 Results Top Internal Plans
On a conference call with analysts, Ernie Herrman, CEO and chairman, said both TJX's top and bottom-line performance in the second quarter "well exceeded our internal plans."
"We saw very strong initial sales trends across all of our retail banners and countries, and great customer response to our compelling values," said Herrman. "While hard to quantify, we believe some portion of this initial strength was due to pent up consumer demand as our average transaction size, or basket, was significantly higher than usual as shoppers purchased more items per visit."
He also noted the sales were achieved with little marketing investment in the quarter.
"We have been a trusted value leader for more than 40 years and as we reopened our stores around the world, the response of our customers was beyond what we could have imagined," said Herrman. "We have always been grateful for the loyalty of our valued customers and, as we call it, "The Brand Love" we saw from shoppers was absolutely fantastic. Further, what we are hearing from our customers, particularly on social media, has been phenomenal with millions of positive comments during the quarter."
Among categories, home stood out across chains.
The CEO noted that the company's merchandise margin "was excellent" with markdowns significantly lower than anticipated due to the greater-than-expected sales as stores reopened and a strong mark-up on merchandise due to better buying.
Other positives cited for the quarter included the quick turnaround to reopen more than 4,500 stores in nine countries and dozens of distribution and fulfillment centers by the end of June with safety protocols and best practices. TJX also generated "outstanding cash flow and significantly increased" liquidity due, in part, to expense-control efforts and the drawdown of revolving credit facilities. The company ended the quarter with $6.6 billion of cash.
Nonetheless, Herrman said that while the reopenings were met with strong initial traffic, sales moderated in mid-July and the softer trends have continued into the third quarter.
Herrman believes it's partly due to reduced foot traffic due to changes in consumer behavior. One reason is that "more traditional casual or career-related apparel" that represents a large portion of TJX's merchandise mix is seeing softer demand in the current stay-at-home climate. Herrman also estimated that at least one out of every seven or eight customers "just aren't comfortable right now goING into the brick & mortar" and that's also impacting traffic patterns.
But the sales softness also reflects inventory levels continuing to be lighter than planned as the company has not been able to optimize inventory flow back to its stores, particularly in Canada, due to supply chain and logistics challenges at both the company and at some of its third-party vendors as businesses ramped back up. The company has put strategies in place to mitigate some of these inventory delays.  The delays from vendors are believed to be partly due to social-distancing safety measures set up at distribution centers and increased efficiencies are expected in the months ahead.
Herrman said TJX's inventories "are not at our optimal mix yet, but we've made great progress in flexing our buying dollars into these hot categories in a short period of time." TJX didn't identify the "hot" categories outside indicating strength in home.
He added, "While we are seeing great overall availability, there is not as much product as we would like in some of the hot categories we are chasing. I want to be clear that we believe this is a short term issue. We continue to buy extremely well which, we believe, bodes well for third-quarter mark-on and our ability to offer consumers exciting value on high quality branded merchandise."
He suspects that by the mid-point of the third quarter, "we're going to be in much better shape than we are now, but we're not going to be at last year levels by any means." Further progress in inventory levels is expected by the fourth quarter, but he expected most of the product available issues to be "really behind us for the first quarter of next year."
He also said the store closures have created some "tremendous packaway opportunities" to support Q121 purchases.
Herrman believes TJX will eventually have the opportunity to take "major market share" given the numerous store closures in the apparel space but, he said, consumers' nervousness about shopping in-store is currently holding back gains. He concluded, "We are confident that when more customers are comfortable with in-store shopping, we will be in a great position to continue gaining market share as we have for many years."
The year-over-year decline in inventory also reflect lower planned store inventory levels in the quarter primarily to promote social distancing for employees and customers with the move including removing racks to widen aisles, as well as the stronger than expected sales as stores reopened.