By Thomas J. Ryan
Tilly's Inc. reported earnings and same-store sales landed at the top end of guidance in the third quarter and provided an upbeat comp outlook for the fourth quarter.
In the third quarter, net income rose 8.5 percent to $6.4 million, or 21 cents a share. Guidance had called for EPS to range from 18 cents to 22 cents.
Total sales grew 5.4 percent to $154.8 million. The action-sports retailer had expected sales in the range of $151 million to $156 million.
Total comparable store sales, including e-commerce, were up 3.1 percent on top of last year's 4.3 percent increase. Guidance had called for comps in the range of comparable-store sales increase of 1 percent to 4 percent for the quarter. Comp sales in physical stores were up 2.4 percent on top of last year's 1.3 percent increase.
The quarter marked its 14th consecutive quarter of flat-to-positive comp sales in the third quarter including positive comps in each month of the quarter, both from stores and e-commerce and from each of merchandising departments. E-commerce sales increased 7.4 percent on top of last year's 26.7 percent increase,
"Our graphic tees business was particularly strong across all apparel departments," said Ed Thomas, president and CEO, on a conference call with analysts. "In women's, we introduced a new young contemporary proprietary brand, West of Melrose, in a few targeted stores during the back-to-school season that will soon be introduced to most of our stores based on the positive initial customer response to this collection of both branded and proprietary product. West of Melrose is aimed at capturing the older teen and college-age young women, which we believe, will help extend the reach of our women's business."
Stores represented 85.3 percent of total sales for the quarter compared to 85.5 percent last year. E-commerce and represented 14.7 percent of sales this year compared to 14.5 percent last year.
Gross margins improved 80 basis points to 30.5 percent. Product margins improved by 80 basis points. Total buying, distribution and occupancy cost deleveraged by less than 10 basis points, primarily due to severance and other transition costs associated with a change in merchandising leadership during the quarter of approximately $700,000, partially offset by improved leverage of distribution costs.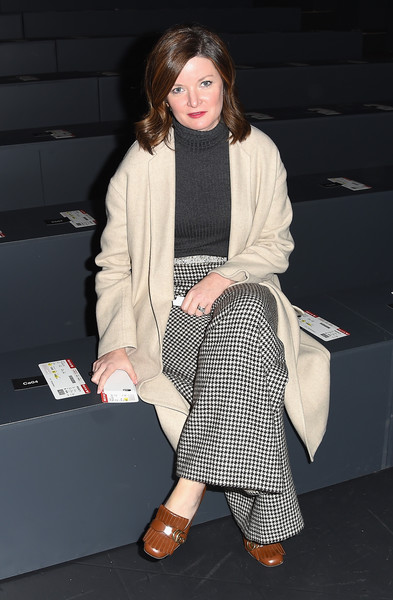 In late September, Tricia Smith, pictured right, joined the company as its new EVP, chief merchandising officer. She most recently EVP, GMM of women's, young contemporary, designer, and specialized apparel at Nordstrom.
Said Thomas, "We have been very impressed with Tricia's contributions thus far, and she is already beginning to identify opportunities for improvement. Under Tricia's leadership, we expect to see a more targeted and carefully edited assortment over time that will tell a clear and product stories for our customers to better understand what Tilly's stands for in its merchandising offerings."
Total SG&A expenses increased 40 basis points to 25.5 percent of sales. Primary SG&A variances to last year include $1 million of increased marketing and fulfillment expenses, primarily relating to e-commerce, a $500,000 asset write-off charge relating to mobile app development, $500,000 of increased store payroll from minimum wage and store count growth, and approximately $500,000 of increased temporary labor costs. Last year's SG&A included $700,000 of secondary offering costs that were not repeated this year.
Operating income improved 14.9 percent to $7.7 million from $6.7 million. Operating earnings were expected to range from $6.5 million to $8.5 million,
Tilly's ended the quarter with inventories per square foot down 3.8 percent and more current in terms of aging compared to last year at this time.
For the fourth quarter, Tilly's said that based on the later Thanksgiving and shorter holiday selling period, Tilly's expects total net sales to range from approximately $179 million to approximately $184 million based on a comparable store net sales increase of 2 percent to 5 percent for the quarter. Operating income is expected to range from approximately $11 million to approximately $12.5 million and EPS to range from 29 cents and 32 cents.
In the year-ago quarter, Tilly's had sales of $170.6 million, total comp growth of 6.4 percent, and EPS of 29 cents.
Said Thomas, "Despite a slow start to the fourth quarter as a result of a later Thanksgiving this year, Black Friday weekend met our expectations, leaving us optimistic about our opportunity to deliver positive comps in the fourth quarter."
Photos courtesy Tilly's