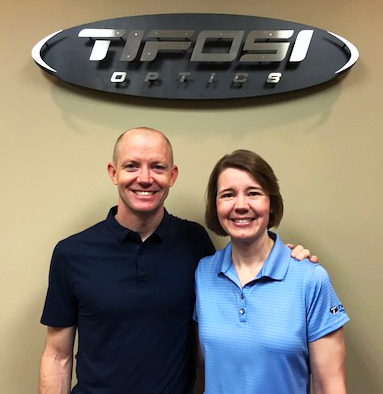 By Teresa Hartford
Tifosi pronounced [tiˈfoːzi] is the Italian word for super-fan, especially in sports, and can be traced back to the Middle Ages and early Renaissance.
For Joe and Elizabeth Earley, the husband and wife team who founded Tifosi based in Watkinsville, GA, pictured left, the word accurately describes who the brand is and whom the Earley's make their eyewear for.
We had the opportunity to speak with Joe and Elizabeth recently to learn why Tifosi is considered a leader in the eyewear category.
SGB | Why did you decide to create an eyewear company? J+E | In 2003, when we created Tifosi Optics, we saw a need in the marketplace to provide technically advanced eyewear to enthusiasts of all sports and outdoor activities with quality, style, function and above all value in mind. Whether you're running a 5K, riding your first century or playing 18 holes on Sunday, our products will enhance your sport.
SGB | You are so enthusiastic about your brand and your product. That must mean a lot to the retailers who carry the line? J+E | It means everything to be present for the retailers and our loyal customers.
SGB | What changes have you seen in the optics market since founding Tifosi? J+E | We started the brand focusing on technical, very sport-specific eyewear and always bringing in the product at a value. Everything retailed for under $100. Our sweet spot was around $70. We built the brand on more of a pure performance type product. We did tremendously well with it and with had excellent market share in cycling, running, and with retailers like REI who carried our line.
We've seen, over the last couple of years, from our retailers, a need for more lifestyle driven sunglasses. We took a look around at what was happening in the category and what retailers were offering, and we came back with similar results – very different from when we opened the company. Product was either a high-end lifestyle with some features in the lenses and or higher quality frames or a basic product with polycarbonate and even acrylic lenses that were retailing for anywhere between $20 and $50.
We went to work to offer Tifosi product in this category offering sunglasses that have some technical features but can also be worn for sport.
Last year we introduced a product called Swank, similar to the performance of Wayfarer sunglasses. The style became our number one selling model in units and dollars in the first year, and that was with selling only to independent retailers. The sport lifestyle category for us is exploding.
SGB | With the success of the Swank you followed up with a series. J+E | Yes, we added five models that retail between $25 and $49. The series has the TR90 frames and carries the polycarbonate lens. Our competitors don't offer polycarbonate lens. So, when you are talking about wearing the glasses for sport, whether running, cycling or walking, you want the extra protection across your eyes. The polycarbonate lens in the Swank series gives you that.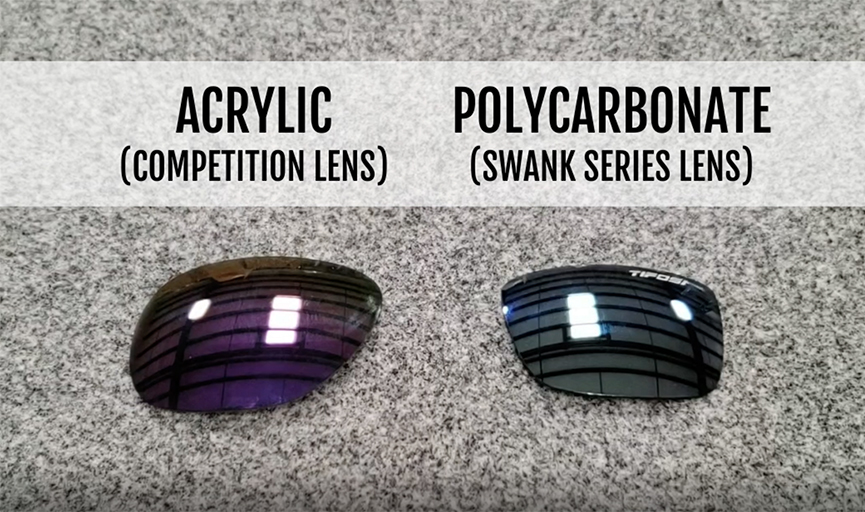 Watch the latest video on Swank lens technology from Tifosi versus the competition here.
The Swank series has been a massive driver for our business the last year-and-a-half. The series has also opened up new areas for us. Where we were very specific to technical sports product – and we're still doing great business there – retailers like REI added the Swank series to all their doors in the first year they picked it up. Moreover, now that we have the more extensive Swank collection, we can go out to retailers that are more lifestyle driven versus a retailer that is just pure sport, and expose them to the Tifosi brand whereas in the past we didn't have a product that was appropriate for retail lifestyle doors.
We see great growth for us in that area and a great reception from consumers. It's opened up the demographic, too, because we weren't getting much in the way of millennial consumers with our products in the past. Now, we're getting a much bigger section there than we had previously. It's exciting!
SGB | What is the millennial consumer looking for in a pair of sunglasses? J+E | They want something that does it all and more fashion-oriented as opposed to more of the sport look.
You see Millennials run in a Wayfarer which you didn't see before. They want a product that they can wear to the coffee shop, wear to the ball game and ride their bike. If it's not high base, curved wrapped with photochromatic lenses and all the bells and whistles, that's ok, but they want a value which is what is the core for Tifosi.
We offer technical features in our products, but the product has to be at a value price for the end-consumer. Millennials do not want to spend as much on certain products yet they want the products to do everything and if it doesn't have the same performance benefits that a shield, photochromatic pair would have for cycling but they like the way it looks and it's good enough for them, then they're happy with that. It's different from the older clientele. They want a pure performance piece that matches their cycling kit and their lycra.
We see this translate up into even our running clientele, which tends to be 65-to-75-percent ladies. It generally is a 35 and over crowd, but they want to look great, too. They might have a pure sport Tifosi product, but they buy two or three Swank sunglasses as well. It's really interesting.
SGB | The Swank has been a game changer? J+E | We have people who have been exposed to our brand and have purchased our glasses, and then they see the Swank product and it's as if they've discovered us all over again. They're excited about having another pair they can wear all of the time.
One of the things that have helped Tifosi a lot with retailers is that we are a one-stop shop for eyewear. You still have the consumer that wants the technical product, but they also want something less technical. You can have both with Tifosi. You don't have to order from different vendors to get the lifestyle look and or the technical features. Also, our accounts carry both for the clientele that they serve. And sometimes that clientele will buy both – the lifestyle and the technical product. It's also opened the retailer up as well to serve that consumer.

SGB | If you fail to understand and engage with today's consumer on their terms, does it negatively affect growth? J+E | We grew consistently from 2003 through 2015 with steady growth. In 2016/17, a couple of things happened. One, sporting goods business was soft and many retailers were very conservative on their purchasing, but we also started to see this lifestyle shift. Once we reacted to that – and it's necessary for brands to be able to respond to what the consumer is asking for – we were able to respond but stay true to our core with the introduction of the Swank series. Even though it's fashionable, which is at least half the battle if not a bit more, it's a sports product.
The consumer is who we serve at the end of the day. You have to make sure that you are giving them what they're asking for. They'll do an excellent job of telling you what they want. Moreover, what's exciting about the markets that we sell to is a lot of the people who work in the retailers we serve, they are Tifosi customers as well. If they get excited about a product or a concept, we have a good read that it's going to sell well. You get incredible feedback if you listen to your retailer base and ask them the questions.
Every time we go to a trade show or a consumer event, we're always asking the questions 'what would you like us to do better?' or 'what else would you like to see from us?'
SGB | What are your top lifestyle products? J+E | The original Swank. It is the best seller in the series even though we have five models within the Swank family. It is a sport Wayfarer with a light, durable frame and is shatterproof. The scratch-resistant polycarbonate lens is the same lens and materials we use in our $70 to $80 products.
The Swank family of glasses all have a cam or car door hinge, with a sweet snap open to it, and we use Tifosi glide technology on the inside of the temple which means we use a little bit of rubber in the paint. With this feature, the Swank family will slide on and off easily without pulling your hair but offers enough grip for a run or ride that they won't bounce or slide off. And it's almost invisible with a matte finish.
All of the Swank glasses have a rubber nose piece and retail for just $25 (non-polarized) or $49.95 (polarized). With so many colors to choose from whether in the frame or the frame and the lens, it's a standout.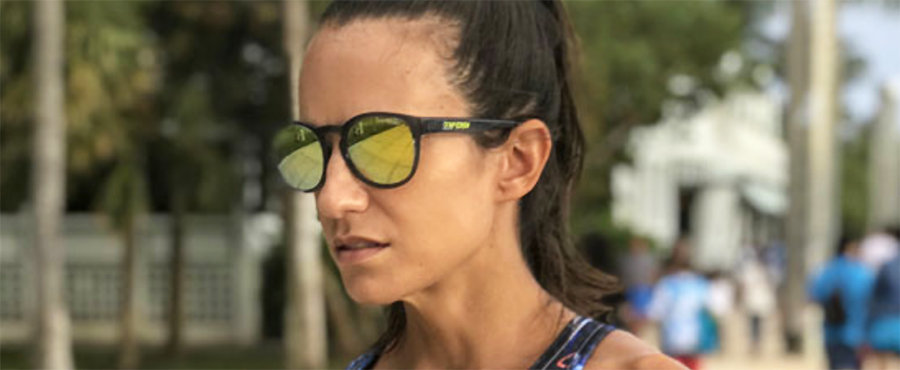 One of our mottos has always been to keep things simple. The entire Swank family fits that class.
The Swick, is our most robust male-specific piece. It has the same features as the Swank but with a bigger footprint and more angularity. The third would be the Svago, pictured right, very feminine, fashion-forward, with beautiful colors for the Spring.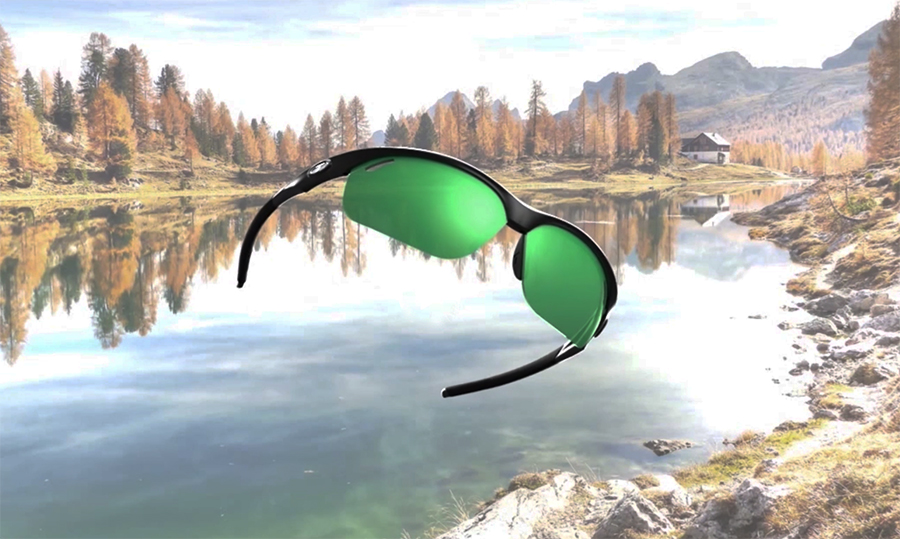 SGB | What would you consider to be an absolute stunner in the entire Tifosi collection? J+E | The original Swank for sure and the Amok, pictured left, that we launched in the Fall this year. Trailrunner Magazine gave it their Editors' Choice Award. It has it all and is just a high-performance piece at a value price of $69.95.
SGB | What sets Tifosi apart from other optics companies? J+E | We started Tifosi to make great sunglasses at a value price. We interact with our consumer base in a meaningful way and we're not spending money to inflate the prices of our sunglasses by hiring professional athletes to wear and endorse them. We are diligent on our spend so we can bring value to the consumer. Also, for the retailer, it gives them a product they can turn and make high margins.
Elizabeth and I were both independent reps when we got married. We saw a need in the market for a value-oriented, technically advanced product. At the time, retailers didn't sell that many sunglasses. The idea of Tifosi was born from our travels and listening to the dealers of what consumers were asking for and addressing a hole in the sunglass marketplace.
Photos courtesy Tifosi