The Clymb.com has reached sales of $64.5 million, according to Inc. Magazine's 2014 Inc. 500 list, which includes several other sporting goods companies.

The Portland, OR online retailer of outdoor apparel, footwear and gear and adventure travel was ranked 103rd on the list after posting a three year sales growth rate of 3,532 percent.

Other sporting goods companies on the list, with their rank, three-year growth rate and 2013 revenues and product, include:


Goal Zero, 150th, 2,599 percent, $34.2 million, solar powered chargers, generators and other portable energy solutions;

6 Pack Fitness, 181st, 2,336 percent, $6.3 million, designs and sells gear, bags and luggage;

Hydroflask, 244, 1,890 percent, $12.7 million, insulated stainless steel flasks shown to the right;

Outdoor Tech, 329th, 1,419 percent, $3.0 million, line of portable, wireless audio products;

Orangetheory Fitness, 399th, 1,178 percent, $7.0 million, franchised interval fitness training program using treadmills, rowing machines, suspension and free weights; and

TheraPearl: 447, 1,068 percent, $9.1 million, makes reusable, pliable, hot and cold pack that relieves pain and inflammation from surgery, sports and other causes.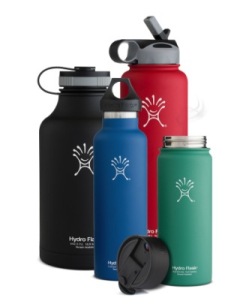 "From the beginning we simply set out to make consumers' on-the-go drinking experience more enjoyable," said Hydro Flask CEO, Scott Allan about making the list. "I truly believe it's this edict, combined with Hydro Flask's superior insulated products and philosophy of being passionate about what we do and where we work, that has propelled us into the league of exceptional businesses in a relatively short amount of time. It's an honor to be recognized alongside of some of the country's most innovative and progressive companies."

Hydro Flask's double-wall vacuum insulated flasks are designed to handle the fluctuating temperatures inherent in the outdoors.