By Thomas J. Ryan
With no sign of a vaccine arriving anytime soon, when it's safe to play sports again is highly uncertain, and related concerns have been found in recent surveys. Even solo activities such as running and cycling are also facing challenges with social distancing guidelines and restrictions.
Developing an effective and safe vaccine takes typically 5 to 10 years, with projections on any fast-track efforts targeting the coronavirus, putting a potential vaccine for the coronavirus at 12 to 18 months away. That means social-distancing measures will likely continue to place restrictions on sports activities for the foreseeable future.
Americans hesitancy to re-embrace participating in sports or fitness activities, as well as attending sporting events, was evident in recent surveys.
…
A survey from Seton Hall University's Stillman School of Business taken April 6 to 8 found 72 percent of Americans would not attend games if the major sports leagues resumed play before the development of a vaccine. Twelve percent said they would if social distancing could be maintained.
Other findings from the survey found:
74 percent of Americans thought it was possible, likely or very likely, that sports would be canceled for the rest of this year;
76 percent said sports shut down at the right time, with 16 percent saying not quickly enough and 6 percent saying too quickly;
76 percent said they would watch broadcasts of games with the same interest as before with no fans present, with only 16 percent saying they would be less interested and 7 percent saying they would be more interested; and
84 percent felt the IOC acted appropriately in postponing this year's Olympic Games to 2021, with only 14 percent saying they acted too quickly.
A survey conducted by Morning Consult taken between April 7 to 9 found 21 percent of Americans do not expect to feel comfortable going back to a gym for at least 6 months. Another 41 percent were not sure when they would feel comfortable, or offered no opinion. Thirty-eight percent of respondents said they would be comfortable heading back within the next 3 months, only 15 percent expressed they would be comfortable heading back to the gym within a month.
The survey did not explore comfort in going to sporting events but found respondents were only slightly less apprehensive about going to a similar experience in concerts. The survey also found that consumers would initially be more comfortable going out to eat or visit a shopping mall as social distancing restrictions lessen.
…
Loosening restrictions of social distancing guidelines will initially happen at work and schools, believes Tom Cove, president of the SFIA, in an interview with SGB Executive. A comeback of sports will follow "very quickly" should those efforts prove successful in containing the spread of the virus although the overall timing remains widely unknown.
"The $64,000 question is when it's all going to happen," added Cove. "The only facts that we know for sure are that this is unprecedented, and no one knows how long it's going to go on."
On the positive side, Cove noted that anecdotal evidence shows that running, walking, biking and skateboarding are seeing a spike in participation as many Americans are seeking safe ways to stay active. Such activities can offer home-bound Americans fresh air and exercise, perhaps even a dose of normalcy.
Golf and tennis were initially seen as safe alternatives, but both activities have been increasingly shut down by authorities concerned over the risks to social distancing.
Inside the home, Cove has heard that fitness equipment is seeing "very strong" demand with the appeal helped by the arrival of Peloton and streaming workout classes from other fitness brands. Cove further noted that a major e-commerce player told him that portable basketball backboards have been "very strong" during the pandemic as well as portable swing trainers for baseball enthusiasts.
As far as the return of organized sports, Cove believes that assuming favorable news continues, such as recent signs that New York is flattening the curve of the spread of the virus, the May 15 to May 30 timeframe will provide a better idea on the potential for a comeback of summer sports with many organizations itching to get back to play.
"We've talked to a number of youth sports organizations, and there are a lot of folks who are planning to slowly dip their toe in the water to organize some sort of sports," said Cove. "There has to be a lot more progress made on social distancing within sports to get us on a field in July, but people are keeping their fingers crossed and planning for it."
Some at the youth level are talking about a one-month baseball season to ensure continuity of the sport. Organizers are even more hopeful, yet "cautiously optimistic," about a fall sports season and a "start to get back to work in July and August." Cove said football coaches he's talked with are eager to see a full football season while they also acknowledge the vast uncertainties created by the pandemic. Said Cove, "It's going to be a health-driven decision."
Bringing back organized sports initially without fans in attendance is being discussed. Organizers of spectator sports are also exploring many paths to return to action.
…
President Donald Trump held a conference call on April 4 where he met with top officials from the major sports leagues as well as golf officials to explore a return to play. According to ESPN.com, the President told the commissioners the NFL season should start on time in September and that he hopes fans will be back in stadiums and arenas by August or September.
On Tuesday at a White House press conference, Trump reiterated the need to bring back sports. He said, "We have to get our sports back. I'm tired of watching baseball games that are 14 years old.
He cited a number of individuals in the sports entertainment business who will tasked with helping restart the U.S. economy. They included NBA Commissioner Adam Silver, MLB Commissioner Rob Manfred, NFL Commissioner Roger Goodell, UFC President Dana White, PGA Tour Commissioner Jay Monahan, LPGA Commissioner, Michael Wahn, USTA President Patrick Galbraith, MLS Commissioner, Don Garber, WWE Chairman and CEO Vince McMahon, NASCAR Vice Chairwoman Lesa France Kennedy, NHL Commissioner Gary Bettman, New England Patriots owner Robert Kraft, Dallas Cowboys owner Jerry Jones and Dallas Mavericks owner Mark Cuban.
Cove sees the return of spectator sports facing even more hurdles than organized sports due to challenges limiting social distancing. Said Cove, "Spectator sports, by definition, have huge groups of people close together."
Cove noted that temperature checks of overseas players is being explored in the U.S. He also noted that organized European soccer leagues are aiming to bring back a modified schedule this year, but they don't expect fans in stadiums until 2021.
Playing to empty stadiums is likewise being discussed in the U.S., but Cove said there's been pushback over the prospect of playing football without fans in attendance. Said Cove, "I think the question of football and crowds is a big one. That's one that several people are saying you've got to have because it's part of the community."
…
Here, a roundup of opportunities and challenges facing some sports:
Golf
In the week ended April 3, 44 percent of U.S. golf courses were allowing play, down slightly from the previous week, according to research from the National Golf Foundation (NGF).
NGF found that courses that have suspended golf operations tend to be concentrated in urban areas where the coronavirus has impacted urban centers more aggressively. The vast majority of open courses were also found to be taking appropriate safety measures to protect staff and golfers.
Precautions taken for courses staying open include sanitizing carts, removing rakes from bunkers and restricting access to clubhouses and golf shops. Golfers are being encouraged to leave flagsticks in the holes, untouched. At some courses, cups have been installed upside down, so the ball doesn't fall in the hole, and golfers don't have to reach inside. Social distancing is easier on the fairway but more challenging on greens and tee boxes.
Tennis
Tennis was initially seen as a safe way to exercise with the ability to stay outside the six-feet rule, but the potential transmission of the virus on the surface of the ball has raised infection concerns.
The USTA (United States Tennis Association) said in a statement on April 3, "Based on the recommendations of the USTA COVID-19 Advisory Group, the USTA believes that it is in the best interest of society to take a collective pause from playing the sport we love. Although there are no specific studies on tennis and COVID-19, medical advisors believe there is the possibility that the virus responsible for COVID-19 could be transmitted through common sharing and handling of tennis balls, gate handles, benches, net posts, and even court surfaces."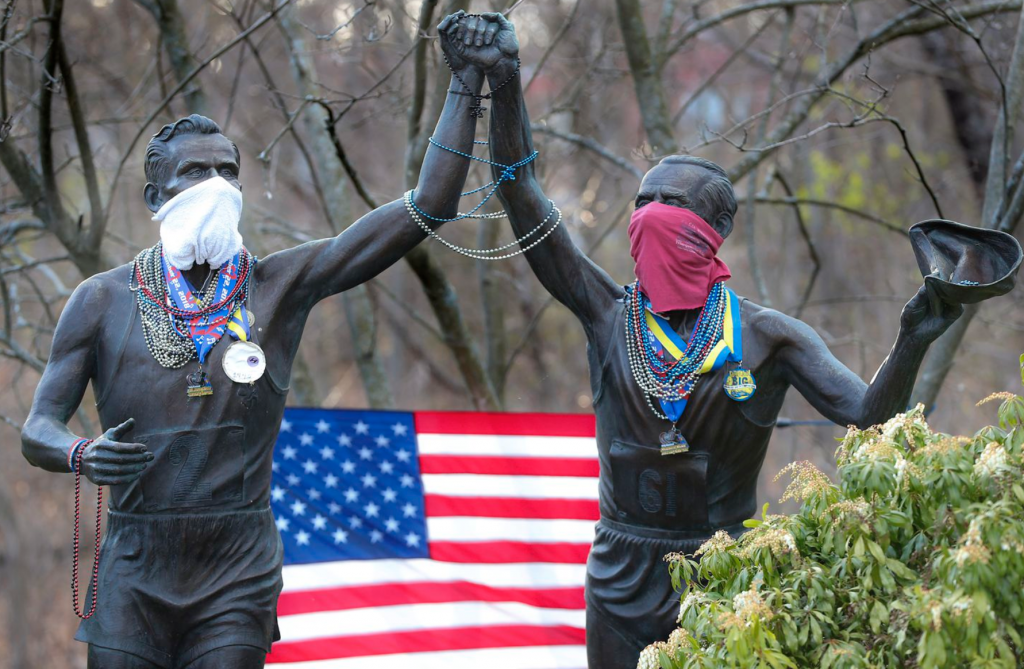 Individual Outdoor Activities
Many outside activities that can be practiced alone, including walking, running and cycling, can be safely done. For cyclists and even skateboarders, one bonus is the roads are safer due to reduced traffic while businesses and schools are closed and people aren't driving.
Still, it can be challenging avoiding crowded trails or paths with many Americans seeking to walk, run or cycle for exercise or distraction amid shelter-at-home restrictions. In Germany, cities are redrawing road markings to create "pop-up" cycle lanes for the duration of the COVID-19 lockdown, as cyclists demand more space to physically distance on their commutes to work.
Moreover, with questions remaining about how the virus is transmitted, those exercising outside are also increasingly being encouraged to wear masks and that can impact performance.
Indeed, new research suggests that the social distancing guidelines might be insufficient to stop the spread of the virus when it comes to strenuous activities.
Linsey Marr, a professor of civil and environmental engineering at Virginia Tech, with expertise in airborne disease transmission, told NPR, "If you're running and you happen to be infected, you might release more virus into the air than if you're walking because you're breathing harder."
 Research from the Eindhoven University of Technology that came out last week also concluded that since they're motion, cyclists and runners have to stay much farther than six feet from a runner or rider in front of them to avoid inhaling droplets or having them land on their bodies. The research calculated safe distances for each sport, including 65 feet when riding a bike at 18 miles per hour, 33 feet while running at a 6:44 minutes-per-mile pace, or 16 feet while walking at a normal pace.
Marr told Wired magazine that it's still unknown whether people can become infected from cyclists or runners. She said, "We need to keep in mind, though, that we don't yet know what size particles released by an infected person actually contain virus and whether that virus is 'alive,' or can still infect others," Marr wrote in an email to Wired.
Climbing, hiking, skiing and surfing also face social distancing challenges and restrictions.
In the two weeks since Colorado's ski resorts closed abruptly on succession March 14, mountain communities have seen some of the highest coronavirus rates in the nation. Last week, the majority of Vermont ski areas indicated they were closed to uphill traffic because continued skiing was drawing too many people and was not in accordance with the state's stay-at-home orders.
The National Park System has likewise closed or limited the public's access to a majority of park sites to curb the spread of COVID-19. Calls are being received to close all of the state parks due to challenges enforcing the social distancing rule while many Americans seek an outdoor escape. State parks, meanwhile, are being handled by the nation's governors. In many cases, such as in New Jersey, they are closed. Some spots appear to be making exceptions for exercising, dog walking and other activities.
The coronavirus has shut down California beaches from Mexico to Oregon, and many surfers sneaking onto beaches are finding others there with the same idea. In California, surfers who violate beach-closure orders face $1,000 citations and up to a year in jail, although most are said to be getting off with a warning. In Hawaii, authorities shut down beaches to sunbathers on most of the state's islands but are allowing surfers and swimmers into the water as long as they practice social distancing.
Fitness Clubs
Most states have mandated that gyms, fitness studios and sports clubs shut down as non-essential businesses. Many have shuttered on their own. Although any public place is vulnerable to infection, gyms tend to be full of high-touch surfaces that people are touching with all parts of their sweaty bodies, creating an environment for germs to flourish. Keeping a minimum of six feet away between people is also tricky in fitness classes or on stationary equipment like treadmills.
Johns Hopkins University noted, "The virus isn't spread through perspiration (sweat), but items touched by many people (barbells, etc.) could pose a risk. To practice social and physical distancing during the COVID-19 pandemic, it is best to avoid public places at this time."
Contact Sports
A host of team sports, including American football, global football (soccer), basketball, hockey and baseball, appear to face the biggest challenges with social distancing since they're contact sports.
Overseas, the Korean Baseball Organization is exploring resuming its season with players and coaches wearing face masks in intrasquad scrimmages in empty stadiums. Temperature checks are administered to all players and coaches to ensure that no one has a fever. Major League Baseball is exploring playing the full season in empty spring-training ballparks. Players would be in quarantine with a season running through November, and the World Series played in domed ballparks in Arizona, Miami or Tampa Bay.
In South Korea, masks and temperature checks are mandatory before anyone enters a restaurant, shop or office building. Hand sanitizer, located at entrances, is also expected to be used. Such steps are expected to be taken as fans are allowed to attend sporting events, although South Korea plans to initially play games without fans in attendance.
Players could also receive antibody testing, a blood test indicating whether they've been infected and would be immune. However, health officials in recent days have raised concerns about the availability and reliability of the tests in the U.S. right now.
"Advances in testing, and eventually a vaccine, are essential to restoring the full sports landscape, be it in South Korea or the States," wrote David Lennon in a column for Newsday. "But in the meantime, it's extremely cautious baby steps."
Lead photo courtesy AP, middle photo courtesy ClutchPoints, third photo courtesy Ray Charbonneau