By Eric Smith
The start of autumn and the soaring peaks of the Rocky Mountains provided a fitting scene this week for VF Corp. to outline the company's recent transformations and its lofty goals for the next few years.
VF hosted its 2019 Investor Day Wednesday in Beaver Creek, CO, a couple of hours up I-70 from the company's new hometown of Denver. And while traveling to this high-country hamlet might have been difficult for some attendees, the mountainous locale was rather appropriate, according to VF's chairman, president and CEO, Steve Rendle.
"We know it's not an easy place to get to, but I think it's really representative of who we are evolving to be," he said to kick off the event. "Today is an exciting day for VF, but it's also a new day as we step into the next chapter of our journey as an evolved corporation. Being here in Colorado is really a manifestation of a vision that we have to evolve our company to be more consumer-minded, retail-centric and hyper-digital in everything that we do."
Throughout his opening remarks, Rendle highlighted the changes VF has undergone since the company's last Investor Day, held two and half years ago in Boston, and then where VF and its brands are heading in the next few years—which includes some ambitious financial targets such as returning $10 billion to shareholders by 2024.
"A lot has happened over the last 30-plus months since we spoke to you in Boston about our 2021 strategy," Rendle said. "We're excited today to help you understand the journey we've been on, but more importantly, help you see the path that we'll be taking forward."
First, let's unpack where the company has been.
VF's portfolio is slightly different than it was in 2017. Yes, it still has Vans, The North Face and Timberland, plus some smaller brands like JanSport, Eagle Creek and Smartwool.
But the company has since divested three brands—Reef, Majestic Athletic and Nautica—and acquired three brands—Williamson-Dickie (Dickies), Icebreaker and Altra. Perhaps most significantly, VF earlier this year completed a tax-free spinoff of its jeans division into the separate, publicly traded company Kontoor Brands Inc.
What's more, VF has undergone a massive headquarters move across the country to Denver from Greensboro, NC. In 2020, the company and many of its brands will set up shop at 1551 Wewatta Street in Denver's Lower Downtown (LoDo) district. VF signed a 12-year lease to occupy the entire 10-story, 285,000-square-foot building.
The VF corporate team will be joined at the global headquarters by the following brands that are co-locating there: The North Face, Smartwool, JanSport, Eagle Creek and Altra. Timberland will remain in Stratham, NH; Vans will remain in Costa Mesa, CA; and Icebreaker's North America operation will remain in Vancouver, BC (its global headquarters is in New Zealand).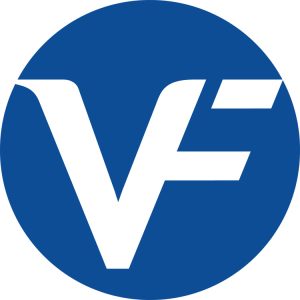 Those changes set the stage for some new announcements at Investor Day, beginning with the introduction of VF's updated logo (pictured right) and refreshed branding that includes a newly designed website.
"Our new brand and our new logo are a bold, progressive expression of the evolved company that we're being," Rendle said. "This really honors our past and the 120 years of history that VF has, but it's also really clear on our projecting forward a new optimism, new energy and new passion for the company that we see ourselves evolving into."
However, Rendle stressed, the changes at VF are much deeper than outward appearances. Instead, they are an offshoot of VF's new tagline: "purpose-led and performance-driven."
This is something Rendle has discussed at length over the past year or so, including at the Camber Outdoors Thought Leader Keynote Breakfast held during the 2018 Outdoor Retailer Summer Market. At that event, which SGB covered, Rendle said VF would elevate its mission of focusing on more than merely growing the bottom line.
On Wednesday, he continued that theme, which now stands as VF's formal vision statement.
"You've been hearing us talk a lot about becoming more purpose-led organization," he said. "This is not new for VF. This is something that's deeply entrenched in our DNA, but we're putting a fine point on this and have been for the last couple years.
"Purpose-led for us is doing good for the people and the planet in everything that we do throughout our day-to-day jobs. We're able to align our business objectives with our purpose."
What does that look like? Rendle said the purpose involves increasing equity and diversity in the VF workforce, building more sustainable supply chains and fighting to protect public lands. And the performance is centered on such goals as continually innovating design while also enhancing analytics capabilities to meet consumers' evolving demands—not only for what products they want but also where and when they purchase, which will include a heightened focus on digital.
"We look at our business through the lens of the consumer," Rendle said. "We're unlocking the creative potential of our brand. We're elevating our ability to design merchandise with highly compelling product assortments and unlocking our ability to create powerful brand experiences that draw consumers in. We're evolving our ability to place the right product in front of the right person at the right time."
VF is targeting all of these lofty pursuits at the same time it works to drive top-line growth and increase shareholder value, Rendle added. Doing good is good business, as many companies are quick to point out.
"As our business thrives, we create a virtuous cycle that enables us to have an impact on the people and the planet," he said. "Purpose means performance inside a culture of accountability, and we are able to drive a very, very powerful business forward."
As for what that business specifically looks like moving forward, VF said it is targeting a five-year compounded annual growth rate (CAGR) between 7 percent and 8 percent through fiscal 2024. The company said that growth rate will be fueled by VF's largest brands (Vans, The North Face, Timberland and Dickies) and the company's international and direct-to-consumer business platforms.
Other fiscal 2024 financial targets include gross margin exceeding 55.5 percent and operating margin exceeding 15 percent in fiscal 2024.
Also, VF is projecting earnings per share (EPS) to grow at a five-year CAGR of between 12 percent and 14 percent as compared to fiscal 2019 adjusted EPS, and to generate approximately $8 billion of free cash flow on a cumulative basis between fiscal 2020 and fiscal 2024 and to return $10 billion to shareholders through dividends and share repurchases. The company expects to deliver annual total shareholder return (TSR) in the 14 percent to 16 percent range.
"With an organization that is relentlessly driven to succeed, great things are able to be accomplished," Rendle said.
His comments, and really the entire presentation, were well received by the analysts who cover VF. For example, Jim Duffy of Stifel wrote in a note to investors, "Detailed presentations of the next leg of growth reaffirm our view of VF as a thoughtful brand operator leveraging scale to differentiate itself amongst competitors. Importantly, digital and analytics competencies are complementing these strengths. Led by leadership wherewithal to recognize the importance of developing digital/analytics/technology strengths, we believe this can be a source of competitive differentiation in the coming years."
While calling VF a "best-in-class operator," Jonathan Komp of Baird said "Wednesday's investor day checked many of the boxes we had hoped, with VFC effectively outlining strengthened values/positioning (blending purpose/performance/sustainability), greater strategic focus behind DTC/digital, and an attractive multi-year algorithm (revenue +7-8 percent; EPS +12-14 percent) that we think has upside levers near-term."
And John Kernan of Cowen noted that VF is likely to soon make another acquisition that would bolster its purpose-led portfolio, which is "deeply aligned with powerful global forces throughout retail including the need for innovation/elevated design, a digitally driven mindset and a passion for sustainability."
Rendle said the evolution of VF hasn't stopped and won't stop. Instead, he said, the company will build on the momentum of recent years and continue evolving to capture the opportunities that lie ahead, whether that's in its brands' existing or adjacent categories.
"We are emerging as an evolved company and we like to think of ourselves as really the better version of who we've been," Rendle said. "We're building on 120-year history, and we're positioning this corporation for the next 100 years. We're excited about our future, and we could not be more committed to our vision of becoming a purpose-led, performance-driven organization that delivers value to both our shareholders and our stakeholders alike."
Look for more from VF's 2019 Investor Day, including brand-specific coverage, in future editions of SGB Executive.
Photo courtesy VF Corp.