By Thomas J. Ryan
At a media event in New York City in early October, The North Face celebrated the launch of Futurelight with a performance by Grammy Award-winning songwriter Mura Masa and an elaborate art installation telling the story of breathable, waterproof protection delivered by the break-through membrane technology.
The concept for Futurelight, which was first unveiled in January at CES 2019, came from specific requests from The North Face global athletes looking for increased performance and breathability in their waterproof gear.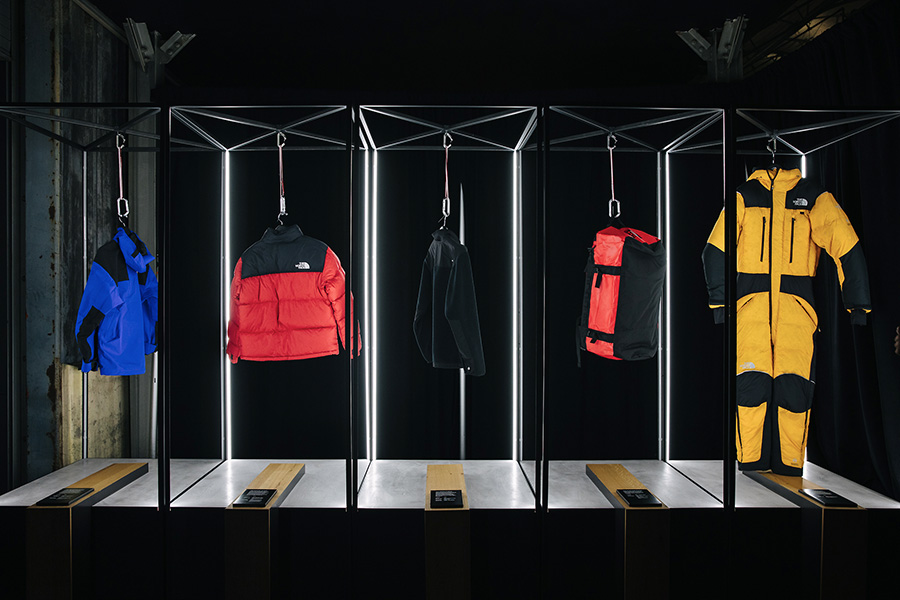 On a media tour of the installation, renowned climber and photographer Jimmy Chin said elite climbers face similar issues experiencing bad weather or being aerobic in the mountains to anybody who's worn a rain jacket. The rain jacket may keep an individual dry from the rain but the tradeoff is the body starts feeling sweaty, clammy and over-heated. Wearers find themselves continually wanting to take the jacket off.
"You want to stay dry but you also need to breathe," said Chin. "So the nice thing about a jacket with Futurelight is you don't have to stop, take it off, get cold, put it back on. Then go, stop, take it off, put it back on and keep going through that process. It packs a lot of efficiency in being both waterproof and breathable. A lot of claims are made about breathable waterproof but this works."
At Classic Car Club Manhattan on the banks of the East River, The North Face team was determined to reset expectations that waterproof product is uncomfortable, heavy and stuffy. Messages floating underneath high-tech jackets included "What If Waterproof Gear Kept You Dry Inside And Out?" and "What If Breathability Is The Breakthrough."
Kelly Cortina, VP of global product, The North Face, said the waterproof and breathable protection properties of Futurelight were developed using nanospinning technology. The process creates nano-level holes, allowing for high porosity while maintaining total waterproofness, letting air move through the material and provide extensive venting.
"It's basically developing a construction that's super porous," said Cortina. "The air is flowing in and out of this membrane and it's waterproof."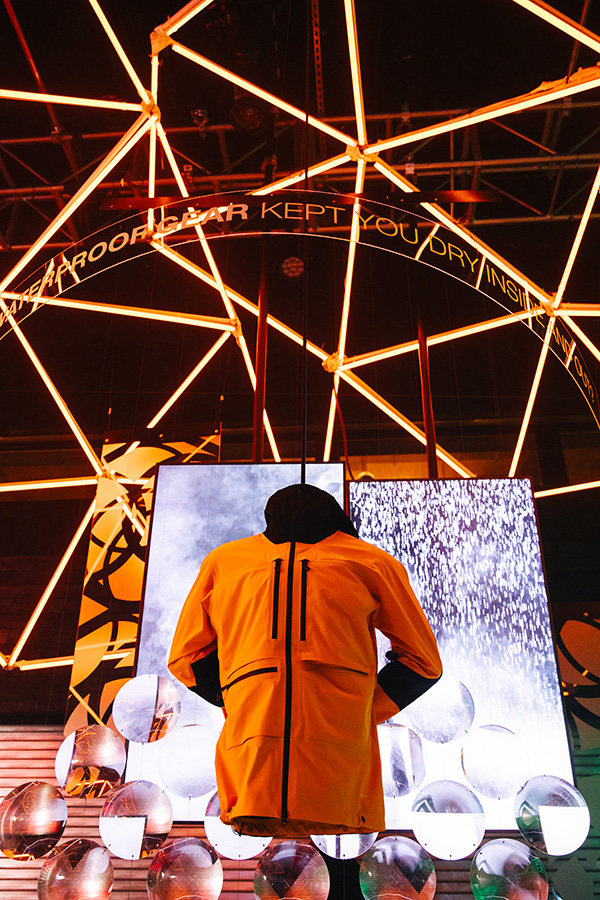 Nanospinning also gives The North Face designers the ability to adjust weight, stretch, breathability, durability, construction (knit or woven), and texture during the manufacturing process to match both athletes' and consumers' end-use, activity or environment. Added Cortina, "We're going to be able to dial that up or dial that down, which means we're going to be able to create product for the mountains, for the street, etc. It's going to scale across our entire portfolio of product and that allows us to not only apply it to apparel but footwear, equipment, accessories and beyond."
Echoing Chin's sentiments, Cortina said one aspect The North Face continues to hear from wear-testers and the brand's athletes is the amount of time they're able to continue to wear one jacket. Said Cortina, "With Futurelight, they're not having to change out of product and they're also super comfortable for a really long period of time. Whether they're active or post-activity, their body is regulated, air is flowing, and the temperature is staying stable. So that's a pretty big change for any athlete and certainly any person as well."
Cortina said while bringing breathability to waterproof gear to support performance was the goal of the multi-year project for The North Face's product development team, a "byproduct" of the development is the softness of the fabric and how it drapes.
"We've been wear-testing it for more than 400 days, across seven exhibitions with 15 athletes and the cool thing is we kept making it better," said Cortina. "Versus the earlier prototypes and what we expected entering into this, what we ended up with draped much more than we imagined and it's softer than thought it would be and ultimately more comfortable."
The draping capacity helped the outdoor brand bring "great fitting garments" to support performance. Said Cortina, "The strength and recovery has allowed us to really cater to the athletes' moves."
Despite being noticeably lightweight, Futurelight is still durable. How a product as soft and lightweight as a Futurelight jacket can also be durable was another persistent question from wear-testers.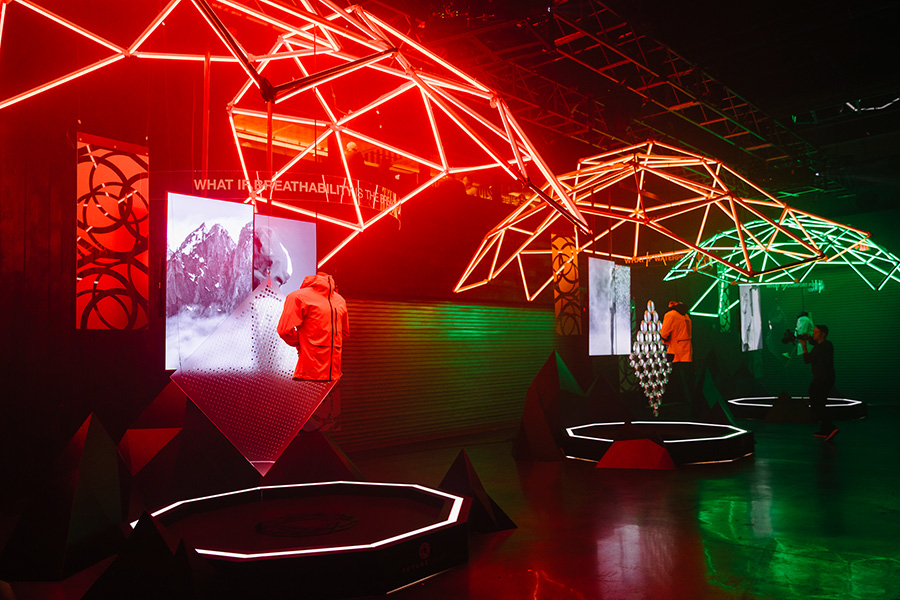 "It's a super-thin membrane but also very strong and very durable," said Cortina. "We worked very closely with our suppliers to fulfill that durability promise to our athletes. So to deliver on lightweight, to improve on how you feel and how comfortable you are, and then to know it's going to last is a pretty big deal. Often, people connect heavier weight with durability and the reality is we sort of unlocked that, so we're delivering a better athlete experience."
Futurelight was tested by the brand's athletes in the highest peaks and harshest environments, including the Himalayas' Lhotse and Everest, in temperatures ranging from -50 degrees F to 60 degrees While testing Futurelight, alpinist, Jim Morrison, climbed and skied three 8,000-meter peaks in 2018, including Everest, Cho Oyu and the world's first descent of Lhotse Couloir with his partner Hilaree Nelson.
"During the past two years, our world-class team of climbers, skiers, alpinists, snowboarders and trail runners has been rigorously testing Futurelight across every discipline to prove this technology in varying weather conditions and climates all over the world," said Nelson, The North Face athlete team captain, in a statement. "In all my years in the mountains, I've never experienced a product that moved and performed as well as Futurelight. It is creating a new paradigm for what I expect out of a waterproof material."
Beyond athlete-testing and internal testing labs, the brand worked with third-party independent experts including Underwriter Labs, a renowned safety science organization, to test the limits of the fabric. UL tests waterproofing for the National Fire Protection Association (NFPA), an organization that certifies first responder gear for firefighters, EMS and hazmat responders.
Finally, Futurelight is helping The North Face bring additional sustainability practices to three-layer garments. The face and backer layers are made up of 90 percent recycled materials. Said Chin, "Knowing its recycled materials makes athletes feel good about wearing the product. Athletes are pretty conscious of those things."
Cortina said the beyond resonating with athletes, the recycled properties help The North Face meet aggressive goals around sustainability.
"The North Face has a big footprint," said Cortina. "We are the biggest outdoor brand in the industry and it matters a lot the type of product we're building and the lifetime warranty we're guaranteeing. And we are moving very quickly to only pursuing sustainable innovation and Futurelight has really kicked that off."
The fabric technology launched October 1 with jackets, pants, and bibs in its Summit Series, Steep Series and Flight Series collections at the brand's pinnacle Mountain accounts as well as online. Extensions into more-accessible price points are planned for the coming seasons ahead as well as to other categories.
The North Face also worked with agency Sid Lee, Los Angeles, to develop an extensive campaign to support the launch. The effort will feature several world-class athletes including Nelson and Chin, as well as snowboarder Leslie Pelosi and runner Coree Woltering.
"The launch of Futurelight is about more than a fabric technology or a single jacket, it is about a new paradigm in clothing and protection," said Steve Lesnard, VP of marketing at The North Face, in a statement. "We are redefining the expectations around weather protection and our campaign is designed to demonstrate the benefits and new possibilities that this technology will enable."
Photos courtesy The North Face