SGB Executive collected the latest consumer research into Generation Z (or Gen Z for short), the demographic succeeding Millennials and preceding Generation Alpha, including insights into their online loyalty, gaming habits, environmental concerns, and online and offline shopping behavior.
Gen Z Quickly 'Cancel' Brands and Move On
While 80 percent of Gen Z shoppers are willing to try new brands, 63 percent don't have the patience for clunky websites, and 37 percent will abandon a purchase and are quick to post a negative review on social media when they have experienced a poor digital experience, according to a survey of more than 1,000 U.S. Gen Z consumers commissioned by Sitecore.
Key findings outlined in a press release around the survey include:
With Gen Z, brands must get it right or suffer the economic and reputational consequences. Fifty-seven percent are less loyal to brands than before the pandemic, and 80 percent are now more willing to try new brands online. 

Retailers have no room for error as 38 percent of the demographic only allows a brand a second chance before switching to a competitor. 

If an online retailer is out of stock, 74 percent will move to another retailer. On the flip side, 76 percent believe that their favorite brands should reward them for their patronage.

Before the pandemic, almost one-third (31 percent) of Gen Z — digital natives — had never purchased anything online. Since COVID-19, the vast majority (87 percent) stated their online shopping skills have improved, with 26 percent using a mobile device to purchase for the first time. Sixty-three percent find online shopping is now more enjoyable than in-person, with nearly two-thirds (64 percent) identifying as digital converts who want to keep buying almost everything online.

An overwhelming majority (83 percent) of Gen Z view online shopping as an experience rather than a transaction and have lofty expectations. Three quarters said they want new and exciting experiences when they shop online, and 71 percent expect a highly personalized experience. 

Speed of delivery is critical, with 80 percent of respondents finding retailers able to deliver in less than 24 hours more appealing. Also, 37 percent of Gen Z shoppers identify free delivery as the most important element when shopping online. To improve the experience, Gen Z customers want brands to take action to ensure their website works well on mobile devices (53 percent), remembers shopping preferences (46 percent) and provides personalized suggestions (43 percent).
"This study highlights that brands can't ignore the power of poor digital experiences when it comes to Gen Z and its shopping habits," Paige O'Neill, Sitecore's CMO, said in the release. "This group has quickly shifted its significant spending power online, and pressure will continue to mount on retailers until they can deliver an experience that delights. Brand loyalty has evaporated, and there is no margin for error any longer from browsing through to delivery. The ability to consistently create personalized experiences is critical to secure the wallets of Gen Z. This puts technology firmly at the center of this new battle for retailers."

Photo courtesy Sitecore
•—•
Gen Z Prefer Gaming To Watching TV
According to Deloitte's annual "Digital Media Trends" survey playing video games is Gen Z's No. 1 favorite entertainment activity (26 percent).
That was followed by listening to music (14 percent), browsing the Internet (12 percent) and engaging on social platforms (11 percent). Only 10 percent of the demographic said that watching TV or movies at home is their favorite form of entertainment (which ranked No. 1 for all other generations). The online survey of 2,009 U.S. consumers was conducted in February 2021.
"If the Generation Z preferences for gaming, music and social media persist over time, the dominant position that video entertainment has held could be challenged," Deloitte wrote in the study. "If this is the case, media companies should be prepared to evolve and take a diversified approach, starting with gaming. All of these options are dividing and fragmenting the market considerably. Providers should now understand the nuances among customer segments, generations and different kinds of media."

Findings for Gen Z with it comes to social media include:
Half of the group ranked social media as the No. 1 way it prefers to get their news, whereas only 12 percent prefer to get news from network or cable TV. Conversely, 58 percent of Boomers said they prefer to receive news on network or cable TV and only 8 percent look to social media first for its news feeds.

For Gen Z, the top two activities on social media are listening to music, followed by playing video games.

Fifty-five percent of Gen Z and 66 percent of Millennials said that ads on social media are influential.

On social media platforms, 62 percent of Gen Z and 72 percent of Millennials would rather see ads personalized to their likes and activities than generic ones; however, only 40 percent of consumers overall said they would provide personal information to receive advertising targeted to their interests.
Illustration courtesy Deloitte Digital Media Trends
•—•
Gen Z Said Climate Change is Adversely Affecting Physical and Mental Health 
According to the NextGen Climate Survey released by Blue Shield of California, more than 8-out-of-10 (83 percent) in the Gen Z demographic is concerned about the health of the planet.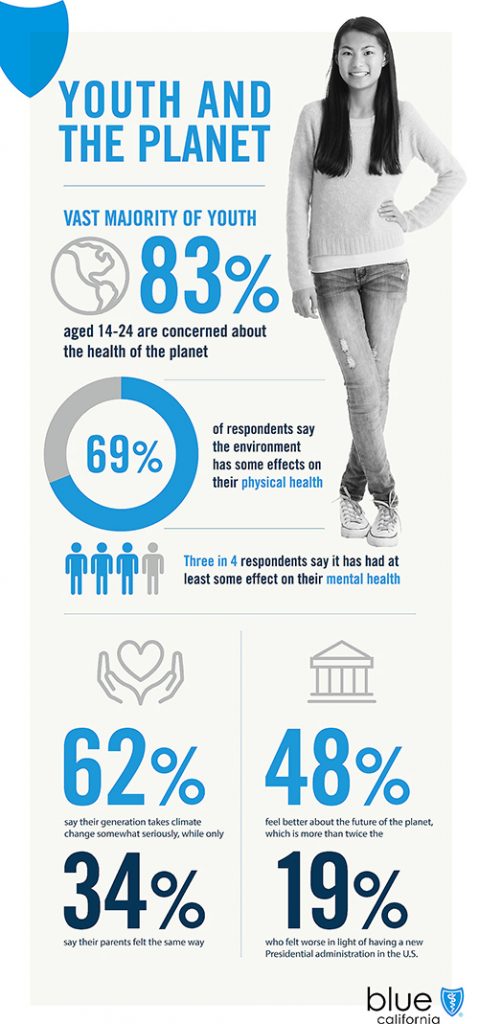 A majority of respondents also said the environment affects their physical health (69 percent) and their mental health (75 percent).
The survey was conducted in March 2021 to uncover the generation's top environmental concerns, how climate change impacts their well-being and their optimism for the future. The poll included 1,200 respondents, ages 14-to-24, from across the U.S.
According to the poll, their top three environmental issues are air quality (60 percent), water pollution (59 percent) and plastic pollution (56 percent). More than half (54 percent) said they are 'very concerned' about the planet running out of resources. One in four (26 percent) said that an environmental event or natural disasters – like a flood, fire or hurricane – has impacted their ability to concentrate in school.
Other highlights from Blue Shield of California's NextGen Climate Survey include:
Racism and social justice (62 percent), the environment and climate change (47 percent), education (47 percent), health care (43 percent), and gender equality (41 percent) are top social issues among the group.

62 percent of Gen Z respondents said they felt their generation takes climate change at least somewhat seriously, while only 34 percent said they felt their parents' generation take it as seriously.

Respondents said they want both Federal (71 percent) and State/Local (58 percent) governments to do more to protect people from adverse health effects from climate change.

Nearly half (48 percent) of Gen Z respondents said they feel better about the planet's future health under the current White House administration, while 19 percent said they felt worse.
Photo courtesy Blue Shield of California
•—•
Younger Generations Are Shifting to Online Shopping
A survey from Kibo and Drapers found that 28 percent of Gen Z and 24 percent of Millennials would likely shop online more than before.

The survey collected responses from 2,000 consumers split between Gen Z (ages 18-to-25) and Millennials (ages 26-to-40). In addition to a preference for online shopping, the report also showed the following trends:
55 percent of Millennials cited convenience as their top online shopping benefit;

51 percent of Gen Z cited price comparison as their top online shopping benefit;

'Better fit technology' and 'better images' were the top two online elements where respondents wanted to see improvement;

'Waiting for deliveries' and 'unpredictability of fit' were listed as the two most negative aspects of online shopping;

64.2 percent of Gen Z noted that they got their shopping inspiration from Instagram, compared to 39.1 percent of Millennials; and

Gen Z consumers were willing to pay more for sustainable fashion and less inclined to buy from a brand that didn't share their values.
"Gen Z, in particular, is showing that they expect a shopping experience that offers convenience online and that they will choose brands that align with their values and preferences," said Kalscheur. "Now is not the time for retailers to guess how to create better online shopping experiences, and this research provides a clear path for the adult generations that will lead our economy in the coming years."
Illustration courtesy Kibo
•—•
Physical Retail Still Finds Relevance With Gen-Z 
A survey of 1,130 Gen Z consumers in the U.S. from DealAid.org found that 87.6 percent of Gen-Z consumers shop more online than in-store. However, the difference in the dollar amount spent per month online versus in-store is just 15.6 percent, showing physical retail is still relevant for the Gen-Z consumer.
In-store shopping is more relevant for specific categories. Among the respondents, 88.5 percent of Gen Z consumers indicated they purchase food and groceries in-store, while another 54.9 percent and 46 percent indicated that they are buying household items and clothing in-store, respectively. Online clothing and accessories were the biggest sellers, cited by 70.8 percent of Gen Z consumers. Another 61.9 percent and 54 percent indicated that they purchase electronics and household items, respectively, online.
Among concepts, 42.5 percent of Gen Z consumers spend most of their in-store shopping budget at Walmart while 26.6 percent and 15.9 percent spend it at Target and Costco, respectively. Other popular options cited were Kroger, Sephora and Best Buy. Lines at cash registers (61.6 percent) and out-of-stock items (52.2 percent) are the two most frustrating aspects of in-store shopping. Other frequently cited frustrations are COVID-19-related restrictions, difficulty finding items, commuting and parking, and lack of product information.
The most important factors that Gen Z consumers consider when making a purchase in-store are price (cited by 79.7 percent); quality (65.5 percent); availability of sales (41.6 percent); positive reviews (22.1 percent); flexible return policy (23.9 percent); and rewards programs (14.2 percent).
Online, 86.7 percent of Gen Z consumers spend most of their online shopping budget at Amazon, while 6.9 percent and 3.5 percent spend it at Kroger and eBay. Other popular e-commerce destinations cited were Target and Walmart. Out-of-stock items (54.9 percent) and slow websites (38.1 percent) are the two most frustrating aspects of online shopping for the group. The most important factors that Gen Z consumers consider when making a purchase online are price (79.8 percent); discounts (59.3 percent); shipping cost and speed (55.8 percent); quality (51.1 percent); positive reviews (46 percent); flexible return policy (28.3 percent); and rewards programs (15.9 percent).
Lead photo courtesy DealAid