With Outdoor Retailer recently announcing its Summer Market tradeshow will move from June to August 10-12, 2021, at Denver's Colorado Convention Center to help facilitate a safe and successful in-person event, the switch has surprised some while cementing others' decision to attend in a summer tradeshow season shaping up like no other.
SGB Executive caught up with Outdoor Retailer Senior VP and Show Director Marisa Nicholson to look inside the decision.
When did you first start entertaining the idea of moving the show? The possibility of changing the show dates has been top-of-mind since the early days of the pandemic. But moving an event the size of Outdoor Retailer is difficult. It's more than the show dates; it involves having enough days for move-in and out, hotel availability and support infrastructure to ensure it will be successful for exhibitors and attendees. As the country makes progress toward reopening businesses and venues and safely running events and tradeshows again, we hope it allows more people to attend in August.
How hard was it to decide when to host the show? There is a window from June through August that traditionally supports the summer sales cycle for the industry. We also know that there have been supply chain delays and adjustments as a result of the pandemic. We heard from brands and retailers that a late summer show would provide them with a valuable opportunity to do business and reassure them to attend and plan for an in-person event safely. We all will have more time to prepare and the increased confidence around health and safety measures will be in place.
What was harder balancing the show's timing for attendees and exhibitors or pandemic safety concerns? Both are critical to support our community successfully. We are making health and safety decisions our priority, yet hosting a show outside the summer buying window wouldn't work for many. It's a balance, and we're glad we were able to move to the later dates and that we have six months to prepare. We are confident we have a solid safety plan in place, and we will continue to improve and adjust it based on CDC guidelines and those of health officials and government agencies.
Now it's almost come full circle back to August, near when the show was traditionally held. Is this a one-time move and the show will go back to June in 2022? Our plan is for the summer show to be back in June at the originally scheduled dates for 2022. Those will be June 10-13, 2022 in Denver.
Did The Big Gear Show held the weekend before the OR Show figure into your decision?  No. Many factors played into our decision, most notably health and safety, available dates, the sales cycle, and feedback we received from the industry. We are focused on providing a safe and successful show for the industry to reunite and get back to the efficient business we can all achieve when the community is together in one place.
What's been the feedback from exhibitors and retailers? The first conversations we've had have been very positive. They understand and are grateful for the later timeframe. We've had new brands reaching out about exhibiting, and people are excited to get back to work, as one retailer put it. The news has provided a ray of light, and it's also a good sign for downtown Denver businesses, hotels and restaurants, who are eager for our community to return.
Do you think the industry is excited to meet in person again? For sure. Over the past year, we've heard from so many people about how much value the show provides to their business. That goes beyond the buying/selling and touching/comparing aspects. There are collaborations, inspiration and innovation, too. We also recognize how important it is for the community to support each other, which happens due to the relationships built at the show. It's all of these interactions, both professional and personal, that bring us together and help our industry grow. The outdoor community is a big family.
You're blending it with a virtual component as well. What will that format look like? Throughout the past year, we've learned a lot about different ways to support the community through digital solutions, and we will be integrating some of those features into shows moving forward. While we are not currently planning a full virtual show this summer, we will provide digital opportunities through Elastic Suite, and education sessions to view online.
Can attendees expect the same lineup of educational seminars, presentations and events?  Yes. In partnership with OIA, we will continue to provide the same high-caliber education and important conversations you find at our shows. We're also working with the NPD Group, The Conservation Alliance, Camber Outdoors, WGSN, and others on educational programming. We're currently planning for sessions to be webinar-style and available remotely, not as large groups in conference rooms, so everyone has a chance to watch and learn in a safe environment. We'll also kick off the education before the show, which will provide attendees with trends and industry insights they can use while at the show. We'll be announcing education details this spring.
What kind of exhibitor and attendee numbers are you expecting compared to previous in-person years? We've already heard from exhibitors and attendees excited about the opportunity to return to the in-person show. We'll know more about prospective attendance after registration opens in the spring.
Any caveats regarding post-show network parties that's were synonymous with OR? We are looking at how we can safely create the same joy and energy in attending the show. While there will be health and safety protocols in place that limit the ability to pack a booth at happy hour, merely the opportunity to see and meet with your outdoor family, and to interact with new products or walk the aisles and be inspired, will generate those familiar feelings of the community again.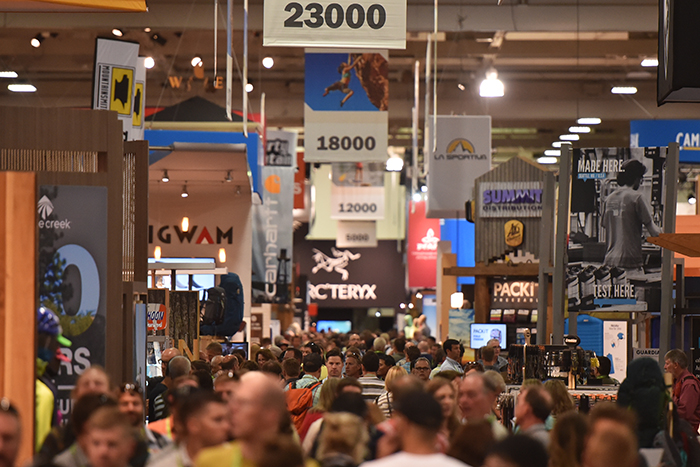 While it's still early in the attendee decision-making process, most exhibitors signing up to attend are eager to participate in the show. SGB Executive reached out to several brands for commentary on the new dates of the OR Show this year.
"GCI Outdoor is happy to attend with the new dates and it will be a positive step out of the COVID zone. The Outdoor Retailer community needs some sunshine to get back to the new norm. We are in." —Jeff Polke, Co-President, GCI Outdoor Inc.
"The outdoor industry is long overdue for a gathering, and we feel that August is a responsible time to attempt an in-person show. While the August timing does not align with sell-in, we're excited to showcase our SS22 range and re-connect with friends and partners." —Jon Jon Frederick, Country Manager, RAB/LOWE Alpine

"It's great news that OR is back. OR is the most important tradeshow of the year for us, and we're excited to be back exhibiting live. We rely on the in-person experience of retailers visiting our booth to both see and feel our products. We innovated a record number of new products in 2020 and are looking forward to finally presenting them in-person. We're very much looking forward to being able to correspond live again with the outdoor community." —Tom DeFrancia, RovR Products
"From an exhibitor perspective, this allows us to get our new lineup closer to launch. From a buyer's perspective, it will enable me to see what has been selling through and the needs/holes I have in my offering that are most readily apparent at this time of year. —Peter Hall, Owner, Hala Gear/CKS
Photos courtesy Outdoor Retailer